Karen Gettings
Title:
Microelectronics Engineer and Researcher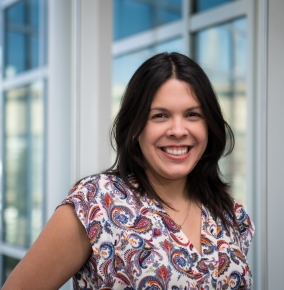 I enjoy being social, and at a place like Lincoln Laboratory you must be able to engage with many other experts to find optimal solutions to engineering challenges.
After earning a bachelor's degree at the University of Puerto Rico, Mayagüez Campus, Karen Gettings moved to Boston in 2000 to complete master's and doctoral degrees in electrical engineering at MIT. She joined the Laboratory upon graduation, and although she has now lived in Massachusetts for close to two decades, Karen's ties to her home island of Puerto Rico are still strong. When Hurricane Maria struck Puerto Rico in 2017, Karen helped the Laboratory's Hispanic Latino Network organize a fundraiser to support disaster relief on the island.
The Hispanic Latino Network (HLN) grew out of a group of employees who would routinely get together for coffee; in 2010, they decided to formalize into an employee resource group so that they could better provide cultural, social, and professional opportunities for Hispanic and Latino employees at the Laboratory. Karen was one of the founding members, and served as chair of HLN for three years. All the while, she balanced this leadership with her work designing integrated circuits and creating low-power solutions for everything from internet-of-things devices to communications and signal processing systems.
HLN's signature event, and Karen's personal favorite, is Hispanic Heritage month. The October celebration features a luncheon and a set of speakers, panels, and networking events meant to celebrate and educate about Hispanic and Latino cultures and provide professional development for employees who often struggle to find mentors who look like them. Although she has chosen to step away from leadership, Karen remains an active participant in HLN, and she takes pride in sharing her culture with the other members of the Laboratory and with her two children.