Eric Evans receives Aegis Ballistic Missile Defense Pathfinder Award
Award recognizes Evans's contributions to the development of technology for the Navy's Aegis program.
Dr. Eric Evans, director of MIT Lincoln Laboratory, recently received an Aegis Ballistic Missile Defense (BMD) Pathfinder Award at the annual Aegis BMD Pathfinder meeting and ceremony in Washington, D.C. This award, presented to Evans by Rear Admiral Johnny Wolfe on behalf of the Aegis Program Office, honors contributions to the nation's defense by individuals who have been instrumental in the acquisition or operationalization of naval BMD systems.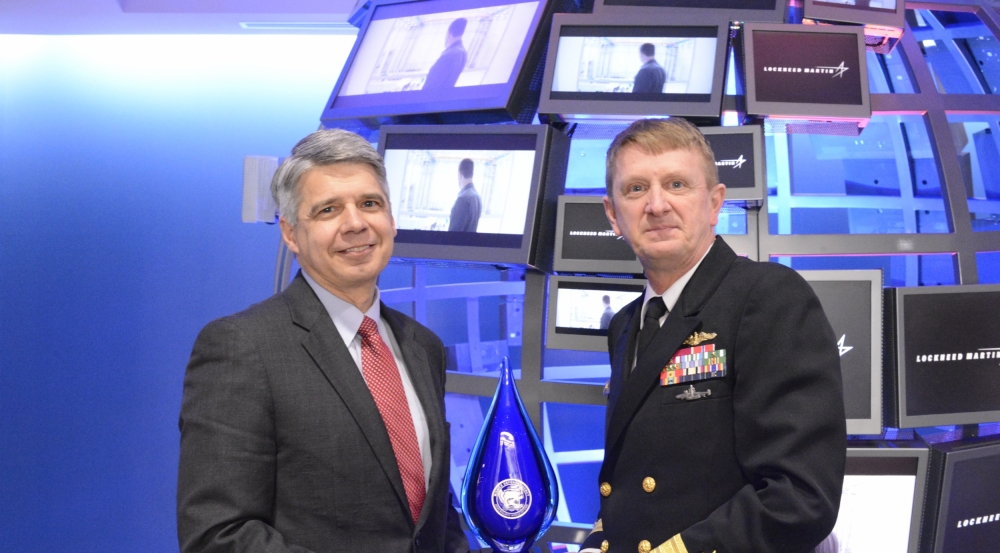 The Pathfinder Award recognizes the outstanding leadership or scientific and engineering achievements necessary to achieve the tactically effective and affordable naval ballistic missile defense of today and tomorrow. Past awardees include Vice Admiral J.D. Williams, former Deputy Chief of Naval Operations for Naval Warfare; Ambassador Henry Cooper, former Director of the Strategic Defense Initiative Organization; and Rear Admiral Wayne Meyer, founder and former program manager of the Aegis program.
Working with others inside and outside the Laboratory, Evans was involved in the development of radar, interceptor, and discrimination technology for the Aegis BMD program throughout the 1990s. The Laboratory has developed and transitioned much technology to the Aegis BMD program over the program's 26-year history. Much of this technology has become a part of the current Aegis BMD operational system.
Evans said, "This award is really a recognition of the Lincoln Laboratory leaders and staff who have worked on the Aegis program since the beginning. The program has added much new defense capability for the nation, and the Laboratory has had a major role."