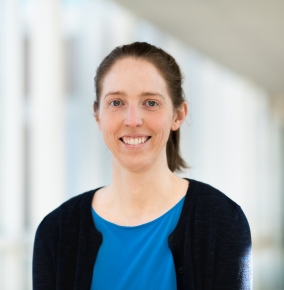 I find the work here significant because we are tackling real-world problems, and success means we're making the world a little bit better and safer.
For two weeks in September 2017, Fran was in Texas, flying in a Twin Otter aircraft with a Lincoln Laboratory team that was using a ladar system to collect data for creating 3D imagery of the damage caused by Hurricane Harvey. During four flights over Houston and two over Corpus Christi, she was squeezed into a small space on the plane, using the onboard processor to verify that the ladar was generating adequate data for analysts back in Lexington to use in mapping the debris on roads.
Fran's career at the Laboratory has involved not only adventures such as the disaster response in Texas but also variety and creativity. She designs experiments to test systems and analyzes the results. She figured out a way to fit many lenses and mirrors into a small optical system and devised a plan for a constellation of nonmaneuvering satellites that could be observed from a large portion of the earth's surface. She says she likes researching to gain new ideas for solutions to technical questions. "I don't mind doing field work, even if it means standing on the roof of the Flight Facility in the middle of the night in winter or in the desert in California in the middle of the day in summer," she adds.
Fran's work doesn't often tap specifically into her academic background in aerospace engineering. But she applied her aerospace experience when she coached the Laboratory's team of middle school students who competed in the Team America Rocketry Challenge, a national competition to build and fly a model rocket that carried an egg without its breaking. "I got to play with rockets, something I enjoyed as an undergraduate."