Title:
Electrical Engineer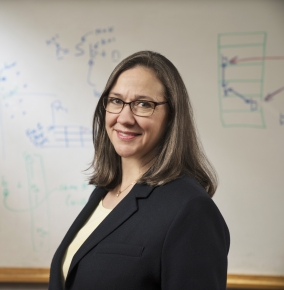 Working for a non-profit organization like Lincoln Laboratory affords scientists the support to think deeply and take risks.
Rachel became familiar with Lincoln Laboratory as a research assistant while she was pursuing her doctorate at MIT. When she made a mid-career jump from a "for-profit" company to Lincoln Laboratory, she already knew the Laboratory well and was prepared to solve difficult wireless communication problems. Rachel is currently using novel approaches to cognitive radio to solve the problem of radio signal overcrowding. Armed with powerful interference-mitigating algorithms, a cognitive radio automatically and intelligently chooses occupied channels in order to leave unoccupied bands for radios that are incapable of mitigating interference. Rachel's work draws upon many different technical areas, including signal processing, information theory, optimization, machine learning, and even some game theory.
In her nine years at the Laboratory, Rachel has built strong relationships with sponsors. "Working closely with sponsors lets me more fully understand the problems they face and see how much our solutions impact their mission," Rachel says. She carries this insight with her today as she works closely with Army sponsors to develop advanced signal processing algorithms that can mitigate the adverse effects that signal interference has on Army satellite communication systems.