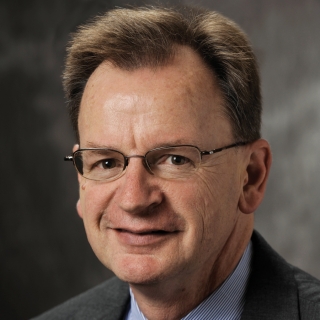 Dr. Michael T. Languirand is a Principal Staff member in the Engineering Division at MIT Lincoln Laboratory. He began his Lincoln Laboratory career in 1981 as a staff member in the Mechanical Engineering Group, where he performed structural analysis and testing for several programs, including the Single-Channel Objective Tactical Terminal and the Optical Countermeasures effort under the Re-entry Systems Program.
In 1986, Dr. Languirand joined the Optical Systems Engineering Group and was promoted to Assistant Group Leader. He had responsibility for overseeing efforts associated with the Strategic Defense Initiative, including concept development for large beam directors and free-electron lasers. He also had significant project responsibility on a program that developed a complex airborne hardware system. As a result of his demonstrated leadership, Dr. Languirand was promoted to Associate Group Leader in 1995.
In 2000, Dr. Languirand worked on the development of a series of biological-agent warning and identification sensors. The Biological Agent Warning Sensor (BAWS) was successfully transferred to industry and put into large-scale production. For this project, he and the BAWS team earned the Joint Biological Point Detection System Commendation for Outstanding Service to the Product Manager and the David Packard Excellence in Acquisition Award.
In 2002, Dr. Languirand became the Leader of the Mechanical Engineering Group. He also assumed the role of deputy program manager for the Haystack radar upgrade. In 2008, he returned as the Leader of the Optical Systems Engineering Group, where he continued his management of the Haystack upgrade and led the group in its evolving roles in systems and optical engineering.
In 2009, Dr. Languirand was promoted to Assistant Head of the Engineering Division. He was the program manager for the Revelio program from 2011 to 2013. He served as the Head of the Engineering Division from 2015 to 2020.
Dr. Languirand holds a BS degree from the University of Lowell and MS and PhD degrees from Rensselaer Polytechnic Institute, all in mechanical engineering.