Stephanie Tran
Title:
Social Media Manager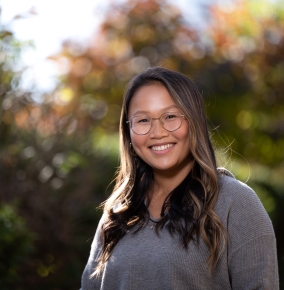 In the short amount of time that I have been here, it's been remarkable to learn about the Laboratory's history of innovations that spans more than 70 years.
What do you do at the Laboratory?
I am the social media manager for MIT Lincoln Laboratory, the first for the Lab! In my role, I lead the social media strategy and manage the daily content for all the Lab's social media platforms. One of my main priorities is to enhance the Laboratory's overall social media presence across all platforms to show who MIT Lincoln Laboratory is as an organization and community.
Together with the help from staff across the Laboratory, I hope to shine light on the incredible work that is happening within the groups, divisions, and offices, but most importantly on the talented, creative, and hardworking staff who make it all possible.
What drew you to the Laboratory?
Before joining the Laboratory in April 2022, I was working out of MIT's Cambridge campus for nearly six years as the communications administrator for MIT's Division of Student Life. When I learned about the opportunity to join the Laboratory, the prospect of leading the Lab into its social media era sounded exciting. I was ready to take the next step in my career and knew the Laboratory would present challenges that I was motivated to tackle. While the decision to join seemed like a huge pivot in industry – higher education to government defense – I found comfort that I remained part of the MIT community; a community that I have truly felt at home in since I stepped foot on campus in 2016.
Describe a challenge that you overcame.
One specific challenge that comes to mind happened within the first few months in the role. The Laboratory had a tremendous opportunity to partner with the U.S. Navy on four Instagram Livestream shows. About 24 to 48 hours before the first show, I discovered there were connectivity issues.
As a new employee with limited knowledge of the Laboratory's resources, it felt daunting to troubleshoot this issue. However, staff, especially those in the Information Services Department, quickly jumped in to assist and found a solution that enabled us to go on with the livestream. It was truly a team effort and it demonstrated the willingness of staff to work together to find a solution to a problem.
Do you have any advice for those looking to work in your field?
Throughout my professional career, I have truly been fortunate to have had incredible mentors that I leaned on and sought out for personal and career advice. My advice is to foster relationships with others, and sometimes that means being proactive and taking the initiative to do so.
Also, continue to seek out learning opportunities. Whether it's taking part in professional development, staying up-to-date on a specific field, or learning from other colleagues, you may just discover something new and transformative.