Lincoln Laboratory receives HIRE Vets Gold Medallion
The award recognizes the Laboratory's sustained efforts in hiring and retaining U.S. service veterans.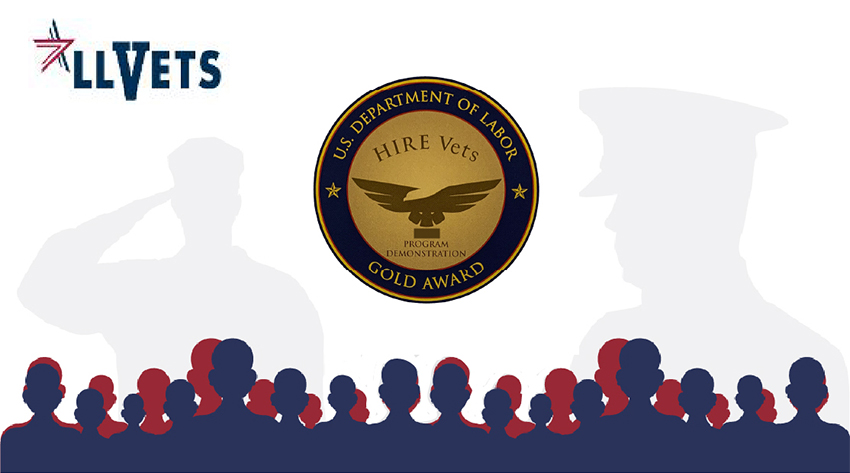 In a virtual ceremony hosted by Secretary of Labor Eugene Scalia on November 10, Lincoln Laboratory was recognized by the U.S. Department of Labor as a HIRE Vets (Honoring Investments in Recruiting and Employing American Military Veterans) Medallion Award recipient for its commitment to recruiting, employing, and retaining veterans.
HIRE Vets is the only federal award program that recognizes job creators that support veterans. In addition to success in employment and retention of veterans, the criterial for selection as a HIRE Vets award recipient include the availability of veteran-specific leadership programs, dedicated human resources, and compensation and tuition assistance programs.
John Lowry, Assistant Secretary of the Veterans' Employment and Training Service, said, "By meeting the criteria required for a Gold Medallion Award, the Laboratory demonstrated both patriotism and recognition of the value veterans bring to the workplace."
The Laboratory joined 674 other companies from 49 states and the District of Columbia that have shown a commitment to hiring veterans and have also ensured that the veterans have a long-term career and growth plan that uses the diverse skills the veterans acquired through their military service.
"For recognizing the unique qualifications that service men and women bring to the workforce, and for giving back to those who gave to our country, these HIRE Vets Medallion recipients deserve our congratulations," Scalia said in the ceremony.
"As both a veteran and a member of the Laboratory's Human Resources Department, I'm proud and honored that the Laboratory was awarded the 2020 HIRE Vets Gold Medallion Award," said Ken Estabrook, who is a LLVETS committee member. "This award recognizes the efforts of so many across the Laboratory to hire, transition, develop, and retain veterans here, and acknowledges the important contributions of our veteran community to the work of the Laboratory on behalf of our nation."