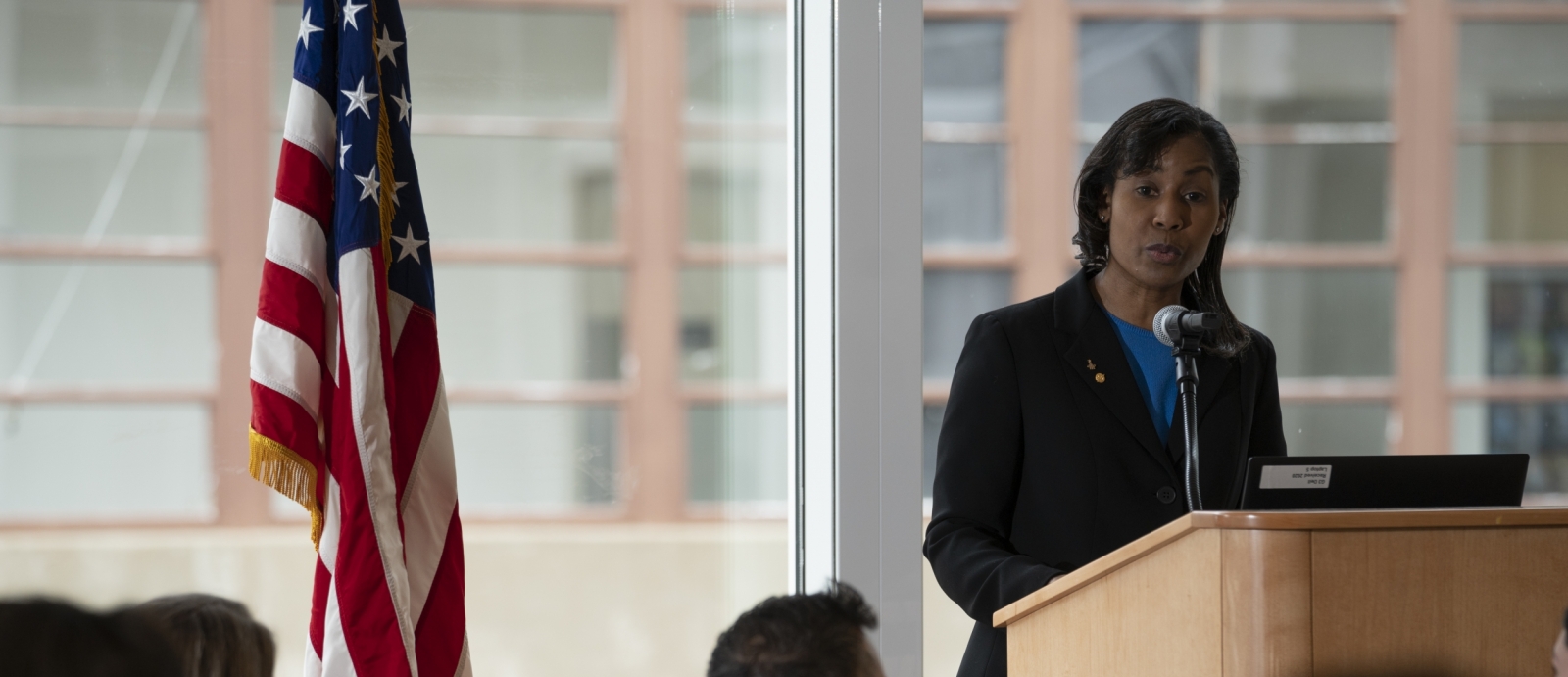 NASA Astronaut Stephanie Wilson speaks at Martin Luther King Jr. Luncheon
The theme of the luncheon — fostering strong, moral, and courageous leadership — was inspired by Dr. King's 1957 "Give Us the Ballot" speech.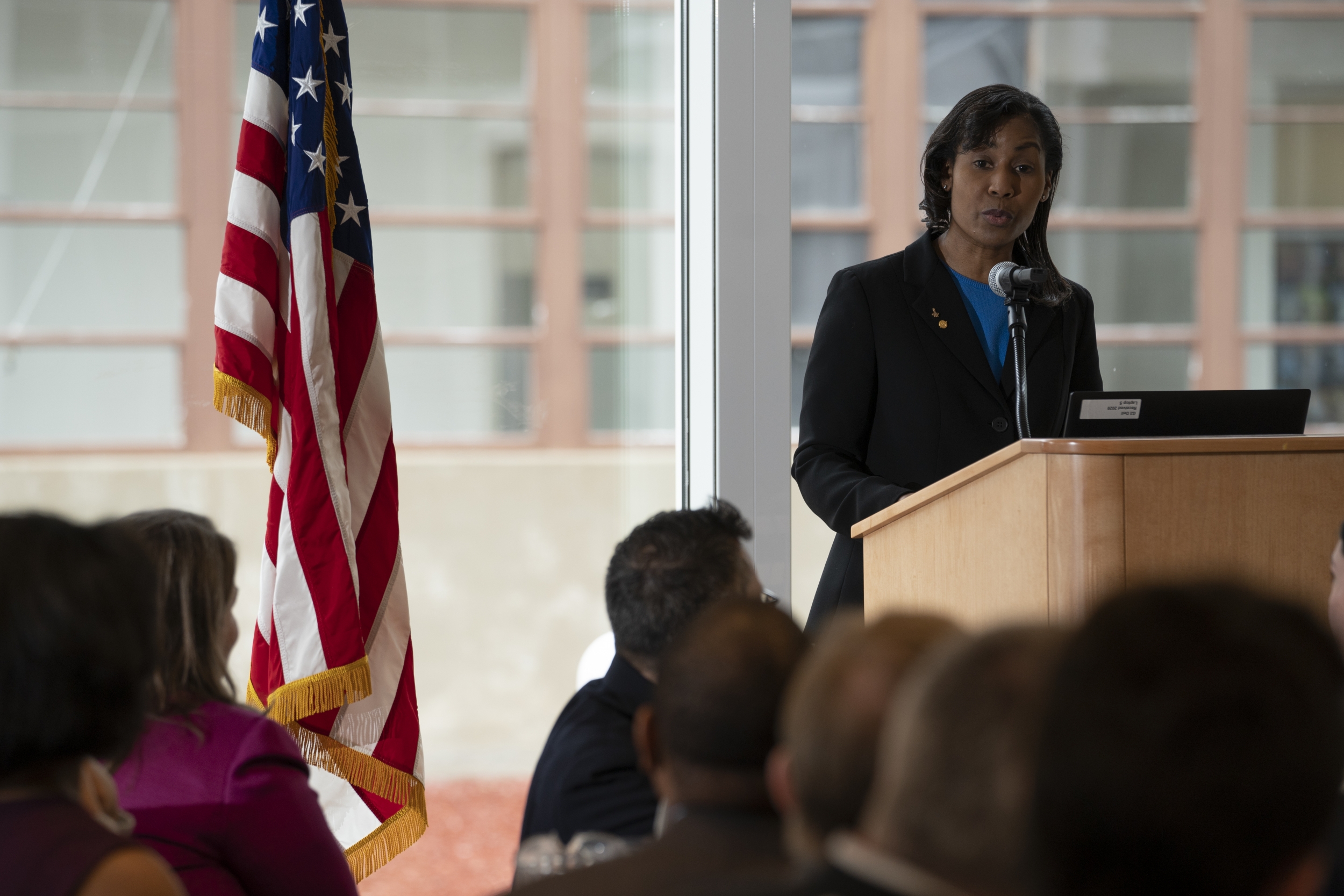 On February 26, Lincoln Laboratory staff gathered to hear NASA astronaut Stephanie Wilson speak about her career during the seventh annual Martin Luther King Jr. Luncheon. The luncheon is hosted by the Lincoln Employees' African-American Network (LEAN) each February during Black History Month.
The theme governing this year's luncheon was "Fostering Strong, Moral, and Courageous Leadership." It was inspired by Dr. King's "Give Us the Ballot" speech that he delivered during the Prayer Pilgrimage for Freedom in Washington, D.C., in 1957. In this speech, Dr. King urged the federal government to ensure voting rights for African Americans, who, although guaranteed the right to vote under the 15th and 19th Amendments, faced discriminatory barriers at the state and local levels that prevented many people from exercising their right.
John Nwagbaraocha, the assistant leader of the Embedded and Open Systems Group and co-chair of LEAN, discussed the theme of leadership in terms of how it can be cultivated at the Laboratory and pointed to employee resource groups (ERGs), such as LEAN, as a key resource for staff to build leadership skills.
"As a new leader at the Laboratory, I understand that sponsor work comes first, but I also see the benefit of staff members supporting ERGs as a way to develop the next generation of leaders here at the Laboratory. There is a lot that goes into running an ERG, including creating a vision for your ERG and motivating people to execute that vision — all basic skills that leaders need, " he said.
"I ask that division and department leaders support and encourage their staff members to be active with ERGs and for staff members to describe how their support of ERGs helps with their career growth. Because I truly believe that ERGs can help foster the next generation of strong, moral, and courageous leaders here at the Laboratory."
On this topic of strong, moral, and courageous leadership, Wilson in her speech challenged attendees to constantly think about how they can be inclusive both as leaders and as team members. "It's the people that surround us and give us encouragement who help us to achieve our dreams," she said. Wilson added that every person has walked a different road to get to where they are, and that we all "should endeavor to make sure that everyone in STEM [science, technology, engineering, and mathematics] has a better opportunity than we had."
Wilson also commemorated Katherine Johnson, a NASA mathematician whose calculations were critical to NASA's first and subsequent crewed spaceflights, who passed away on February 24. Johnson was part of a small group of African-American women who worked for NASA during segregation and whose contributions and stories were largely obscured until the recent release of the movie "Hidden Figures."
Wilson discussed the importance of Johnson's work and her legacy of inspiring the next generation of African-American women pursuing STEM careers: "She may not be with us anymore but she will certainly not be forgotten."
Wilson then talked about her own work at NASA, where she flew three missions on the Space Shuttle Discovery for a total of 42 days in space. She also discussed NASA's future crewed spaceflight plans, which include returning to the Moon's surface in 2024 and eventually traveling to Mars.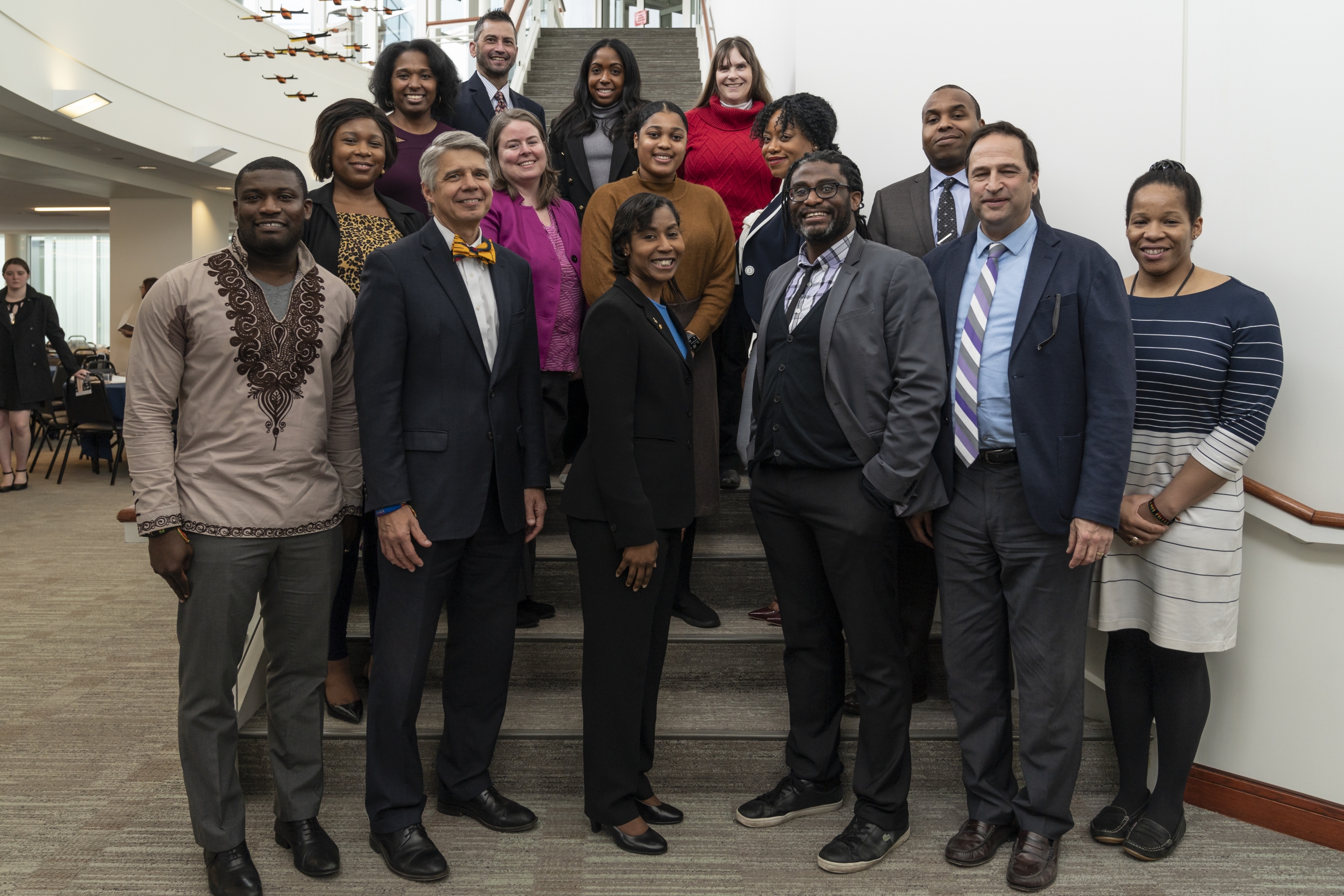 Attendees also heard from members of LEAN, including Kofi Williams, a project manager in the Facility Services Department. Williams discussed the need for everyone to step up and help cultivate an environment where all are and feel included — regardless of race, gender, sexual orientation, disability, and more — and where all have opportunities to find success at the Laboratory. 
"Astronaut Wilson's successes are partly a result of the mentors and advocates who focused on her ability, and not on her gender or race," said Idahosa Osaretin, a technical staff member in the Applied Space Systems Group and co-chair of LEAN.
Williams ended the luncheon by teaching attendees a simplified version of Azonto, a dance from Ghana.
"To see Laboratory leadership right at the front [of the room] dancing to Azonto — it was very encouraging to know that leadership is embracing diversity and cultural awareness," said Williams. "We hope to promote more cultural awareness because we are all one people and we all have a goal to make the world a better place."
In addition to the luncheon, LEAN hosted a number of other programs and activities to celebrate Black History Month. One educational outreach program invited staff to teach for a day at the Dr. Martin Luther King Jr. K–8 School in Dorchester, Massachusetts. This program was offered jointly by LEAN, the Laboratory's Diversity and Inclusion Office, and the Junior Achievement of Northern New England program.
Johnny Worthy, a technical staff member in the Space Systems Analysis and Test Group, participated by teaching personal finance. "It was cool to see how much the children knew about money and the importance of saving at such a young age. One of the last activities involved building a pop-up piggy bank, and one child told me that her piggy bank at home was already full so she was ready for another!" he said. "I think opportunities like this are important for the Laboratory because they give us a chance to have a direct impact on the local community."