Christina Epstein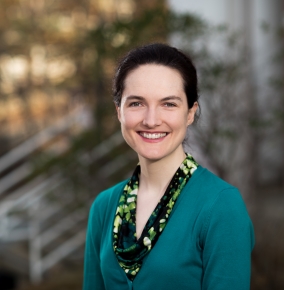 I really enjoy helping our government sponsors understand the key technical information they need to make informed decisions.
As a systems analyst in the ISR Systems and Architectures Group, Christina researches sensor systems that may be useful for a sponsor's mission. She reads technical publications, consults experts, creates models and simulations of potential sensors, analyzes data from all these sources, and distills her findings into recommendations for systems that meet the specific needs of the sponsor. Through the diverse systems analyses she has done at the Laboratory, she has learned about electro-optical sensors, radars, infrared sensors, systems for electronic warfare and electronic protection, decision support tools, and more.
Christina came to the Lab after earning a bachelor's degree in physics at Wellesley College, a school she chose because it offered an emphasis on scientific research and a strong liberal arts curriculum. A few years later, she took advantage of the Laboratory's Lincoln Scholars' tuition assistance program to get a master's in operations research at MIT. Christina ventured into this new area because it was a chance to dig into analytical methods that use advanced statistics, mathematics, machine learning, and probability to guide decisions about the effective management of operations in any field or business. Her enjoyment of multifaceted analyses and varied educational experiences reveal Christina as someone who thrives on continually exploring new subjects. Christina's enthusiasm for new challenges and her technical expertise led to her receiving a 2018 40 Under 40 Award from the Armed Forces Communications and Electronics Association.