Jason Williams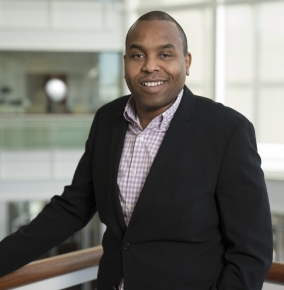 I joined Lincoln Laboratory because the opportunity to work with passionate people on interesting projects that impact the nation was too hard to pass up.
Jason started his career at Lincoln Laboratory designing graphic arts materials like briefings, posters, and handouts. Over the years, he realized that staff could benefit from having extra support materials, like instructional videos and collaboration tools. His initiative to address these needs is just one of the reasons why Jason is valued by his coworkers and his managers. As a design specialist, Jason works one-on-one with staff to translate their cyber-related concepts into visual representations that both accurately depict the research and connect well with viewers. Every June, at Lincoln Laboratory's Cybersecurity, Exploitation, and Operations Workshop, he sees his hard work pay off as attendees and sponsors engage with the posters, demonstrations, and briefings he helped create.
Jason strives to empower his co-workers by inviting them to join him in community outreach through a Laboratory employee resource group called LEAN, short for the Lincoln Employees African American Network. As a founding member of LEAN, Jason says the highlight of his career was receiving an MIT Excellence Award for Advancing Inclusion and Global Perspectives. The award, which he and seven other LEAN members received, recognized the group's impact mentoring African-American employees and organizing events that explore diverse perspectives. He says, "For some organizations, diversity is just a buzzword, so it is good to see Laboratory staff and leadership engaged with the work we do. My takeaway from my LEAN experience is that inclusion is a priority at the Laboratory, and groups like LEAN lead to more diversity."