Paul Metzger
Title:
AI Innovator and Entrepreneur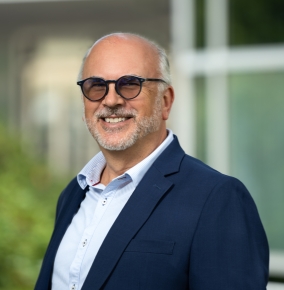 In order to develop truly innovative solutions, you have to be willing to accept a certain level of risk.
Please tell us about your area of expertise. How you are applying it to problems of national security?
I lead the Artificial Intelligence (AI) Software Architectures and Algorithms Group, a team of over 50 research scientists and software engineers, developing advanced AI solutions for the government. For over 20 years, I've been in various leadership roles here at the Lab, developing distributed software prototypes. Prior to joining the Lab, I founded, grew, and sold a small business (Reality by Design) during the previous wave of virtual reality. Running a group at Lincoln Laboratory is very similar to running your own company — there's significant risk management involved. In order to develop truly innovative solutions, you have to be willing to accept a certain level of risk. We apply these entrepreneurial approaches to all of our software prototyping efforts.
What is most challenging to you currently in your work?
One of the projects currently underway in my group provides support to the United States European Command (USEUCOM) in their response to the war in Ukraine. I was part of the initial team that went to USEUCOM at the beginning of April, to explore how Lincoln Laboratory might be able to help them. We met with their teams, talked about their pain points, then came up with a plan on how to rapidly prototype the tech to meet their needs. This has been a high-priority, challenging, rapid-pace project, which has also been one of the most rewarding that I've worked on.
How do you like to spend your time outside of the Laboratory?
I have a pretty eclectic set of interests outside of the Laboratory. In the warmer months I spend a lot of time on my sailboat with family and friends, adventuring up and down the coast of New England. Another interest of mine is community theater, both directing and performing. My most recent role was the lead in the musical "The Fantasticks," which finished its run just prior to the COVID lockdown. And finally, I volunteer with the disaster response group Team Rubicon, deploying to large-scale natural disasters to assist communities in their recovery efforts.
What impact do you wish to have on the world?
It's pretty simple— to spread a little joy and kindness, to help a few folks along the way, and to leave the world in a better place than I found it!