Paul Metzger digs deep with Team Rubicon
Metzger brings a passion to help, and a bit of software savvy, to disaster response in Louisiana.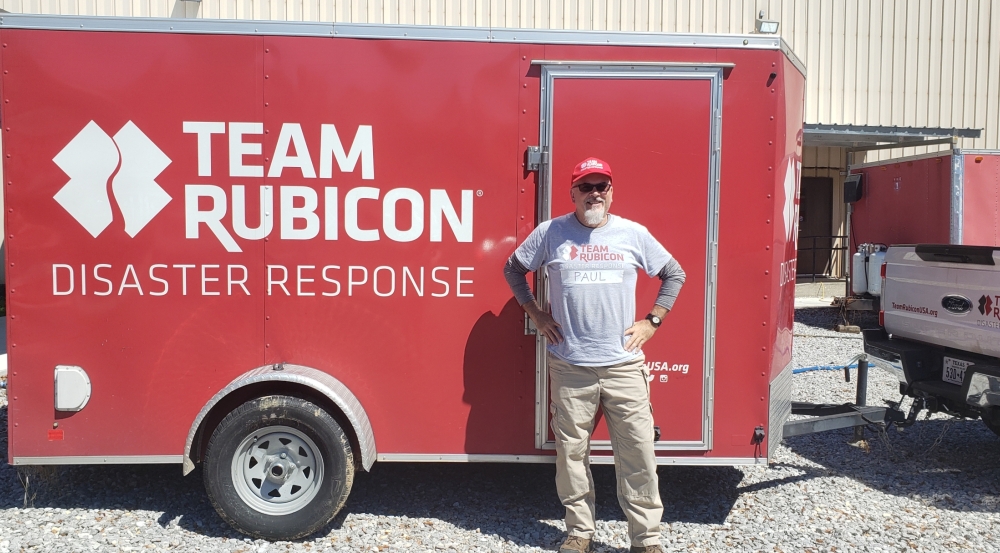 After Hurricane Ida barreled through Hammond, Louisiana, residents were left to pick up the pieces. Trees split homes in half and roofs were torn away. Thousands of homeowners needed help, and Paul Metzger's job was to figure out which ones he and 44 fellow volunteers with Team Rubicon could serve.
Donning a grey t-shirt, the equalizing uniform all Team Rubicon members wear, Metzger joined the call for volunteers, temporarily swapping his role as leader of Lincoln Laboratory's AI Software Architectures and Algorithms Group for one managing crisis-cleanup teams. This would be Metzger's fourth deployment with the non-profit organization, whose mission is to provide relief to underserved communities after disasters.
"My eyes had really been opened as to how much people tend to be on their own after a major disaster," Metzger says, recounting his first deployment with Team Rubicon. It was 2017, after Hurricane Harvey brought an unprecedented, 1000-year flood to Texas. The magnitude of the devastation moved him to sign up. "My kids were done with college. I was at a point in my life where I could take a little more personal risk to going into a disaster zone."
Among its services, Team Rubicon helps homeowners immediately deal with damage to their homes. This service is often desperately needed when FEMA is too overwhelmed to help and insurance checks are still far off. The team sets up forward operating bases (in places like gymnasiums or meeting rooms) and sends out survey teams to homes that have requested help. Depending on the damage they find, Rubicon will then send out crews to bulldoze, chainsaw, tarp, or haul out anything wet from homes. The organization is primarily made up of veterans and first responders, "and a few of what Team Rubicon calls 'kick-ass civilians,'" Metzger adds, with a smile. He falls into the last category.
About a year after his first deployment to Texas, Metzger next went to North Carolina for Hurricane Florence. His job was to dredge out sodden insulation from crawlspaces before black mold could take hold. He even rescued a bass fish from under a house, still alive in a mud puddle weeks after the storm.
Weeks later in Florida after Hurricane Michael, Metzger took on the more logistical job of situation unit leader. Only then did he realize the sheer volume of requests that come in. "We were overwhelmed. There was just too much data to manually sift through," he says.
Metzger's background is in software and data science. In Florida, he brushed off his Python coding skills to develop some data analytics capabilities, with help from Laboratory staff. "But I wanted to be in even more of a position where I could bring both my and the Laboratory's experience to bear," he says. So, during the pandemic, Metzger trained to become a planning section chief, a leadership role at the helm of analyzing requests and recommending which ones to take.
Fast forward to September, and Metzger would be in this role for the first time in the devastated region of Hammond. The city took a direct hit to Ida. When he arrived on September 18 with the third wave of volunteers, nearly ten thousand requests lay waiting. 
Because resources are so limited, plucking out requests that will make the biggest impact is crucial. The homes of people who are elderly or have disabilities take precedent, as do those of first responders or medical workers, so that they can focus their energy on the community. Another factor that could bump up a request is whether debris is blocking access to a home or driveway.
To seek help with this massive triaging task, Metzger reached back to his colleagues at the Laboratory. Jo Kurucar, a software engineer who also volunteers with Team Rubicon, stepped up to support remotely, implementing code to run prioritization algorithms through the database. "It is truly a herculean task without this bit of computer help," Metzger says.
By the end of his 11-day deployment, the operating base had helped 72 homeowners in the area who needed it most. The next waves of volunteers have likely helped dozens more.  
Now back home, Metzger enjoys spending time on his sailboat in Salem, Massachusetts, its cabin a calm space to get in some remote work. He's been with the Laboratory for 20 years, previously owning a small business in 3D virtual reality training systems (of which the Laboratory was a customer). Today, he brings that perspective to the Laboratory's small business outreach efforts.  
Though his deployments have taken him far, Metzger's favorite role with Team Rubicon is local. He is the representative for the southern New Hampshire region, which makes up 600 "grey shirts." Part of what drew him to Team Rubicon was how it relies on local teams to respond immediately when a disaster happens. After tornadoes ripped through Cape Cod in 2019, he was part of the team that responded right away.
Improving disaster readiness and response is also a focus of Lincoln Laboratory's. Prompted, like Metzger, by Hurricane Harvey, the Humanitarian Assistance and Disaster Relief Systems Group has been working with FEMA on improving decision-support tools for emergency managers and on leveraging advanced technology, such as lidar and AI, to promptly assess damage. This portfolio of technologies, and of climate change research programs, is growing fast.
So is Team Rubicon. In just over ten years, the organization has flourished from a handful of people to more than 100,000 U.S. volunteers.
"The growth is amazing. In the bigger picture, these sorts of large storms just keep getting bigger, they keep getting more frequent," Metzger says. "The more people ready to respond, the better. Absolutely."