Bich Vu
Title:
Cybersecurity Researcher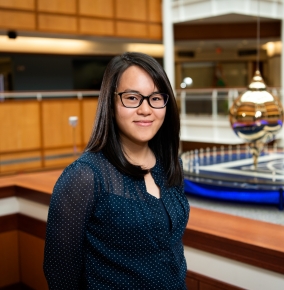 To hear [users] say, 'this tool improves my life,' and knowing I impacted someone's work and helped national security…that's a rewarding moment.
"It's a great feeling to make connections," says Bich Vu. As a co-chair of the Pan-Asian Laboratory Staff (PALS) employee resource group, she helps bring employees together over cultural celebrations, seminars, and social events. Bich is also a division representative in the Lincoln Laboratory Women's Network (LLWN). Her involvement in these groups — which she was heartened to find reminiscent of student clubs in college — isn't just a way to meet people outside of her group; they are also avenues for bringing in more diverse mindsets. She has participated in multiple conferences, such as the Women in CyberSecurity Conference and ACM Richard Tapia Celebration of Diversity in Computing, to meet other people in the cyber field. "When you find a great candidate and connect them to projects and research that they would be really interested in at the lab, and it works out — it's just really nice to be a part of that process," Bich says.
Bich learned about the Laboratory as a college student participating in the National Science Foundation's Scholarship for Service program, which helps train the rising generation of cybersecurity professionals to meet government needs. Since starting at the Lab, she has had opportunities to meet end users of systems developed at the Laboratory by traveling to their site. These experiences not only help her learn about their needs but also allow her to demonstrate the capabilities that she's developed for them. "To hear them say, 'this tool improves my life,' and knowing I impacted someone's work and helped national security…" she says. "That's a rewarding moment."
Now, she gets to improve the security and resiliency of the systems that those users may one day have to defend. Building on the ideas of "chaos engineering," she takes on an adversary's point of view to try to "break" software systems in order to stress test them, and feeds the lessons learned back into the development process. She enjoys studying how problems with software arise, especially when connecting all the components together, and suggesting improvements to enhance the resiliency of the system as a whole.