This list of hotels is for informational purposes only and includes a range of hotels, i.e., full service, mid-range, budget. The publishing of this hotel information does not constitute an endorsement or recommendation by Lincoln Laboratory.
Note: The hotels are ordered according to proximity to the Laboratory; the numbers do not imply any ranking of the hotels' quality, services, or amenities.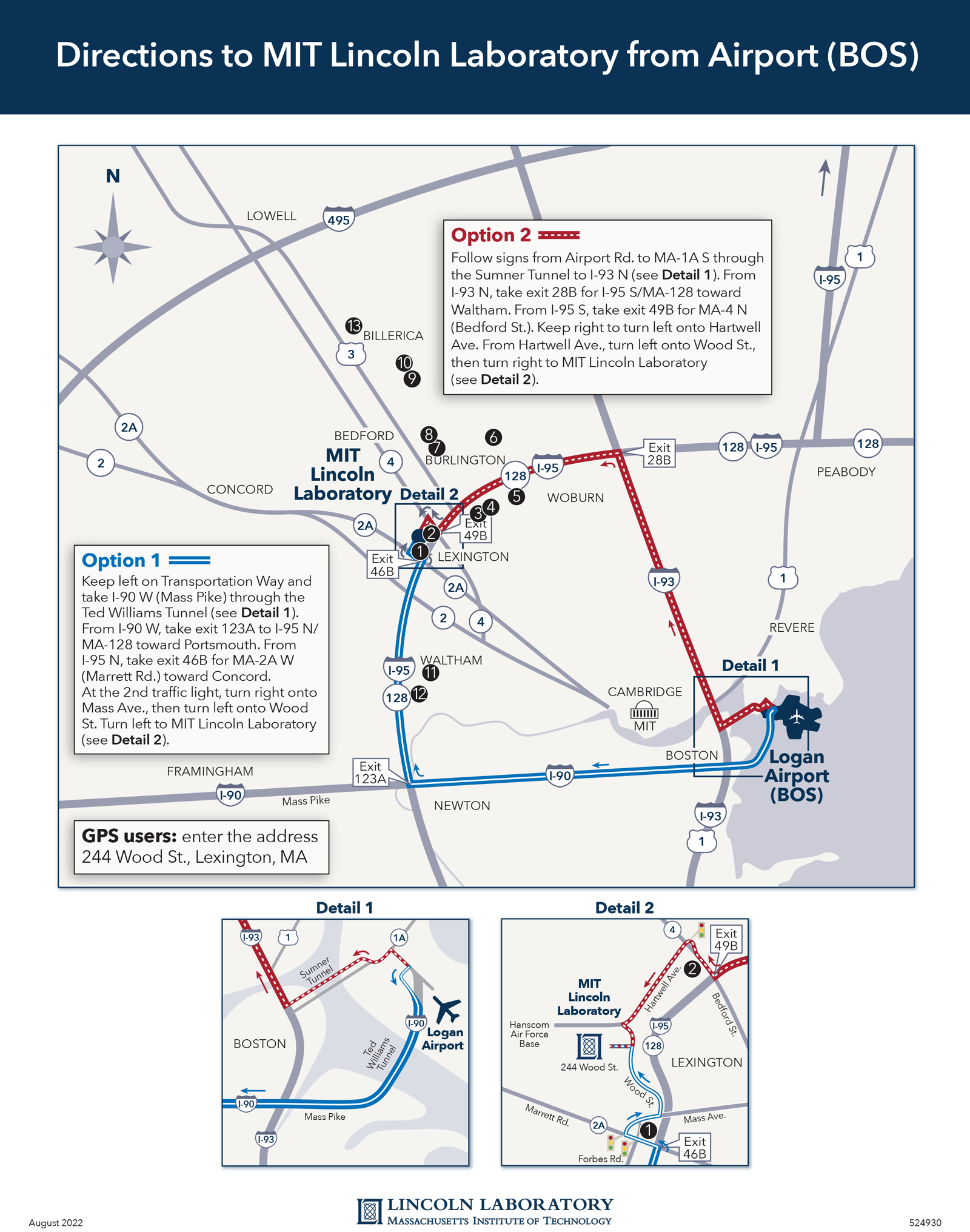 Click the image to download a PDF version of the map.
Aloft – Lexington
727 Marrett Road–A 
Lexington, MA 02421 
781-761-1700

Element – Lexington
727 Marrett Road–B 
Lexington, MA 02421 
781-761-1750
Quality Inn and Suites 
440 Bedford Street 
Lexington, MA 02420 
781-861-0850
781-861-0821 (fax)
Hilton Garden Inn – Boston/Burlington
5 Wheeler Road
Burlington, MA 01803
781-272-8800
781-221-4605 (fax)
800-445-8667 (toll free)
Sonesta
11 Old Concord Road 
Burlington, MA 01803
781-221-2233 
781-221-6969 (fax)
Hyatt Summerfield Suites 
2 Van De Graaff Drive 
Burlington, MA 01803
781-270-0800
Boston Marriott – Burlington 
Routes 95/128 & 3A
1 Burlington Mall Road
Burlington, MA 01803
781-229-6565
781-229-7973 (fax) 
888-236-2427 (toll free)
Extended Stay America Boston – Burlington
40 South Avenue 
Burlington, MA 01803
781-359-9099 
800-804-3724 (toll free)
Candlewood Suites
130 Middlesex Turnpike 
Burlington, MA 01803
781-229-4300
 Hampton Inn – Bedford/Burlington
25 Middlesex Turnpike
Bedford, MA 01821
978-262-9977
978-262-9660 (fax)
 Homewood Suites by Hilton
35 Middlesex Turnpike
Billerica, MA 01821
978-670-7111
978-670-1166 (fax)
 Hilton Garden Inn – Boston/Waltham 
420 Totten Pond Road 
Waltham, MA 02451 
781-890-0100 
781-890-4446 (fax) 
800-445-8667 (toll free)
 Westin Hotel 
70 Third Avenue 
Waltham, MA 02451 
781-290-5600 
781-290-5626 (fax)
 Courtyard by Marriott – Boston/Billerica
270 Concord Road 
Billerica, MA 01821
978-670-7500
978-670-8898 (fax)