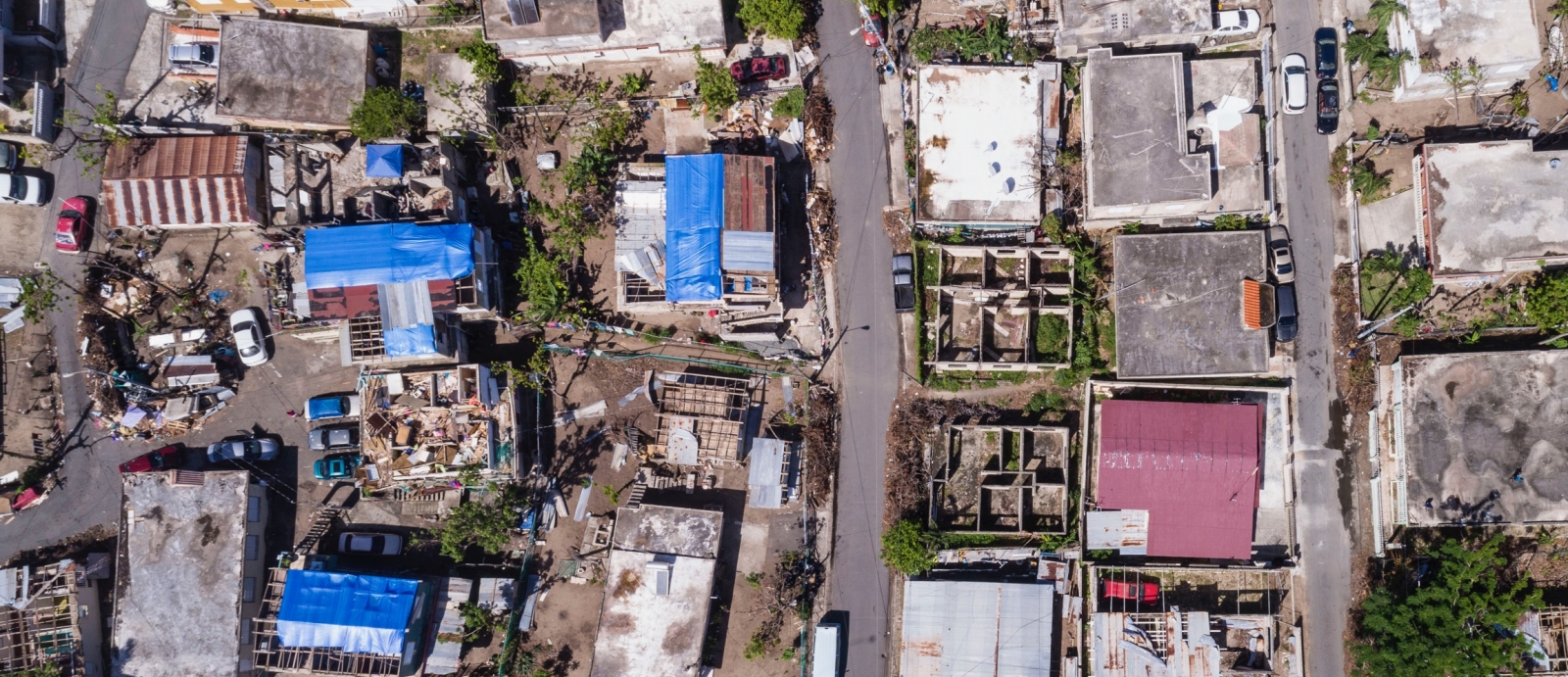 Technology That Confronts Disaster
Lincoln Laboratory deployed tools and teams that helped emergency agencies plan evacuations, monitor weather, provide clean water, and assess the damage wrought by hurricanes Harvey, Irma, and Maria.
Scattered throughout sites of disaster, staff from across the Laboratory's R&D areas worked around the clock. Their work varied. Some flew with a ladar system high above Houston, imaging the flooded and wind-battered neighborhoods below. Others collected and sorted the image data, building algorithms to reveal debris piles. In the hot island sun, a group installed a water purifier for children at a Boys and Girls Club in Puerto Rico, while analysts at the Laboratory in Lexington worked after dark in their offices, tweaking software that officials were relying on to plan evacuations. It was a whirlwind fall in 2017, when Lincoln Laboratory deployed new technology to help the nation plan for and recover from some of the most damaging hurricanes in U.S. history.
It started as Hurricane Harvey barreled toward Texas. Federal Emergency Management Agency (FEMA) leadership asked staff in the Laboratory's Humanitarian Assistance and Disaster Relief (HADR) Systems Group to join them at the National Response Coordination Center in Washington, D.C. They were there to discuss the Laboratory's role in addressing the storm, a scenario staff have been preparing for in the three years since the HADR Group was formally established. 
Informally, the Laboratory's exploration into disaster response technology extends over the past decade. We found that our history developing sensors and decision support software translated well to the area of emergency response, leading us to develop a communications platform for the California Department of Forestry and Fire Protection. In 2010, we deployed an advanced ladar imaging system to Haiti in the aftermath of the 7.0-magnitude earthquake. The high-resolution, 3D ladar images helped military commanders assess road and bridge trafficability, find helicopter landing zones, and quantify the mass migration of displaced persons so that relief distribution logistics could be appropriately planned.  In recent years, we have set out to find more ways to apply our technology and knowledge to disaster response. This work was put into action as never before in 2017.
Situational awareness during Harvey, Irma, and Maria
Since 2014, Lincoln Laboratory has been working to enhance FEMA's National Hurricane Program suite of hurricane planning and evacuation software tools. The result of this work, funded by the Department of Homeland Security Science and Technology Directorate, is a new web-based program called the Hurricane Evacuation (HURREVAC) extended (HV-X) platform.
With Harvey approaching, emergency planners in Texas and at FEMA headquarters in Washington, D.C., were given access to HV-X, still in prototype form, to help plan for the storm and monitor its impact. In a simple user interface, the platform incorporated weather forecasts, offshore precipitation models, potential storm surge levels, business open and close statuses, and myriad other data analytics that helped emergency planners make timely evacuation decisions. A team of the Laboratory's HV-X developers traveled to Washington to support the users and continued to do so throughout the platform's use during Irma and Maria.
The developers were also able to tie in new, experimental tools to HV-X. One of these tools, developed by Laboratory researchers, allowed users to monitor power outages in near real time, a dramatic improvement over the typical days to weeks that it can take for power outages to be assessed and reported to emergency agencies. With near-real-time updates, FEMA could plan timely search-and-rescue missions and quickly understand the extent of infrastructure damage.
The tool used internet connectivity to infer the status of power infrastructure. Researchers at the Laboratory first determined IP addresses in the regions that would soon be hit by the storm and probed those networks, calculating the network's response time. Then, throughout the storm and afterwards, they scanned those same networks and compared the response rates to the pre-storm baseline. Using those results, the researchers calculated an average percentage of normal network activity per town. Those percentages were color-coded and displayed directly on the regional map in HV-X. Each regional map was updated hourly as the system scanned the thousands of IP addresses in the coastal areas of Texas and the entirety of Florida, Georgia, Puerto Rico, U.S. Virgin Islands, and other Caribbean islands.
Damage assessment in Houston
Calling upon the Laboratory's experience using ladar imagery in Haiti, FEMA asked if Lincoln Laboratory could deploy a ladar asset to Houston to assist in their recovery efforts. Of the many responsibilities FEMA faces after a disaster, the most time-consuming are conducting damage assessments and clearing debris that block roads and buildings. These tasks first require the U.S. Army Corps of Engineers (USACE) to physically survey the streets and report back the damage and estimated sizes of debris piles to FEMA. The Laboratory's Airborne Optical System Test Bed (AOSTB), which was integrated onto a Twin Otter aircraft, proved that it can conduct these tasks by generating debris maps, volume estimations, and damage assessments based on ladar data collected from an altitude of 11,000 feet.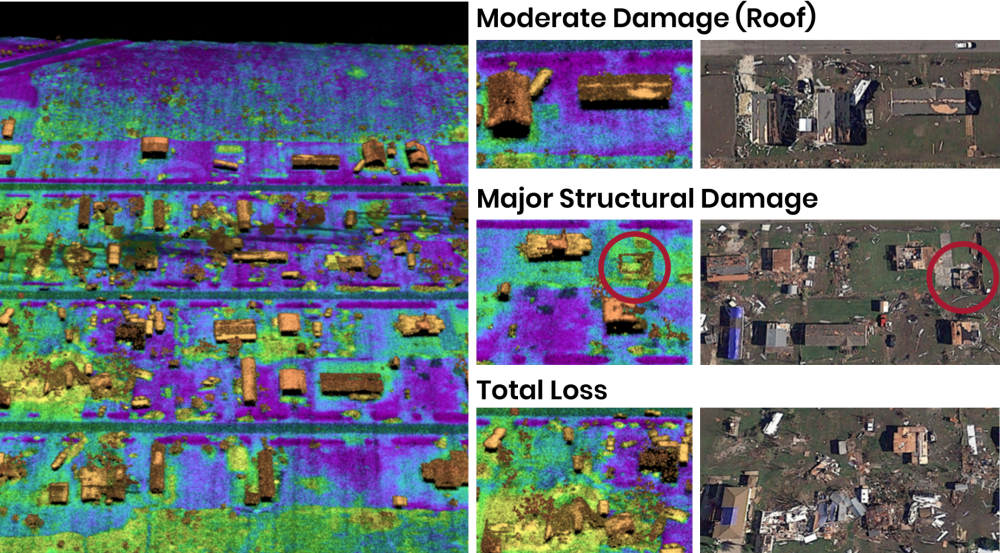 Laboratory staff conducted daily flight missions for two weeks over impacted areas near Houston. The ladar data were collected in two modes. First, the system scanned in wide-area mode, which allowed for quickly imaging large areas but at a low resolution. Within those areas, the team also scanned smaller swaths in targeted mode, which provided clean data more suited for debris estimation. The data were then sent to the processing team at the Laboratory, where algorithms filtered the data to remove all elements (such as trees, houses, and cars) except debris piles and deduced the volumes of those debris piles. To test the accuracy of the method, USACE conducted their usual ground surveys of the same areas the ladar scanned. The results were reassuring: volumes deduced from the ladar images were consistent with USACEs estimations.
The high-resolution data were also used to identify damaged buildings and categorize the severity of the damage. Analysts deduced from the imagery, for example, if a home suffered only moderate damage (such as shingles torn off its roof), structural damage (such as missing exterior walls), or a total loss (a house reduced to rubble). The AOSTB ladar data also assisted FEMA with inspecting critical infrastructure, confirming if utility lines and steam vents were still up and active.
As a whole, the Laboratory's AOSTB imaging efforts proved that ladar can enable quick and accurate debris and damage assessments, freeing up USACE personnel for other important hurricane-relief tasks.
Clean water in Puerto Rico
In Puerto Rico, Laboratory staff helped develop and install water purifiers, one in Loiza and another in Las Margaritas, that are each serving more than 650 people every day. Lincoln Laboratory's involvement in this effort stemmed from staff members' eagerness to identify technology that could help what was, in October 2017, a growing water crisis in Puerto Rico after Hurricane Maria.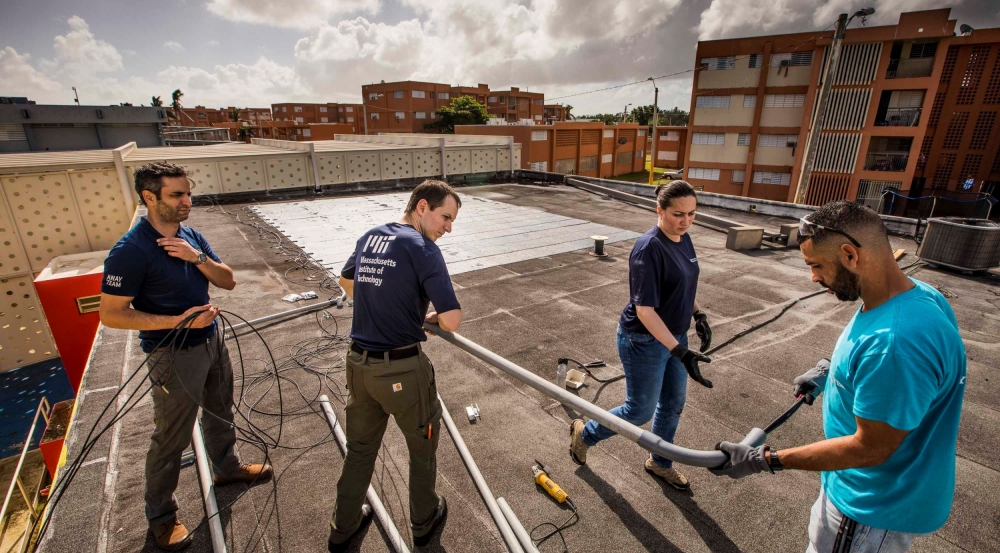 The system, called Water Aid and Renewable Power (WARP), is a new version of a water purifier that a team from the Infinitum Humanitarian Systems and the Roddenberry Foundation has been installing in disaster-stricken communities around the world since 2013.
The previous system required fuel to power its pumps. In collaboration with the energy company GeoInnovation, Laboratory staff developed a new solar-powered system for WARP. The power system uses durable solar-panel mats and a unique inverter that allows the power system to work completely off-grid and without batteries.
WARP was installed at two Boys and Girls Clubs, where local staff will continue to maintain the systems. Laboratory staff hope to continue their partnership with IHS and develop a water system and renewable power source that can support 4,000 people per day in a disaster area. 
Looking to the future
Lincoln Laboratory's work on disaster readiness and response is ongoing. We are leading an evaluation of FEMA's disaster housing–provision process to explore new ways of providing housing that survivors may quickly inhabit after an event. We are also serving as an advisor at the DHS National Infrastructure Coordinating Center, studying the center's workflow for ingesting data during disasters. And, finally, we are taking stock of the lessons we learned this past hurricane season. These experiences give us new insight into how we can help the nation prepare for future disasters and help communities recover in their wake.
Header photo: Lorenzo Moscia