Build it yourself lightsabers sharpen kids' understanding of circuits
Members of the Lincoln Laboratory Hispanic Latino Network attended the Latino STEM Alliance's yearly science festival to help bring STEM to underserved local students.
Circuits are one of the most fundamental parts of engineering, and on Star Wars Day (May 4) they lit up —literally — in the form of lightsabers. A group of volunteers from the Lincoln Laboratory Hispanic Latino Network (LLHLN) spent their Saturday at the Latino STEM Alliance's annual robotics competition and family science festival in Roxbury, Massachusetts. They taught children of all ages to build a functioning miniature of the iconic movie weapon.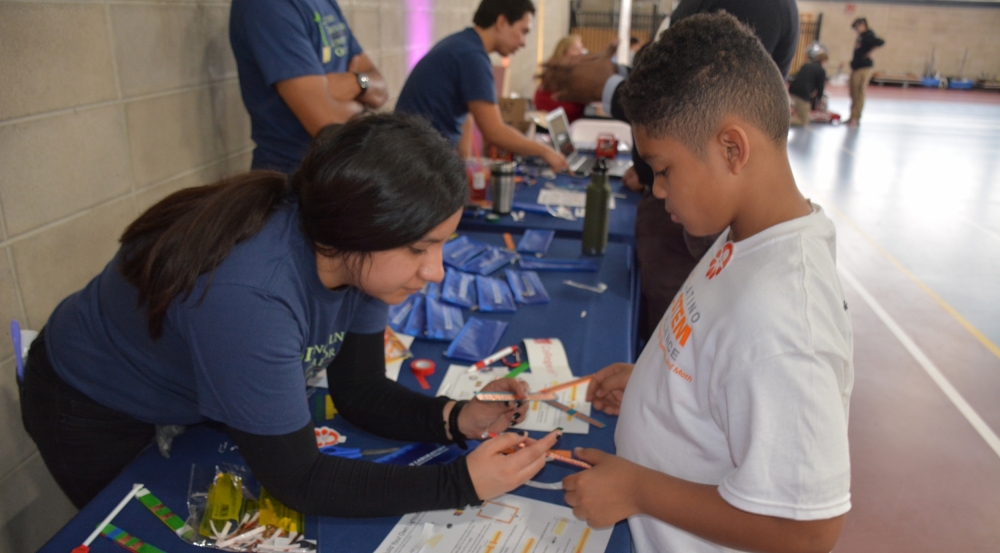 Each lightsaber was made from an LED light, an opaque plastic straw, some copper tape, batteries, and a popsicle stick in the same color as the child's lightsaber (generally green, blue, or purple). The LLHLN volunteers explained the basics of circuitry while helping students to build a basic circuit that would allow them to turn their lightsaber's LED on and off. Eric Chaidez, the co-chair of LLHLN and a volunteer in attendance, estimated that around 60 students came by their "Build Your Own Lightsaber" booth, and that many came back a second time to build another lightsaber.
Chaidez was excited to have LLHLN represented at the science festival; he wants the group to become more involved in outreach activities, in addition to the work they already do building resources for Laboratory employees. Their goal, he said, was to provide STEM (science, technology, engineering, and math) outreach to children who are typically underrepresented in STEM careers. He hopes LLHLN can represent the Laboratory at the Latino STEM Alliance's event in the future; this was the group's third time attending. "We wanted to provide STEM for more diverse students," he said, "because they might not have the opportunities that other students have."
Also in attendance were Laboratory employees representing LLRISE (Lincoln Laboratory Radar Introduction for Student Engineers), the Laboratory's summer program for high school seniors to learn to build and operate a small radar. Chiamaka Agbasi-Porter, who helps to organize LLRISE and served as the liaison between the Latino STEM Alliance and Lincoln Laboratory, brought a radar built by LLRISE students to the science festival. She let students test it by running or flying model planes past the radar and measuring their speed. "Most of the kids were amazed that high school students had built the radar themselves," she said. "We're hoping when they see some of the things we do, it will inspire them to be inquisitive."
The Latino STEM Alliance is a group of STEM professionals who are tackling the lack of diversity in the tech sector by providing STEM programs to underserved young people in marginalized communities. Along with the yearly robotics competition and family science fair, they partner with local schools to provide teacher training, curriculum ideas, and extracurricular programs for students of all ages.
Andre Sisneros, an LLHLN volunteer who spent the afternoon at the lightsaber booth, explained why he cares about youth outreach so much. "I'm from a very small town in New Mexico, where events like this are pretty much nonexistent, and out of my graduating class I was the only STEAM [science, technology, engineering, art, and math] student who graduated with a college degree….This exposure, seeing people like you succeed, being told you can do this too, actually getting out there and building, creating, and proving to yourself that you can, is huge. These types of events can provide that and really spark an interest and give enough fuel to the flame to carry on."