Defense Fabric Discovery Center established to develop smart textiles
Revolutionary fabrics may incorporate diverse sensing capabilities.
Humans have used materials such as cotton to produce textiles for thousands of years. While there has been innovation in how textiles are made, the function of textile items, such as clothing, has not radically changed. However, technological breakthroughs will soon enable the production of "smart fabrics" that can see, hear, sense, communicate, and more.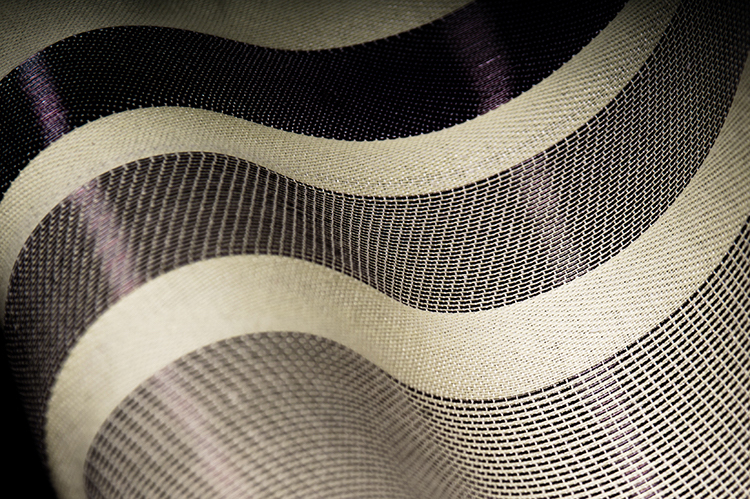 Now, Lincoln Laboratory is contributing to this revolution with the establishment of the Defense Fabric Discovery Center (DFDC)—a state-of-the-art prototyping facility whose mission is to develop advanced fiber and fabric technology to protect the U.S. military and address national security problems. The DFDC was formed in a partnership between the Laboratory, the U.S. Army Natick Soldier Research Development and Engineering Center (NSRDEC), and Advanced Functional Fabrics of America (AFFOA), a nonprofit founded by MIT.
On 25 May, Massachusetts Lieutenant Governor Karyn Polito visited Lincoln Laboratory to announce the $2.2 million state grant in support of the new center. "We utilize the best practices and services to ensure the quality of life throughout the Commonwealth, and we are trying hard to promote that same quality of life in all corners of our community," Polito said at the announcement. "The Laboratory's work is so incredibly profound because it preserves the quality of life for the military, and this grant will allow you to do more for those who choose to sacrifice and to help the military make smart decisions."
The announcement was well attended, with visitors from AFFOA, NSRDEC, and the town of Lexington, and staff from across the Laboratory. "The lieutenant governor articulated a deep commitment to our mission and I believe the message resonated with everyone in the room," said Alexander Stolyarov of the Laboratory's Chemical, Microsystem, and Nanoscale Technologies Group, who is the principal investigator of a project that contributed to the Laboratory's interest in multimaterial fibers.
In partnership with AFFOA, the DFDC will be part of a local network, including three other facilities in Massachusetts, that will help to re-establish domestic textile manufacturing and accelerate innovation. The facility will enable end-to-end prototyping and rapid development of innovative multimaterial fibers and textiles that may function to counter improvised explosive devices (IEDs), camouflage vehicles, generate energy to charge batteries, and monitor soldiers' vital signs. "The DFDC will be a forum for research and collaboration across the region and the United States," said Eric Evans, Director of MIT Lincoln Laboratory. "We are very excited to get started."
The DFDC will house computer-aided-design (CAD) tools, multimaterial preform fabrication equipment, and fiber draw towers for producing polymer and glass fibers. A variety of equipment for fabricating composites and textiles from those fibers will be available. Additionally, space will be constructed for prototyping integrated electronic fiber and fabric systems. These facilities will add a competency that previously did not exist at Lincoln Laboratory. "I hope that this core capability will be leveraged by the Advanced Technology Division and by our system divisions to develop unique solutions to important problems of national security," Stolyarov said. "I plan to form deeper relationships with staff members and group and division leaders from across the Laboratory as we brainstorm what exciting system capabilities this new technology platform can enable."
The DFDC, which will be located at the Laboratory's Lexington site in a building on Katahdin Hill, is expected to open in fall 2017, when the facility will start fiber drawing operations. "I am excited about what we can do together here at the Laboratory," Stolyarov said. "We all come to work to make a difference, to enable our country to be a safer place. I hope that the DFDC and the technology that will be developed and matured will propel us further in this perpetual objective."