Four from Lincoln Laboratory receive AFCEA's 2019 40 Under 40 award
The award recognizes innovation and leadership in science and technology.
Each year, the Armed Forces Communications and Electronics Association (AFCEA) presents the Young AFCEA 40 Under 40 award to 40 individuals under the age of 40 for their significant contributions to science, technology, engineering, and mathematics (STEM). This year, the Laboratory is home to four winners: Anu Myne, Mark Veillette, Meredith Drennan, and Alexander Stolyarov. The recipients are chosen by AFCEA for the innovation, leadership, and support they provide to their organizations, particularly through the application of information technology to make advancements in STEM.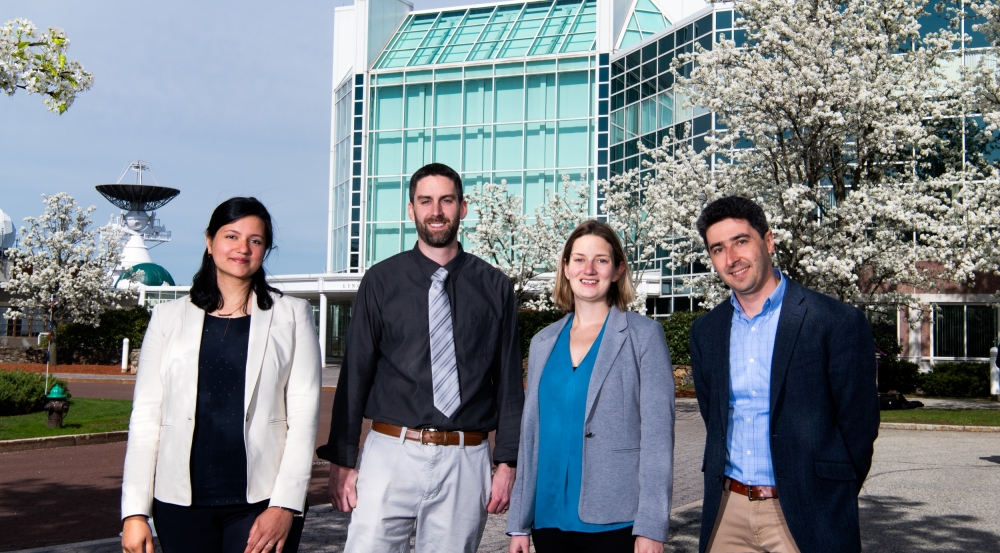 Anu Myne
Myne currently serves as an associate technology officer within the Technology Office, where she supports the strategic development of the Laboratory's internal investments and innovation initiatives and furthers collaboration with MIT campus. In this role, she's focusing on the Laboratory's overall strategies for advancing research and development in artificial intelligence (AI) for national security. Among various other projects, Myne organized the AI Technical Interchange meeting for Laboratory-wide participation last year and is now planning the inaugural Recent Advances in AI for National Security Workshop that will be held in 2019.
"It has been a distinct privilege to work with Anu, one of our rising stars at the Laboratory," said Robert Bond, Chief Technology Officer. "Anu has an impressively diverse professional resume spanning hardware design, signal processing, and machine learning. This background, coupled with her natural inquisitiveness and ability to zero in on the important technology issues, has made her ideal for her current role as associate technology officer."
Before joining the Technology Office, Myne made significant contributions to a diverse set of problems addressing challenges in electronic warfare and radar systems for next-generation defense. Her efforts ranged from system analysis and development of simulation tools to hardware design, implementation, and testing.
Myne believes that every opportunity she's had to develop, test, and demonstrate system concepts was a great experience. She's been most recognized for her efforts in developing a novel electromagnetic environment simulation tool and a Bayesian network approach for intelligent test design — successes she attributes to an appreciation for both real hardware and software design challenges and her willingness to try out new ideas or approaches.
Upon winning the award, Myne said, "The Laboratory is filled with talent and I'm honored to be recognized this way."
Mark Veillette
Veillette began working in the Air Traffic Control Systems Group in 2010. Since then, his main focus has been the application of AI and machine learning in weather sensing and forecasting. "As you can imagine, weather involves a lot of data and uncertainty, so I think it's a very rich and exciting space to be applying these types of algorithms," Veillette said.
Currently, Veillette is working on a project to create a global picture of synthetic weather radar. The data used for the project are similar to weather radar imagery seen on the news, except that these data will be available globally, even in areas without weather radar.
"Mark is not only an expert in his field, he is a consummate teacher," colleague Christopher Mattioli said. "Even at his most busy and stressful times, he's always willing to offer technical guidance and listen to new ideas. His type of character fosters a healthy working environment, which ultimately strengthens and expedites innovation."
Veillette said he is particularly proud of organizing and teaching a technical education course titled Decision Making Under Uncertainty. He has also been involved in various support roles across groups and divisions, and has served on the Laboratory's Advanced Concepts Committee for the past two and a half years.
"There are so many talented people here at the Laboratory and at other institutions supporting the Department of Defense, so to be recognized by the AFCEA is very nice," Veillette said. "I'm thankful to the Director's Office for nominating me."
Meredith Drennan
Drennan has been working at the Laboratory since 2010, when she started as an associate staff member in the Integrated Systems and Concepts Group. Since that time, she has worked on an assortment of Laboratory projects and is now an assistant leader of her group.
From 2010 to 2014, as part of the Multi-Aperture Sparse Imager Video System and Wide-Area Infrared System for Persistent Surveillance teams, she developed software for wide-area motion imagery processing.
Since 2014, Drennan has been the lead flight software developer for the SensorSat program — a project to build a next-generation surveillance satellite. She was made program manager of this project in 2018.
What Drennan appreciates most about her work at the Laboratory has been the opportunity to contribute technically while working with great people on difficult problems. She pointed to her work on SensorSat as the reason for her receiving this award: "While I admit I worked very hard on that program, I was one of many. Any successes the satellite has had are a result of the hard work and dedication of dozens of individuals, not just one."
Alexander (Sasha) Stolyarov
Stolyarov, a staff member in the Chemical, Microsystem, and Nanoscale Technologies Group, currently leads the Defense Fabric Discovery Center (DFDC) — an end-to-end advanced fabrics prototyping facility focused on developing multifunctional fibers and fabrics for national security. The DFDC, opened in October of 2017, is one of a planned network of fabric discovery centers and was built in a joint venture among the Laboratory, the Commonwealth of Massachusetts, the Advanced Functional Fabrics of America, and the Combat Capabilities Development Command Soldier Center (formerly called the U.S. Army Natick Soldier Research, Development and Engineering Center).
Shortly after joining the Laboratory in 2014, Stolyarov began working on a program involving multimaterial fiber devices. The program seeks to incorporate these devices into fabrics for a variety of uses, including fabric-based chemical sensors and optical communication systems.
Stolyarov said that his greatest accomplishment here at the Laboratory has been "starting and growing the advanced fibers technical area, which has grown from a group project to an enterprise involving collaborations with many of the Laboratory's system divisions."
Livia Racz, associate leader of the Chemical, Microsystem, and Nanoscale Technologies Group, said, "Sasha had a passion for this subject since he first started at the Laboratory. When we first saw his proposal, we realized that it promised to become a perfect example of what we were looking for — a rapid, scalable way to break the paradigm of electronics on flat circuit boards."