Kate Byrd is chosen as one of Aviation Week Network's "20 Twenties"
The annual awards program recognizes talented individuals who are on course to change the face of the aerospace and defense industry.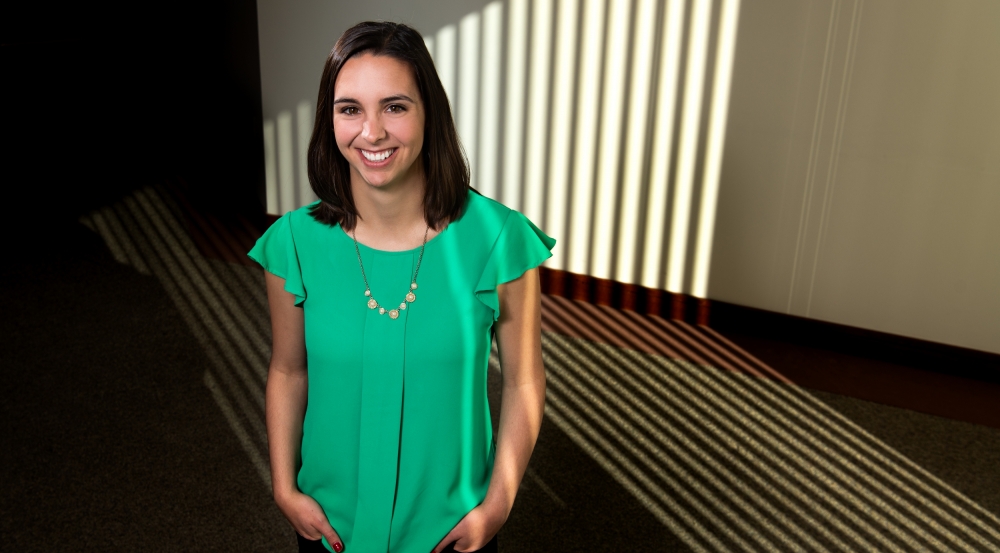 Kate Byrd, an associate staff member in Lincoln Laboratory's Advanced Sensors and Techniques Group, was recently named one of Aviation Week Network's 20 Twenties for 2020. Byrd was nominated for the award by Harvard University, where she studied electrical engineering from 2018 to 2019.
The awards program, offered in collaboration with the American Institute of Aeronautics and Astronautics (AIAA), recognizes the top science, technology, engineering, and math undergraduate and graduate students for their academic excellence, the research projects they undertake, and their contributions to the broader community.
"I'm honored to have been recognized by AIAA. The recognition is reflective of my excellent colleagues at Harvard and MIT Lincoln Laboratory and the collaborative environment that supports the growth and mentorship of those early in their career," Byrd said.
Since joining the Laboratory in 2015, Byrd has been involved in a variety of projects, including a lower-leg biomechanical measurement system called the Mobility and Biomechanics Insert for Load Evaluation that is designed to monitor and prevent musculoskeletal injuries in soldiers. The technology recently won an R&D 100 Award. She is currently leading a hardware team to build a handheld radar that can detect moving objects through obstacles such as walls. The radar can help disaster relief workers find and rescue people buried under rubble or trapped in a building by detecting the victim's breathing rate. She is also developing suites of ultra wideband antennas that are small enough to be worn on the body and that can cover a wide range of waveforms to decrease the probability of detection and intercept by adversaries during tactical communications.
Byrd's work on antennas fostered a newfound interest in hardware design and motivated her to return to school. She began by pursuing part-time graduate studies in RF and analog integrated circuits at Boston University and wireless communication at Northeastern University. In 2018, she returned to graduate studies full-time to study electromagnetics and machine learning methods through the Laboratory's Lincoln Scholars tuition assistance program and received an SM degree in engineering sciences from Harvard University in 2019.
The 20 Twenties program recognized Byrd as one of "tomorrow's engineering leaders"; similarly, Byrd makes it her mission to find and encourage talented young individuals. She is the chief operating officer for Girls Who Build, a nonprofit program that teaches high school students engineering concepts through hands-on workshops. She is also involved with the Lincoln Laboratory Women's Network and helps recruit new hires at conferences.
"I like being involved in recruitment because I can stay in touch with the research and projects students are engaging with at the undergraduate level and also help the Laboratory identify upcoming talent," Byrd said.
Byrd and 19 other winners will be recognized at the 20 Twenties annual Laureates Gala, which celebrates both industry veterans and the young innovators following in their footsteps. The ceremony will be held on 12 March 2020, at the National Building Museum in Washington, D.C.