Laboratory hosts fireside chat with Clint Smith during MLK Luncheon
Smith discussed his career and the luncheon's theme of facing tomorrow with unity, strength, honesty, and love.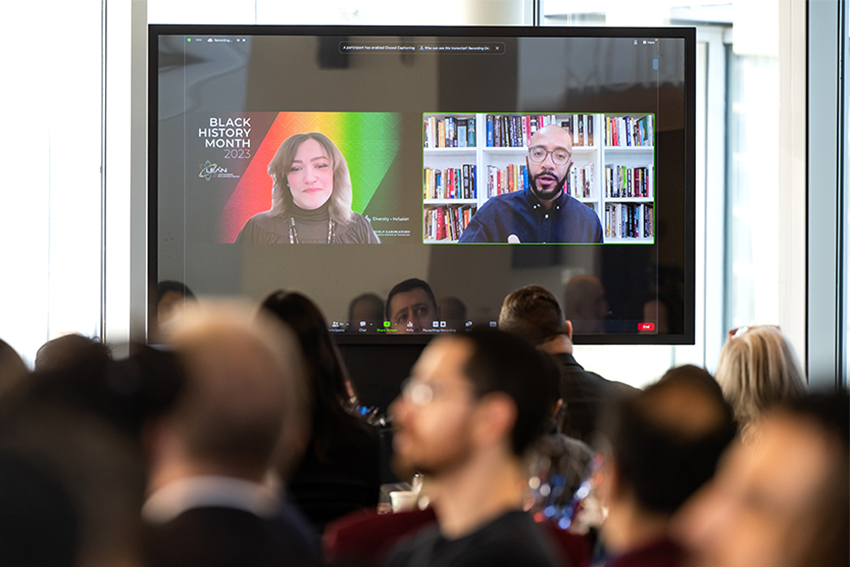 As part of Black History Month, the Lincoln Laboratory Employees African American Network (LEAN) hosted the 10th Annual Martin Luther King Jr. Luncheon to celebrate the life and legacy of Dr. King and consider his impact on increasing diversity and inclusion within our society. Author, poet, and educator Clint Smith III was invited to discuss his approach to uncovering the nation's history of slavery and his own personal journey, as well as Dr. King's legacy and the luncheon's theme, "Facing Tomorrow with Unity, Strength, Honesty, and Love."
"Change does not roll in on the wheels of inevitability, but comes through continuous struggle," said Eric Evans, director of the Laboratory, to quote Dr. King. "For us within the Laboratory, the messages of Dr. King continue to be central to our pursuit of improving diversity and inclusion…We need to have people with diverse backgrounds, experiences, and ways of thinking to address the complex technology development problems that we have here."
During the chat, Smith reflected on his upbringing in New Orleans, where he was presented with one view of American history that was disparaging to Black people. Later, as an adult and a high school teacher, this motivated Smith to learn more about the nation's history with slavery, as well as the different sociopolitical and historical factors that influence students' lives. His desire to know more about American history pertaining to slavery also provided inspiration for his first narrative nonfiction book, "How the Word Is Passed: A Reckoning With the History of Slavery Across America," which was a #1 New York Times bestseller and received multiple prestigious literary honors.
"The very catalyst of the book was a recognition within myself that I didn't understand the history of slavery — as the descendant of enslaved people and as someone who grew up in a city that was at one point the largest slave market in the country — in a way that was commensurate with the impact and legacy that it left on my city, my state, and my country," said Smith.
As a poet, novelist, and educator who taught high school English for a number of years, Smith's personal quest to understand the history of slavery and share its impact on our nation drove him to create the YouTube series Crash Course Black American History. Across 51 episodes, the series dives into the experience of Black people in America, from the arrival of the first enslaved Black people at Jamestown all the way to the Black Lives Matter movement.
"Much of my work is interested in how we recognize America as a place that has provided unparalleled, unimaginable opportunities for millions of people across generations in ways that their own ancestors could never imagine and has also done so at the direct expense of millions and millions of other people who have been intergenerationally subjugated and oppressed," said Smith. "Because both of those things are the story of America."
William Gibbs from the Laboratory's Information Services Department, and a co-chair of LEAN, said that the Laboratory is always trying to grow, learn from its mistakes, and make sure that they "get it right" in terms of diversity and inclusion. "The mission (at the moment) is about reconnecting with our LEAN community, folks of color, and people who identify as Black, and make sure that they know that there is a community here that cares, that is vested in their success, and wants the Laboratory as a whole to succeed — and we can't do that without doing it together, in unity."