Lincoln Laboratory research assistant recognized as one of "tomorrow's leaders" in aerospace
Alexa Aguilar was named to Aviation Week Network's "20 Twenties."
Alexa Aguilar, an MIT graduate student and research assistant in Lincoln Laboratory's Advanced Sensors and Techniques Group, was recently named one of Aviation Week Network's "Tomorrow's Engineering Leaders: The 20 Twenties."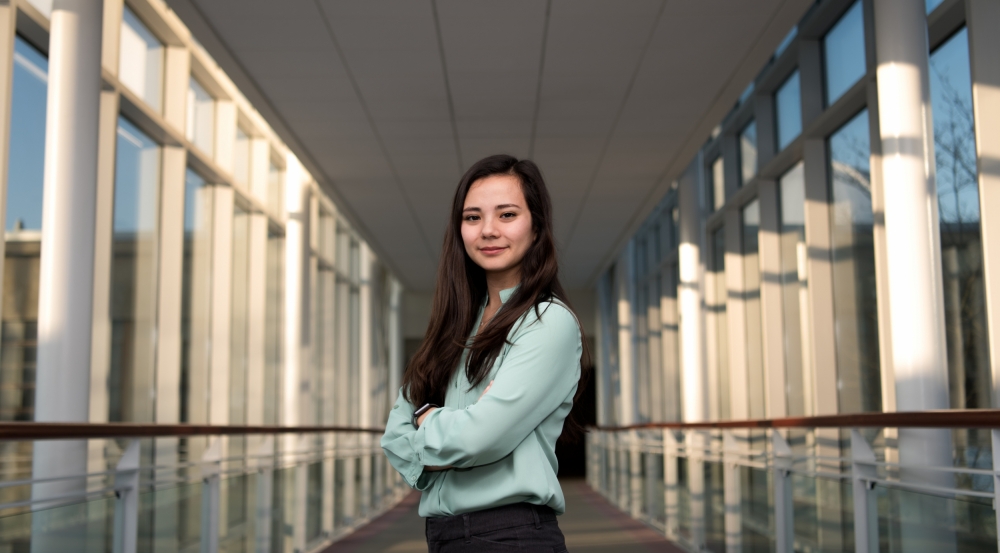 The annual awards program, offered in collaboration with the American Institute of Aeronautics and Astronautics (AIAA), recognizes the top science, technology, engineering, and math undergraduate and graduate students for their academic excellence, the research and projects they undertake, and their contributions to the broader community.
"Universities around the globe nominated their top students for the 20 Twenties recognition, which is built on three pillars of what the aerospace industry values most – learning, civic service, and high-value research," Greg Hamilton, Aviation Week Network president, said in a recent news article. "This year's nominees and winners definitely reflect these pillars while also bringing to the fore the innovation and creativity that are hallmarks for this generation."
Aguilar is a first-year master's candidate in the MIT Department of Aeronautics and Astronautics (AeroAstro). "I've always been excited about space," Aguilar said, adding that Carl Sagan was one of her childhood heroes. But it wasn't until an internship at NASA's Jet Propulsion Laboratory in 2016 that she saw herself in the aerospace field. During that internship, she met MIT students who told her about AeroAstro graduate opportunities. A year later, she was enrolled in the program.
As a research assistant at Lincoln Laboratory, Aguilar has applied her bachelor's education in electrical engineering to the challenge of miniaturizing ultrawideband antennas. "I loved the work I did with miniature antennas," Aguilar said. "Deducing the relationships between geometric configurations and the characteristics of the antenna, and how to properly manipulate the design to extract the pattern needed was very exciting." Aguilar first came to the Laboratory last summer as an intern in the GEM Fellowship Program, which matches top graduate students from underrepresented communities to internships in the nation's leading laboratories and corporations.
George Pantazis, one of Aguilar's supervisors and mentors at the Laboratory, praised Aguilar's willingness to always "challenge herself with new tasks and projects, never shying away regardless of the effort." Pantazis said, "She never accepted not knowing as an excuse and pushed herself to expand beyond what was familiar. It is with confidence that I say that Alexa possesses all of these traits that so admirably define a leader." 
Earlier this school year, Aguilar was also named a recipient of a new AeroAstro fellowship designated for the best female and underrepresented minority students. The fellowship was created to increase diversity in the next generation of aerospace engineers.
Today, Aguilar is immersed in projects in the MIT Space Telecommunications, Astronomy and Radiation (STAR) Laboratory. One such project is the Cubesat Laser Communication Infrared Crosslink mission, which aims to demonstrate a laser crosslink between two spacecraft at 20 megabits per second. She also continues to work at Lincoln Laboratory as a research assistant and will be back full time this summer.   
"Lincoln Laboratory and those of us who have worked personally with Alexa eagerly anticipate her return to the Laboratory in 2018 and, moving forward, the great heights we so confidently expect her to soar to," Pantazis said.
Aguilar is looking toward her immediate goal of earning her master's degree. But through a wider lens, she's excited to see where technology takes us in space.
"I'm eager to see the technological strides we'll make to realize these really ambitious mission objectives," Aguilar said. "For example, a manned mission to Mars had been in the works in the 1950s, but enabling technologies like free-space optical communication for high data rates now make this concept feasible."
The 20 Twenties winners will be honored during Aviation Week's 61st Annual Laureates Awards on March 1 at the National Building Museum, Washington, D.C. MIT student Arthur Brown, a first-year master's candidate in AeroAstro, was also named a 20 Twenties awardee.