LL EduCATE introduces engineering to middle and high school students
Lincoln Laboratory staff members design an engineering curriculum to be accessible for in-person and online education.
What does engineering mean to you, and how would you go about defining engineering?
These are questions that Lincoln Laboratory personnel posed while creating accessible STEM (science, technology, engineering, and mathematics) lessons for middle and high school students.
The program, called Lincoln Laboratory Courses for Accessible, Technical Education (LL EduCATE), introduces students to core STEM skills that are helpful across many engineering disciplines. The goal of LL EduCATE is to provide affordable and hands-on opportunities for underserved students so that they can see how STEM topics can apply to their own lives.
"In high school, I didn't have engineering or computer science classes," says Juliana Furgala, a cybersecurity researcher in the Secure Resilient Systems and Technology Group. She came up with the idea for the course about two years ago while thinking about how to bridge the gap between academia and industry. "I hadn't even considered them as options for a career until I took an introductory computer science class in college for a math credit and found that I actually really enjoyed it."
Furgala teamed up with five other employees from across the Laboratory — Adam Kern, David Maurer, Bich Vu, Maxsimo Salazar, and Jennifer Swanson — to develop the LL EduCATE lessons. They designed the material to be accessible for students whether they are participating in hands-on lessons at local schools or through an online program.
Thirty-eight students participated in a pilot program at middle and high schools in Stoneham, Massachusetts, this spring.
Vu says that LL EduCATE differs from many K-12 outreach activities that she has participated in at the Laboratory. "In particular, it hopes to scale and make STEM content more broadly available and organized at an appropriate level for the students," she says. "This scale factor is important, and COVID has proven that nontraditional means are also relevant for STEM outreach."
While designing the course, the LL EduCATE team hosted a series of talks with subject matter experts from across the Laboratory to see what projects they have worked on, and which elements of engineering were most important and relevant across those projects. They then selected three of these projects to include in the course to represent the varied applications and possibilities of engineering. One of these projects included a Laboratory-led study on the spread of COVID-19 in New York's public transportation system, which partly inspired the team's initial lesson on particle filtration with the Stoneham students. In this lesson, the students were given the challenge of developing a filtration system to eliminate as much coffee-ground "mud" as possible from a water sample.
Other Laboratory projects that the team is sharing lessons from include a COVID-19 contact tracing system called PACT that relies on short-range Bluetooth signals, and a Clausewitzian Chess lab that was adopted from a Laboratory gamified multi-domain adaptive warfare study.
"The hardest part about developing the LL EduCATE curriculum has been pulling the thread of 'engineering' through every lesson," Kern says. "It's easy to get sidetracked with the experiments and focus on the interesting subject matter, but what we're really trying to drive home is how these projects can make you a better engineer and teach you some of the general, non-technical skills you might need. Working with the students has been tremendously helpful in seeing what they take away from the projects and letting that guide the narrative we're telling."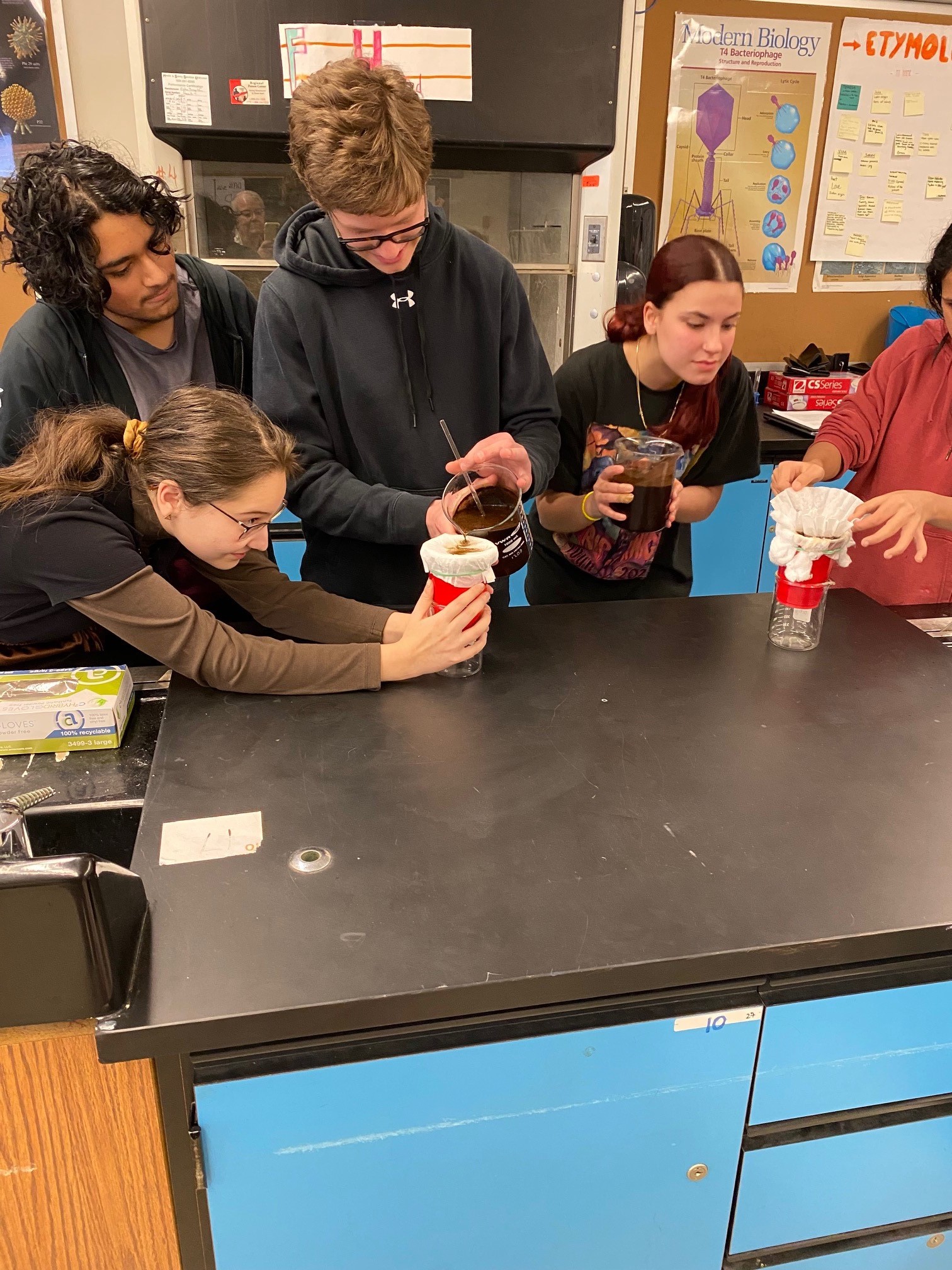 The team is using feedback from the in-person interactions with students at Stoneham to modify and improve course content for future in-person or online sessions. They plan to support the course for three years before transitioning it to another party, such as MIT Beaver Works, who can then continue to offer the LL EduCATE lessons.
"As we've run the trial experiments at Stoneham High School, it's been great to see the students so engaged," Kern says. "This was particularly striking on our first run, when we did our filtration experiment with high schoolers. I had no idea how it would go over, and was quite anxious. The students, however, took off with the project. They were engaged and excited, to the point where they suggested leaving more time during the next trial."
"The level at which students are learning was a complete surprise," Salazar adds. "Hearing that as first– and second-year students, they are already enrolled in courses such as game design, engineering, and physics was earth-shattering."
The team has been very pleased with the feedback that they have received from students and teachers in participating schools so far. They plan to continue working with Stoneham Public Schools both to run the course again and to align course content with more formal educational standards, to make it easier to adapt for remote learning. They will also expand the program to other local schools in Massachusetts, now that the pilot has wrapped up.