Scout creates historic marker for Millstone Hill Radar and Haystack Observatory
Carter Purple, a local Scout, created and installed a marker to commemorate the history of the MIT Haystack Observatory and Millstone Hill Radar site.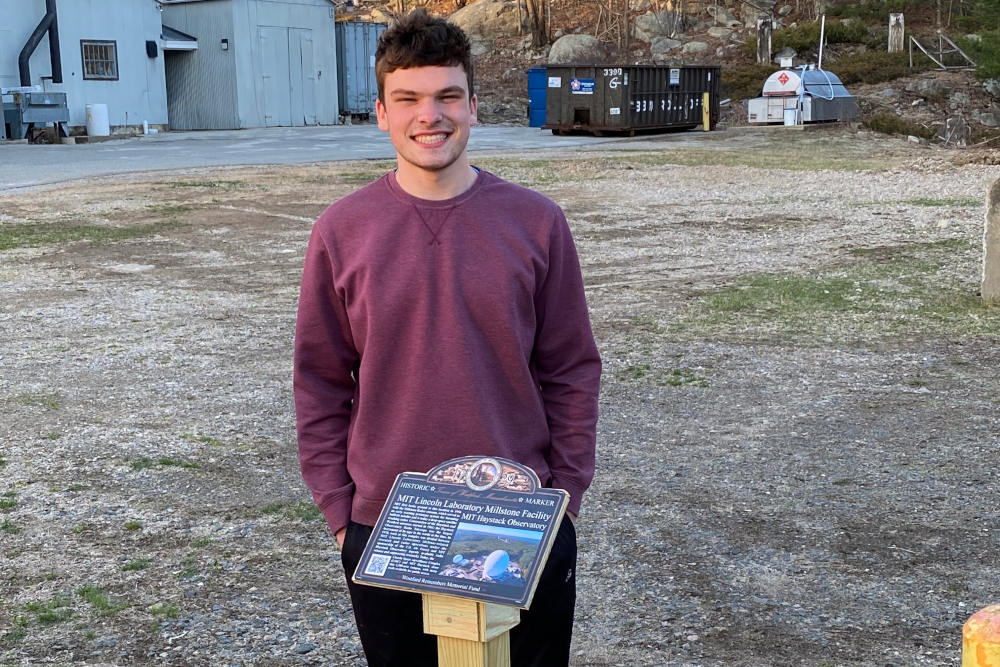 A local Scout, Carter Purple, has installed a historic marker at the MIT Haystack Observatory and Millstone Hill Radar site to commemorate the construction of the facilities. The marker was placed next to the pedestrian gate found at the site. 
The sign is a part of Purple's Eagle Scout service project. He also created similar signs for the Westford Town Farm Building, the MacDougall Ski Tow, the Westford Museum, and the original Westford Academy. All of the signs include historic information and photos from their respective locations.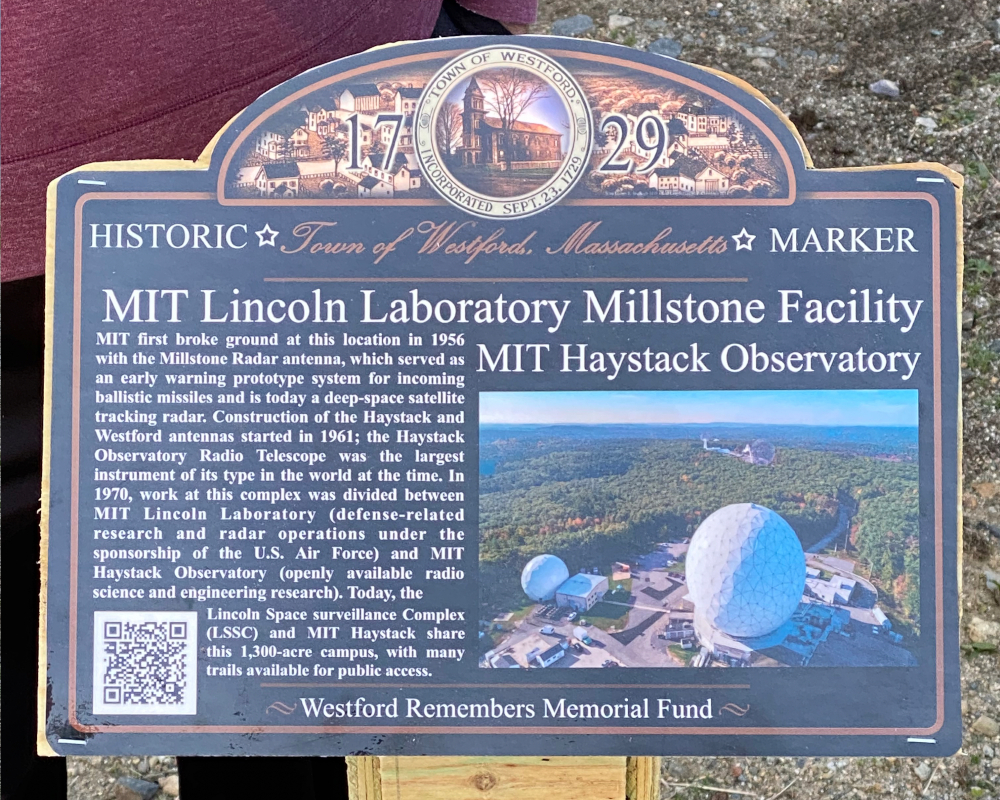 "I chose the Millstone site because I was trying to pick sites that were both interesting to me and relatively unknown to many people in Westford," says Carter Purple, the Scout behind the project. "Even though there's a bunch of stuff going on at the site, there are so many people in town who don't even know that all of this incredible research and science is going on right here in our backyard." 
The signs also include a QR code that links to pages on the Westford Historical Society website that include videos about the sites.
Purple is a member of Troop 159 and worked with Jonathan Pitts, Leader of Lincoln Laboratory's  Humanitarian Assistance and Disaster Relief Group, Jeff Dominick, the Millstone Hill Field Site Manager, and Nancy Kotary, an MIT Haystack Observatory Communications Officer, to create and install the sign. Pitts is also an advisor for Purple's Eagle Scout service project.  
"Carter is a great kid and has spent many months working hard on this," says Pitts. "It's a pretty neat project, and one that will help preserve the history of the site and make it easily accessible to MIT employees and the public." 
Purple built the signposts, created the signs, and produced and directed the videos that the QR codes direct to, all as a part of his Eagle Scout service project. The project is required to become an Eagle Scout, and has Scouts carry out a community service project in which they can demonstrate leadership skills and principles. 
"I'm doing this project because history is something I'm passionate about, and I wanted to create something that will have a lasting legacy in the town and expose Westford citizens to the great history of our town," says Purple. 
The signs currently on display are not final, and Purple is working to have more permanent signs created and installed. Purple will have his Eagle Scout project reviewed in the coming weeks by a board of reviewers, after which he is expected to receive the rank of Eagle Scout.