Technology transfer award recognizes system that detects concealed objects on people
The technology first developed at Lincoln Laboratory is now licensed and will soon be tested to screen passersby in sports stadiums.
Many of us are familiar with body scanners at airport security, where we must step into a machine, stand still, and wait for the system to detect any objects that may concern security. Lincoln Laboratory has developed a similar technology that can detect and classify an item concealed on a person, but does so as a person simply walks by.
This technology has been licensed and transferred to the security company Liberty Defense, which intends to commercialize the technology in a system called HEXWAVE. For this transition, the Federal Laboratory Consortium for Technology Transfer (FLC) awarded their 2019 Excellence in Technology Transfer Award for the Northeast region to the team that facilitated its transition.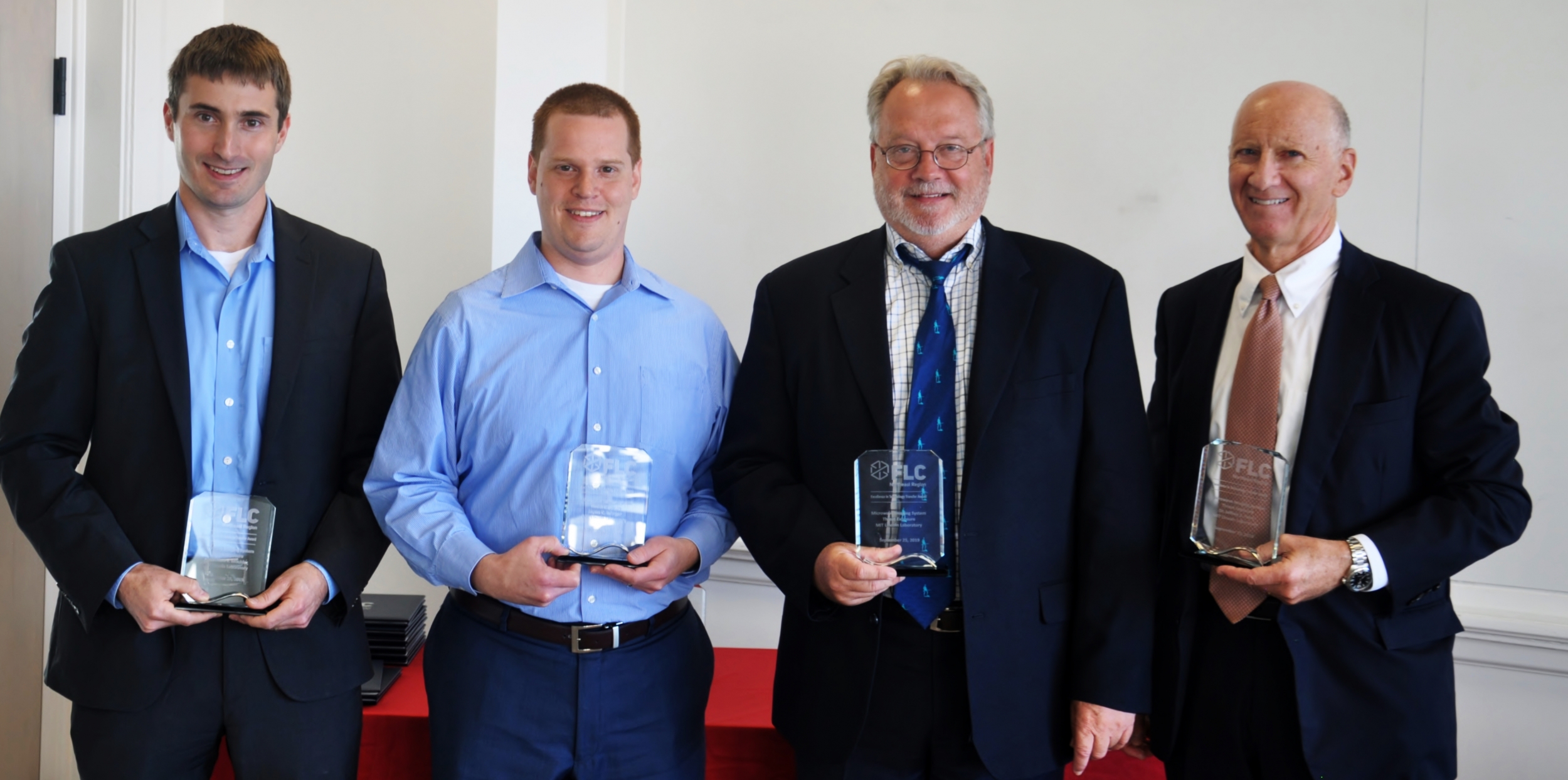 The technology transfer team includes William Moulder and Jeffrey Herd of the RF Technology Group at Lincoln Laboratory; Jayme Selinger and David Pronchick in the Laboratory's Contracting Services Department; Kevin Lefebvre of the MIT Technology Licensing Office; and Aman Bhardwaj, Liberty Defense's chief operations officer and its president of U.S. operations. 
"It is rewarding to see the Lab's technology be transitioned to address an important problem," said Moulder, who led the technology's development at Lincoln Laboratory. "This tech transfer was successful because the technology addresses a well-defined national need and can be applied to multiple commercial security applications. The transition partner has significant experience in the security industry and understands the process of product development and system integration."
The system handles a constant stream of subjects, making it possible to screen people in places like malls, stadiums, train stations, or schools where it would otherwise be too disruptive to employ stop-and-pose imaging technology. The technology works by sending low-energy microwaves (less powerful than what a cell phone transmits) through clothing and bags on a person as he walks past the antenna. These microwaves bounce off any metal, liquid, or plastic on a person's body and return to the antenna, generating a 3D microwave image of the items. The system's artificial intelligence algorithms then process the image to classify the items. If an image is characterized as depicting a potentially threatening item, an operator is alerted and a security official can be dispatched to investigate.
The system architecture — including the sparse aperture antenna array, radio-frequency transceivers, and real-time image processing capability — was transferred to Liberty Defense. In addition, "a spread-spectrum waveform and custom RF transceiver subsystem were jointly developed under a Cooperative Research and Development Agreement [CRADA]," said Herd, who leads the RF Technology Group. A CRADA is the mechanism through which a federally funded research institution can transfer technology, processes, and technical know-how they have developed to the private sector for commercialization.
Liberty Defense has since signed agreements to beta test HEXWAVE at Camden Yards Sports Complex in Baltimore; FC Bayern Munich's Allianz Arena in Germany; Rogers Arena in Vancouver, British Columbia; in the state of Utah; in Sleiman shopping centers; and other locations.
For the Laboratory, transitioning technology to industry is an important part of its role as a federally funded research and development center (FFRDC). The mission of the FLC is to promote, facilitate, and educate FFRDCs and industry on the process of technology transfer.
"Overall, this partnership has greatly accelerated movement of a federally developed technology investment into industry," FLC stated in an announcement about the award. "Almost one year after its founding, LDT [Liberty Defense] has grown to a sizeable organization, building a product that is based on a federally funded prototype." According to FLC, Lincoln Laboratory's close interaction with Liberty Defense facilitated "very efficient transfer of some of the core research and development, and practical developments realized under the federally funded effort."