Three from MIT Lincoln Laboratory are named winners of AFCEA International's 40 Under 40 Awards
AFCEA acknowledges recipients' significant contributions to their organizations and technical fields.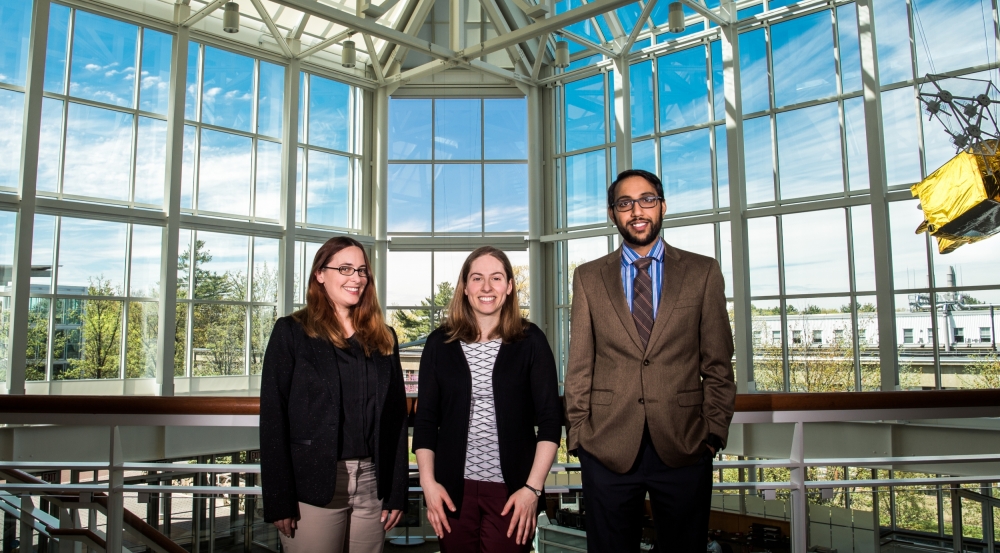 Francesca D'Arcangelo, Emily Fenn, and Vijay Gadepally were selected as recipients of the Armed Forces Communications and Electronics Association (AFCEA) International's 40 Under 40 Award, which is presented to 40 outstanding scientists and engineers under the age of 40. These individuals, nominated by AFCEA chapters worldwide, are recognized for their proven leadership and innovative application of information technology to advancing work in science, technology, engineering, and mathematics.
Francesca D'Arcangelo of Lincoln Laboratory's Homeland Protection and Air Traffic Control Division has performed critical analyses on a broad range of systems since joining the Laboratory in 2009 after completing a doctorate in astronomy at Boston University. "Francesca has an amazing talent for coupling her strengths in physics, mathematical modeling, and systems analysis to the establishment of architectures and technology assessments addressing important homeland security problems," says Melissa Choi, head of the Homeland Protection and Air Traffic Control Division.
D'Arcangelo's systems analysis capability has contributed significantly to the development of counter–unmanned aircraft systems, biological threat detectors, and air and maritime surveillance systems. During the Deepwater Horizon Oil Spill, she led an analysis cell that advised the U.S. Coast Guard on the selection of oil-sensing air surveillance assets. She continued her support to the Coast Guard in additional missions, including the assessment of surveillance needs for port security. In 2015, D'Arcangelo received an MIT Lincoln Laboratory Early Career Technical Achievement Award.
Emily Fenn has made significant contributions in the area of air vehicle survivability as a member of the Intelligence, Surveillance, and Reconnaissance (ISR) and Tactical Systems Division. Since joining the Laboratory in 2011, she has become one of the Laboratory's subject-matter experts in novel infrared (IR) system technology, including electro-optical imagers, image and signal processing algorithms, and IR countermeasure techniques.
"We are very proud of Emily's recognition by AFCEA. She is one of the nation's leading experts on IR tactical systems. Her studies are critical to enhancing the Air Force Red Team's understanding of potential threat systems through detailed systems analysis backed by flight test," says Marc Viera, assistant head of the ISR and Tactical Systems Division. The U.S. Air Force Red Team evaluates technologies for employment in air defense, and much of Fenn's work has led to the development of new systems that have transitioned to operational use. Fenn, who holds a doctorate in physical chemistry from Stanford University, is a 2016 recipient of an MIT Lincoln Laboratory Early Career Technical Achievement Award.
Vijay Gadepally, a member of the Cyber Security and Information Sciences Division, has been instrumental in the establishment and continued growth of the Lincoln Laboratory Supercomputing Center, which hosts New England's most powerful supercomputer.
"Vijay has demonstrated outstanding technical leadership and creativity in advancing high-performance computing at Lincoln Laboratory and throughout the academic computing community. He has made foundational contributions to database management and algorithm development for graph processing and machine learning," says David Martinez, associate head of the Cyber Security and Information Sciences Division.
In collaboration with MIT Computer Science and Artificial Intelligence Laboratory, Northwestern University, University of Chicago, and Intel Corporation, Gadepally has developed the BigDAWG database management system, an open-source tool that can interface with multiple large data storage systems. He is also an extremely active member of the high-performance computing community, authoring 20 technical articles, a book chapter, and a book under development, as well as serving as a program committee member for several academic conferences. He joined the Laboratory in 2013 after earning a doctorate in electrical and computer engineering at the Ohio State University, and was honored in 2016 with an MIT Lincoln Laboratory Early Career Achievement Award.
The 40 Under 40 Awards will be presented during the 2017 AFCEA Defensive Cyber Operations Symposium, which will be held from 13 to 15 June at the Baltimore Convention Center in Maryland. This symposium is one of several forums hosted by AFCEA to allow the military, government, and industry to collaborate on aligning technology with the needs of service personnel. AFCEA is an international nonprofit organization committed to advancing capabilities in information technology, communications, and electronics; it has 31,701 members in 151 chapters and 1576 corporate partners.