Audience:
High School (Grades 9–12)
LLCipher workshop is a one-week program that introduces high school students to cryptography, an approach to securing data.
In response to the COVID-19 (coronavirus) outbreak, MIT Lincoln Laboratory will suspend all summer K-12 outreach programs. This includes LLRISE, LLCipher, and all other scheduled programming. We are following MIT's policy on K-12 Summer programming. In light of this announcement, Lincoln Laboratory is exploring ways in which we can modify the teaching of these courses in a virtual environment. We will keep you informed on the potential of this approach in the coming months.
If you are interested in being considered for a virtual LLCipher please continue to complete your application. LLCipher's deadline will remain the same.
Thank you for your continued interest in Lincoln Laboratory's STEM programs.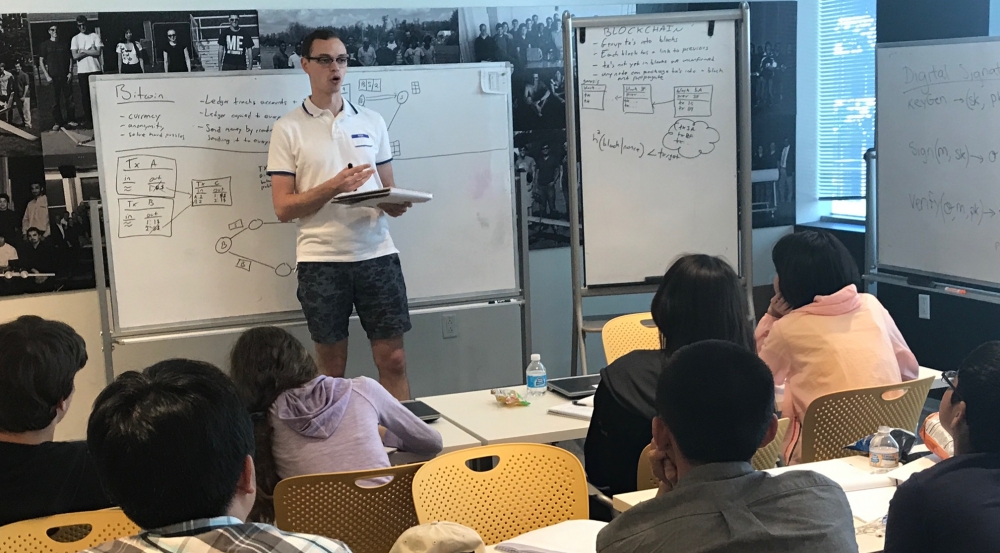 Applications for the 2020 session of LLCipher are now open!
What is the LLCipher program?
The Lincoln Laboratory Cipher program is a summer workshop providing an introduction to theoretical cryptography. This summer STEM program is a FREE one-week enrichment class for high-school students who are interested in mathematics or cyber security. In 2020, the workshop will be held August 3-7.
What will participants do?
Students will learn how to build a secure encryption scheme and digital signature. Time permitting, they will also study some more recent developments in cryptography, like homomorphic encryption and multi-party computation, both of which enable computation over secret data without revealing the data. The class has no official pre-requisites, although we will cover some abstract algebra, number theory, and complexity theory, upon which much of theoretical cryptography is built.
Where is it held?
Instruction is provided at MIT's main campus facility in Cambridge, Massachusetts. The course is taught by MIT Lincoln Laboratory technical staff.
What is the cost?
Free. Students will provide their own transportation to and from the MIT main campus at the beginning and end of each class. Lunch will be provided.
Persons from underrepresented groups including, but not limited to, African Americans, Hispanic Americans, Native Americans, Alaskan Natives, Pacific Islanders, women, persons with disabilities, and persons from disadvantaged backgrounds are strongly encouraged to apply.
This program is open to:
U.S. citizens and permanent residents
High-school students interested in mathematics or cyber security
Apply online to LLCipher
Apply Online by May 24 - 9:00 PM EST:
To complete your online application, you must upload your supporting materials (transcripts and teacher recommendation).
Your recommender (math teacher) will receive an invitation to fill out the recommendation form.
Important dates for 2019 class: 
| | |
| --- | --- |
| May 24, 2020 | Application deadline. |
| May 30, 2020 | Teacher recommendation deadline |
| Mid-June 2020 | Admission decisions sent via e-mail. |
| August 3, 2020 | First day of program. |
| August 7, 2020 | Last day of program. |
---
Questions?
Contact [email protected] and refer to the LLCipher program
---