Robotics: FIRST LEGO League
Audience:
Elementary School (Grades K-5)
Middle School (Grades 6–8)
Guided by coaches, FIRST (For Inspiration and Recognition of Science and Technology) Lego League robotics teams (made up of students in grades 4–8) research a real-world problem, such as food safety, recycling, or energy, and are challenged to develop a solution. Students also build a robot from a Lego kit and learn how to program it to complete specific obstacles.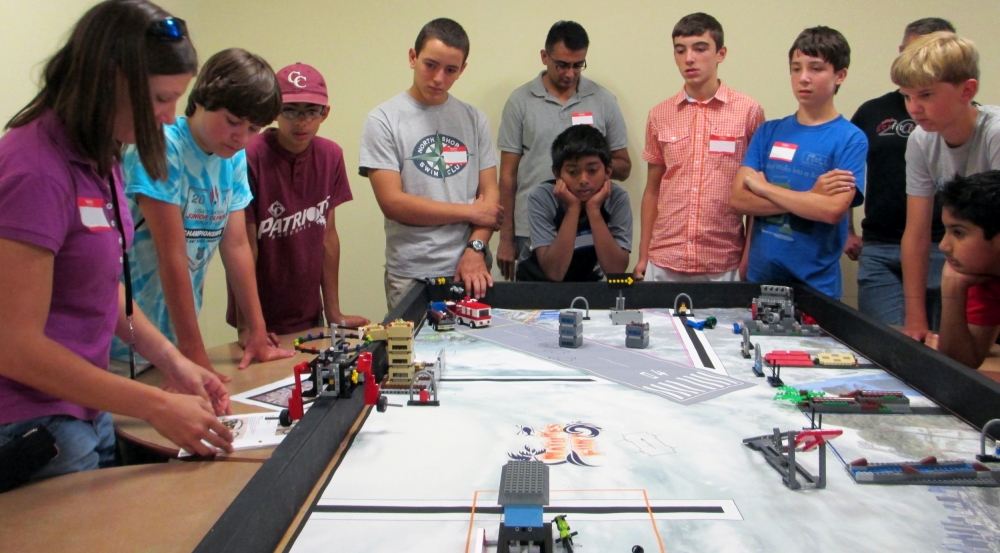 COVID-19 INFORMATION FOR FALL 2020 SEASON: Lincoln Laboratory is committed to US FIRST robotics but at this time it is unclear to what extent our LL ROLL team will be involved with robotics teams this fall due to COVID-19. We will update our external web as progressions change. The Laboratory is governed by policies directed by MIT and the Commonwealth of Massachusetts in regard to STEM events and large gatherings at events, which may impact the start time for robotics activities. The Laboratory will continue to review proposals for support of teams in Massachusetts and the local region and will continue to provide support to the extent that we can do so.
Teams use LEGO MINDSTORMS technology to design, build, and program a robot, and then compete on a tabletop playing field. Students participating in FIRST Lego League learn how to apply science, technology, engineering, and math concepts along with creativity to solve a problem. They develop critical thinking and team-building skills, basic STEM applications, and presentation skills, as they must present their solutions to judges. Participants research challenges facing today's scientists. They design, build, and test robots; apply real-world math and science concepts; and compete in a professional atmosphere.