James Evans receives the third annual Aviation and Space Operations Weather Prize
Five industry group representatives attended the 2019 Friends and Partners of Aviation Weather meeting to award Lincoln Laboratory's James Evans the third annual Aviation and Space Operations Weather Prize.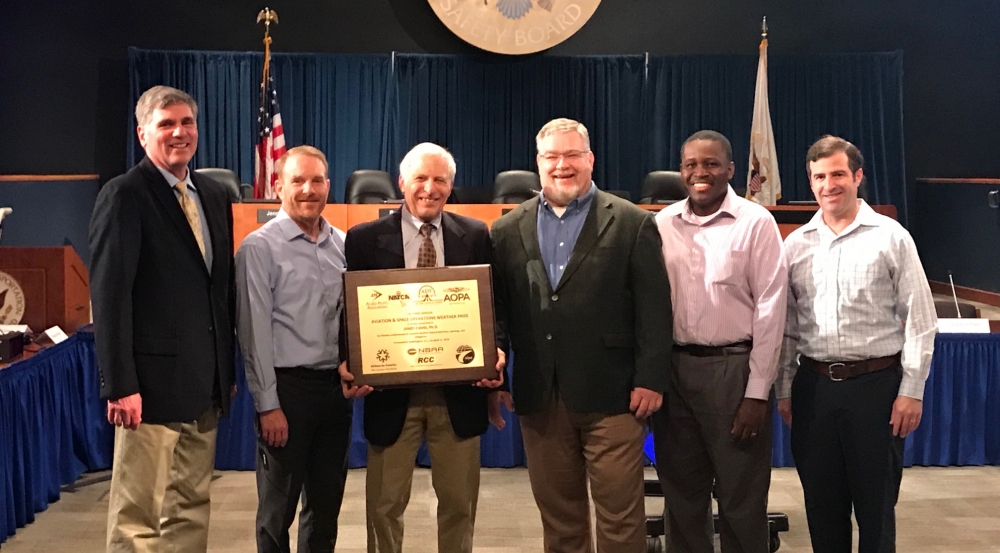 James Evans, a senior staff member in the Air Traffic Control Systems Group at MIT Lincoln Laboratory, received the third annual Aviation and Space Operations Weather Prize from a consortium of eight aviation and space industry groups.  Evans received the award for his significant contributions to the sensing, warning, and mitigation of the hazards of convective weather at major airports and along airways around the United States. His efforts have provided increased warning times and dramatically improved aviation safety and efficiency at these airports.  The presentation took place on Wednesday, April 17, at the spring meeting of the Friends and Partners of Aviation Weather (FPAW) in Washington, D.C.
The Weather Prize is an effort by end-user groups to recognize the most significant single accomplishment or lifetime of achievement of an individual in increasing aviation and space operations safety and efficiency through the advancement of meteorological science and its allied technologies.  The consortium of organizations to award this year's prize included the Allied Pilots Association (APA), which served as the lead agency; the Aircraft Owners and Pilots Association; the Air Line Pilots Association; the National Business Aviation Association; the National Air Traffic Controllers Association; the Airline Dispatchers Federation; Airlines for America; and the Meteorology Group of the Range Commander's Council. The consortium organized in 2016 with the support of the American Meteorological Society's Aviation, Range, and Aerospace Committee, which is part of the selection committee for the prize.
The 2019 award is the first presentation at FPAW.  It is a 20-year-old collaboration of aviation weather stakeholders from industry, research, academia, and government coming together to discuss advancements in science and technology and future improvements in aviation weather. 
For more information on the Aviation and Space Operations Weather Prize and this presentation, contact Captain Tim Miner, APA, at [email protected].