Massapequa High School students conduct research at Lincoln Laboratory
Five seniors from Long Island spent a week at Lincoln Laboratory researching cutting-edge medical imaging and earthquake mitigation technology.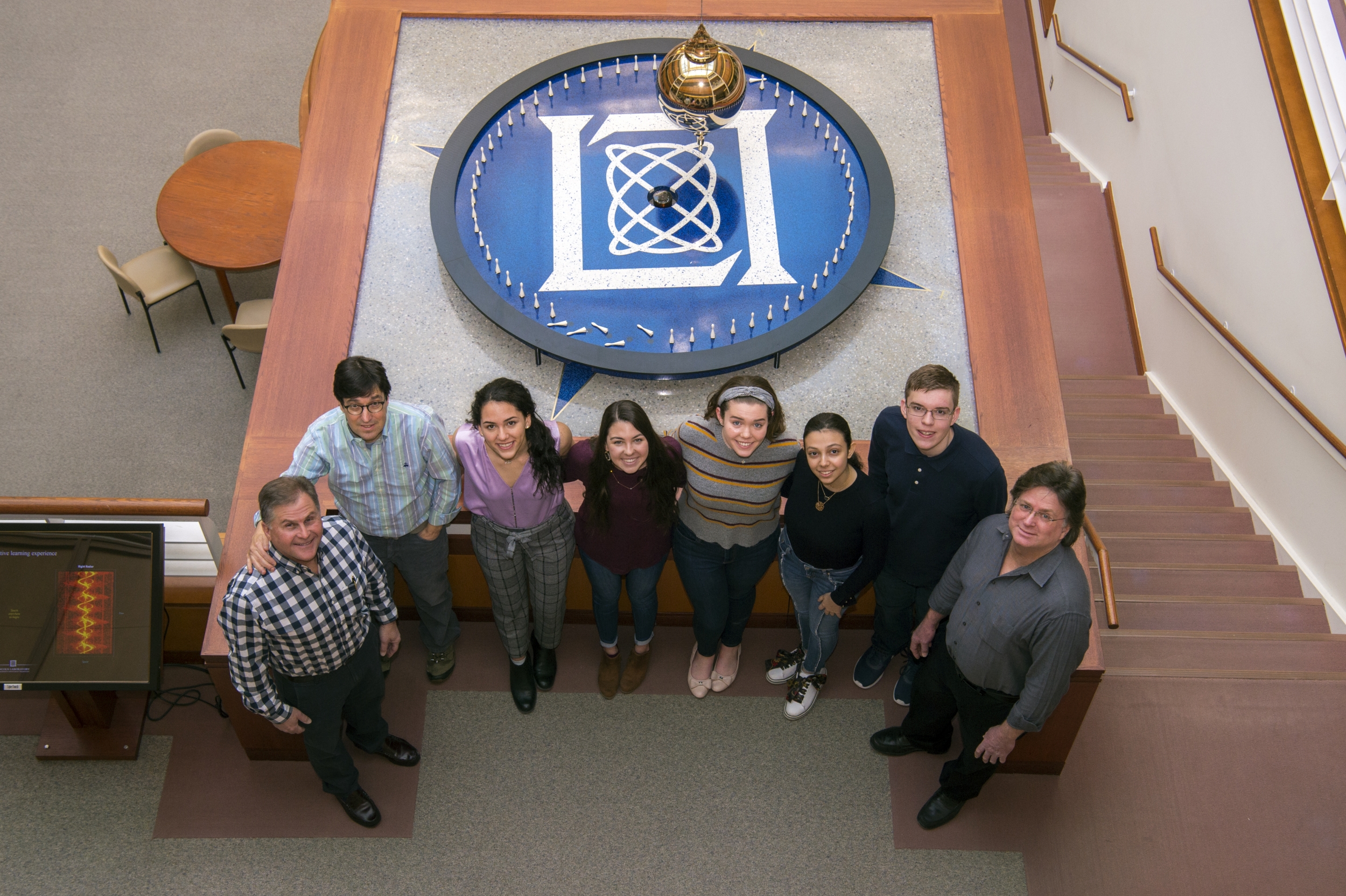 From January 28 to February 1, five seniors from Massapequa High School in Long Island, New York, conducted research with Robert Haupt, a Lincoln Laboratory senior staff member in the Active Optical Systems Group. The students are all members of Science Research, a group run by Massapequa High School teacher Paul Hesleitner, that gives high school students the opportunity to conduct independent research.
Three students — Bridget, Nino, and Nicole — worked with the non-contact laser ultrasound system, or N-CLUS, which uses laser pulses to excite ultrasound waves into tissue, allowing the waves to travel through the tissue interior and back to the surface where they can then be picked up by a vibrometer. Vibrations from the laser travel through different types of tissue at different speeds, and by measuring those discrepancies the vibrometer can build a picture of the inside of the sample. The other two students — Ariana and Andrew — studied how a configuration of boreholes might be able to mitigate the effects of an earthquake by seismically "cloaking" the area they enclose. Haupt has been working on both projects for several years now, and hopes to use the data that the students collected to further his research.
Getting started on the N-CLUS project, Nino, the Massapequa High School valedictorian, centered sample Chicken 6 beneath a vibrometer. She and her research partners were performing an ultrasound scan on the piece of chicken breast, but they weren't using gel and a probe as are commonly used in hospitals. Instead, they employed a new technique that doesn't require contact at all, just an excitation laser and a vibrometer to measure Chicken 6's vibrations. The students watched the readouts from the vibrometer jitter across the screen of their laptop for a minute before the sonogram from Chicken 6 popped up, wavy irregularities indicating regions of fat or layers of tissue. Haupt declared Chicken 6 one of the best images N-CLUS had produced yet.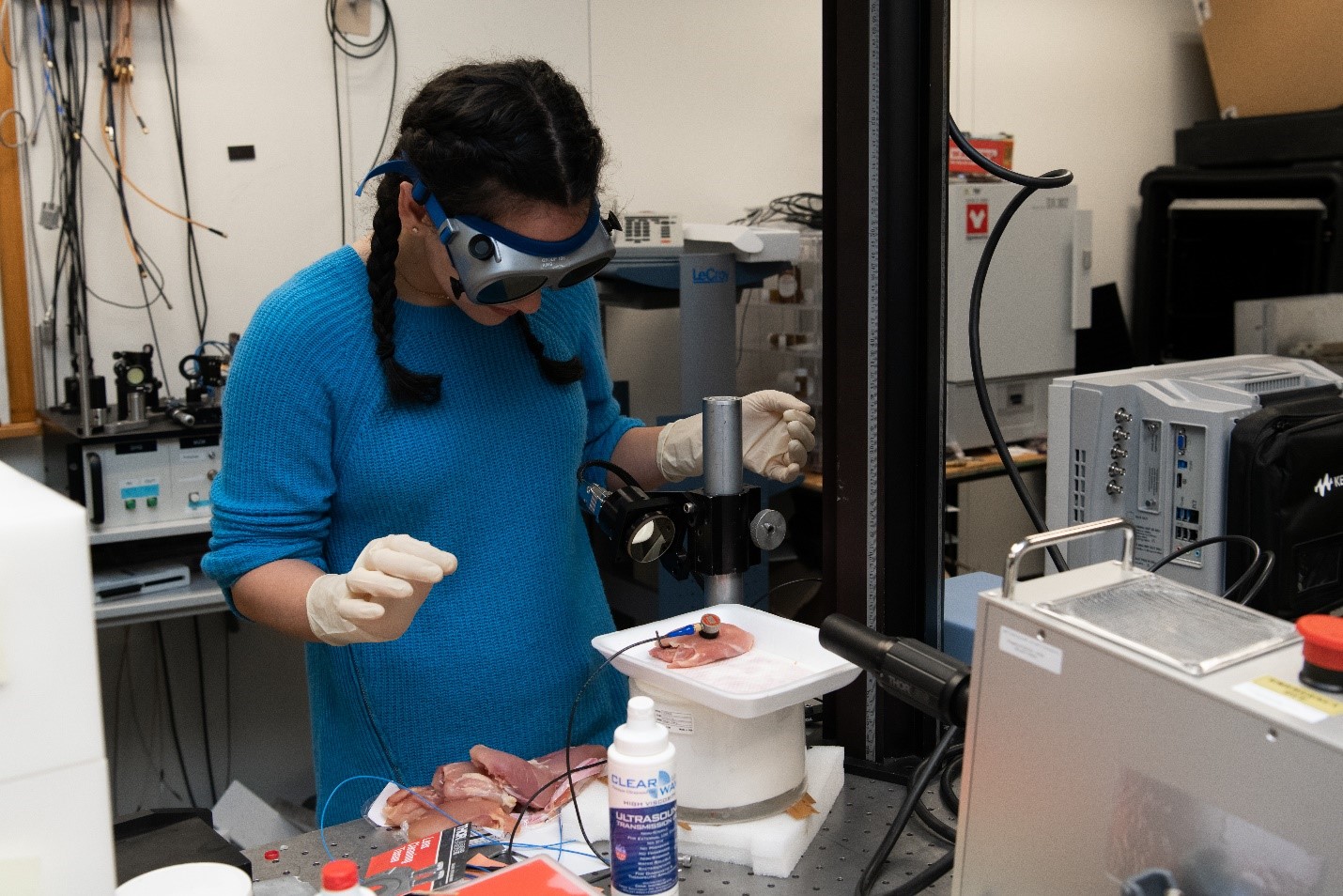 This is the second year that Haupt and Lincoln Laboratory have hosted students from Massapequa High School. The program began when Robert Gariglio, a teacher at Massapequa and an old hockey buddy of Haupt's, contacted him with an idea about how to bring laboratory research opportunities to students. Gariglio said that Haupt and the school district were both on board almost immediately. Although Gariglio has since retired, he enjoyed taking part in the program last year so much that he travelled up independently to watch the students conduct this year's research. "I believe it's an experience that you can't measure," he said.
By midweek, the students had become very comfortable with the equipment. Bridget, Nino, and Nicole had moved on from imaging chicken to imaging pieces of pork. To add an extra challenge, they cut a small incision in the pork and stuffed it with honey and or a piece of chicken, to simulate internal bleeding and a tumor respectively. They pointed out with excitement the resulting irregularities in the gray sonogram on the screen of their laptop.
Ariana and Andrew, meanwhile, had made an exciting discovery. Although the borehole configuration dampened the initial wave of their simulated earthquake, their transducers were still picking up a low-frequency vibration in the protected zone. Ariana theorized that the waves of their "earthquake" might be bouncing back against the outer wall of the block of plastic that housed the boreholes, causing this lower-frequency vibration, an issue that wouldn't arise in a field test. Although the students weren't able to definitively determine the source of the low-frequency vibrations, they were still able to take away the valuable lesson that research is rarely smooth and straightforward. "Research is a totally different beast from textbook [learning]," explained Hesleitner.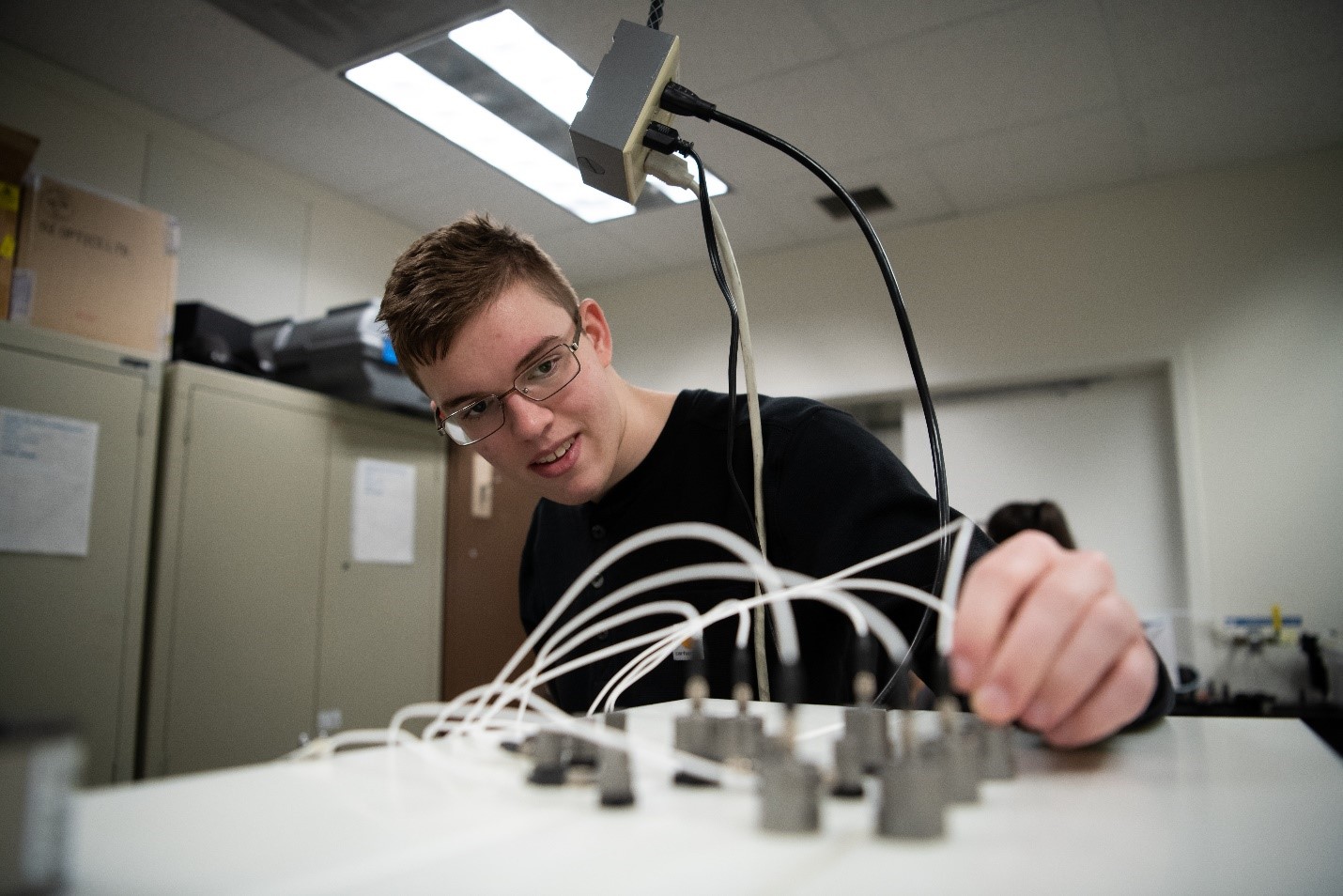 Not only did the students collect technical data that they can use for projects like science fair entries, they also gained an understanding of real-world research. Hesleitner noted that by the end of their first afternoon at the Laboratory, the group had already conducted as much research as they would do in two weeks back home. The students were surprised by how much they were called upon to problem-solve and to make experiments work with the tools they had. "It's really exciting to be here, too, because it really gives you an idea of what working in a lab is like," Bridget said.
The collaboration with Massapequa High School benefits the Laboratory too. Haupt used the N-CLUS data that last year's Massapequa students had collected to apply for new grants, and he hopes to present this year's data to his sponsor. "The students are quite sharp, and really impressed me with their understanding and intuition on such complex concepts," said Haupt. "They got a firehose education in a few days, and it is wonderful to see them evolve and grow each day."
On their final day, the students were treated to a tour of the Laboratory led by John Kuconis, the executive officer in the Director's Office. He explained how the Microelectronics Laboratory builds incredibly high-resolution cameras, and in the Environmental Test Laboratory he pointed out the facilities used to test satellites' endurance of conditions like temperatures or atmospheric pressure in space.
The students then presented their findings to Hesleitner, Gariglio, Haupt, and a handful of other members of Haupt's technical group, Active Optical Systems, who had heard about the program and were interested in seeing what the students had accomplished. Nino, Bridget, and Nicole explained how a non-contact medical imaging system like N-CLUS could be used to generate images that are more accurate than those generated by traditional ultrasound systems and that are cheaper and safer to obtain than MRI or CAT images. They pointed out where the incision they had created in the pork they were imaging could be seen on the final scan and how the signal changed when filled with honey or chicken.
Ariana and Andrew described how earthquakes cause billions of dollars in damages per year in the United States alone. They then showed their audience a series of graphs that demonstrated how either a trench or several rows of boreholes could significantly reduce the destructive power of an earthquake's initial shock wave. They also outlined the problems that they had encountered with the low-frequency energy leaking through and presented possible work-arounds, such as field tests. "It's a complicated topic," said Ariana of their research, "but it's getting presented in a really student-friendly manner."
After a week at the Laboratory, the Massapequa students not only learned a set of technical skills, but gained perspective on what it means to pursue a career in research. "Most importantly," said Nino in her final presentation, "we've learned that science isn't [just what] you learn in the classroom."