Teachers learn radar basics in Laboratory STEM outreach program
Esmeralda Hernandez and Liz Raine will bring lessons and hands-on activities from the Lincoln Laboratory Radar Introduction for Student Engineers back to their high schools.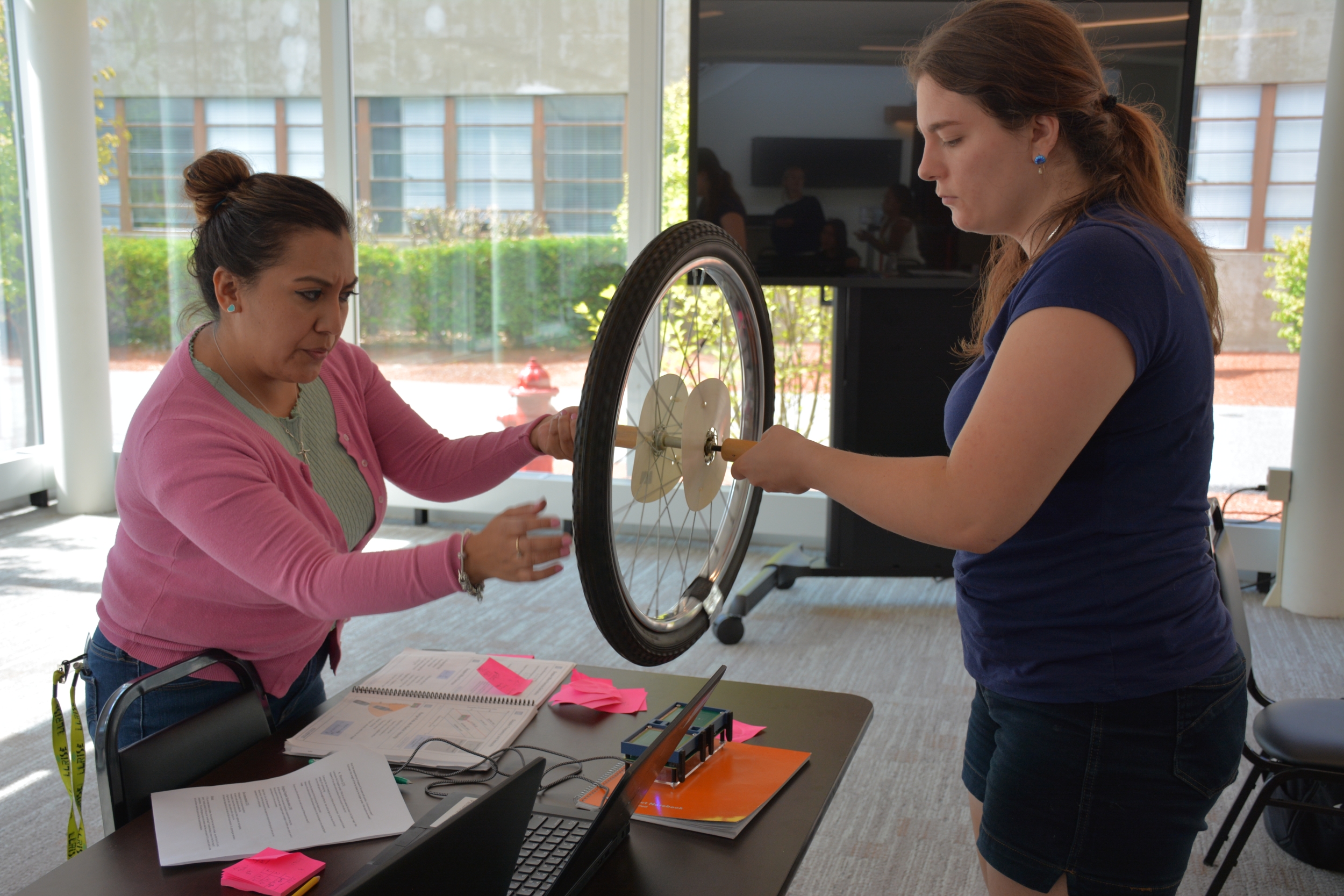 For high school teachers Esmeralda Hernandez and Liz Raine, radar is not a topic typically part of their curriculums. Hernandez teaches mathematics at Jubilee Brownsville High School in Brownsville, Texas, the southernmost U.S. border town with Mexico; Raine teaches engineering and physics at the John D. O'Bryant School of Mathematics and Science, part of Boston Public Schools, in Roxbury, Massachusetts. But from June 28 to July 15, radar became their focus as they immersed themselves in the 10th annual Lincoln Laboratory Radar Introduction for Student Engineers (LLRISE). This two-week summer workshop brings high-achieving students from underrepresented communities to the Laboratory to learn radar fundamentals, build small radar systems, and demonstrate these systems in various operational modes. Though targeting rising seniors, LLRISE also provides an opportunity for high school teachers to be introduced to radar.
"Sometimes, all one needs is access and opportunity, and that's what LLRISE aims to provide," says Chiamaka Agbasi-Porter, Lincoln Laboratory's K–12 STEM outreach coordinator. "Inviting teachers to participate in LLRISE allows us to reach more students in areas where access is limited. Teachers can take back what they learned and adapt it to fit their curriculum or use it as an enrichment program. Teachers involved in LLRISE not only gain confidence in teaching radar technology but also get to interact with Laboratory staff and build relationships."
For Raine, mastering different science topics in order to teach them to her students is nothing new. After graduating from Worcester Polytechnic Institute in 2020 with undergraduate degrees in biology and biotechnology, she began virtual teaching not only biology but also technology and engineering for a charter school in Boston, amid the COVID-19 pandemic. In 2021, she transferred to John D. O'Bryant, where she has been teaching physics I and two courses developed by the nonprofit Project Lead the Way: civil engineering and architecture, and engineering design and development (a senior capstone course).
"I like to call myself a jack of all trades in teaching science," says Raine. "I didn't have a traditional teaching background. I've had to learn how to learn quickly while thinking about how I can connect students to topics in a realistic way that grabs their interest. When I applied to LLRISE, I knew nothing about radar."
Hernandez — who earned a bachelor's degree in multidisciplinary studies in 2020 from the University of Texas at El Paso, where she is currently pursuing a master's degree in systems engineering — came into LLRISE with a bit more knowledge about radars. In March 2022, she, along with one of her many students who wake up at 4 a.m. to trek from their homes in Mexico to school in Brownsville, participated in a condensed weeklong version of the program called LLRISE Spring Break. The Laboratory virtually offered this program to students enrolled in the Texas Alliance for Minorities in Engineering (TAME), which sponsors an engineering club Hernandez started for her students. In LLRISE Spring Break, participants learn how to operate a radar using a technique called pulse compression and ranging, but the full summer program covers Doppler and synthetic aperture radar, two radar modes. Moreover, spring break participants work with pre-assembled radars rather than build their own. In the full summer program, they solder all the necessary electrical components onto a circuit board and 3D print an antenna frame in the Technology Office Innovation Laboratory (TOIL), one of several Laboratory facilities they tour.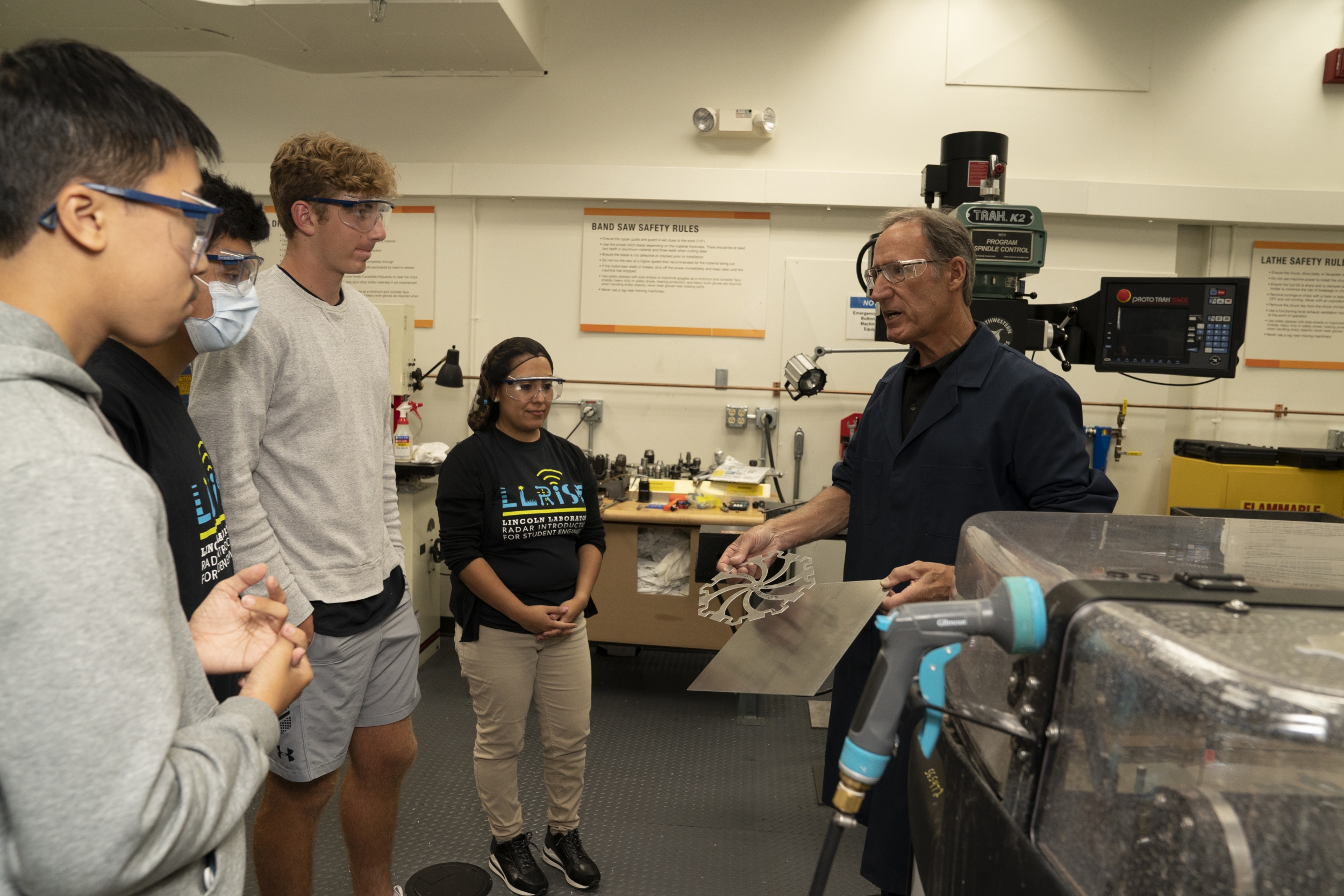 "I hit the educational lottery with this program," says Hernandez. "Until this summer, I had never soldered in my life. Building a fully functional radar from scratch is a big accomplishment. It's not just me trying something; radar is used in everyday life. It was amazing to see the big Millstone Hill and Haystack radar systems on our field trip to Westford, Massachusetts. I'm going to tell my students back home all about these radars and show them how to use the small radar I built. They think engineering is only for ricos, for rich, people. I want them to see it's for everyone."
Raine also wants her students to recognize they are capable – even with a lack of knowledge about radars.
"Radar is something I never would have thought about trying to learn in a million years," says Raine. "The electronics aspect was foreign to me. I'd get lost in conversations with my friend who works on 5G communications. But I realized you don't need to be an expert to learn about and understand how radar works."
Both Hernandez and Raine are excited to take what they learned during LLRISE back to their schools. Hernandez has been teaching precalculus, algebra, statistics, geometry, and AP calculus, but next year, she'll also be teaching introduction to project design, another Project Lead the Way course. This course will be part of a Career and Technical Education (CTE) program in engineering—the first of its kind for Jubilee Academies, a public charter school district with schools in Brownsville, San Antonio, Austin, Kingsville, and Harlingen. Hernandez will be the first engineering teacher for the CTE program, which will introduce students to radar. She also plans to start a radar club, implement radar into her daily classes, and help cross-train teachers and even extracurricular activity staff. One of her ideas is to work with physics teachers and soccer coaches to have students use Doppler radar to measure the speed of players' kicks on the soccer field. Another is to have them generate an image of an outdoor jungle gym through synthetic aperture radar, which is routinely employed in all-weather Earth observation.
"I come from a town that doesn't have many STEM programs, " Hernandez says. "Hands-on activities like these can help engage students."
After marrying young and leaving high school to care for her daughter, Hernandez, an honor student, got her GED and began taking college classes at the University of Texas at Brownsville while working at a grocery store. Classmates quickly learned she had an aptitude for math, and they would ask her for help instead of tutors. It was then she decided she would pursue education. However, when the university underwent a reorganization, her education degree plan was dropped. The only institution that would honor all of Hernandez's credits was the University of Texas at El Paso. Because she had taken so many math courses, Hernandez was able to teach the highest level of high school math when she graduated. Engineering has been a passion of hers since she was a young girl, but resources were few and far between, with the nearest engineering schools a couple hours away.
For Raine, biology is the field that drew her in when she was growing up. She recalls going into the woods behind her house with her dad, an engineer, and learning about nature. When Raine entered college, she didn't know what she wanted to pursue career wise; she just knew she liked biology. After she graduated, she applied to both science and teaching jobs. One of the aspects she loves about teaching is learning about different areas of science. Raine would like to pursue a master's degree or PhD next but is still deciding about whether it will be in education or science.
"I love science and teaching, but as a teacher, you're not outputting anything into the world," says Raine. "Another takeaway from LLRISE has been networking with Laboratory staff and learning how they engage in both research with real-world impact and educational outreach. That's something I'm looking at when considering career paths."
For now, Raine plans to bring some of the applications of radar back to her classroom. In the upcoming school year, she'll be teaching biology. One of her ideas is for students to apply the radar range equation to test the speed of sound through air and water mediums containing an object (such as a tinfoil ball). In this way, they could learn about echolocation, the technique animals like bats and dolphins use to determine where prey and other objects in their environment are located. Another idea is for students to use radar to detect the presence or absence of house plants in a "mini lab" on deforestation and reforestation. This lab would mimic how satellite radar data are used to measure the amount of tree cover across the globe.
"LLRISE is a highly competitive program, and, although we would love to accept all the students who apply, we lack the resources to do so," says Daphne Vessiropoulos, Lincoln Laboratory's K–12 STEM outreach administrator. "If we can provide teachers with the technical knowledge to bring LLRISE to their schools, we can extend the program's reach to areas and communities we wouldn't normally have access to and inspire a new generation of engineers."
Inquiries: contact Ariana Tantillo.

Related Links