Activate Cohort 2021 begins two-year fellowship at Lincoln Laboratory
The entrepreneurial fellows will be supported by the Laboratory as they build their technology startups.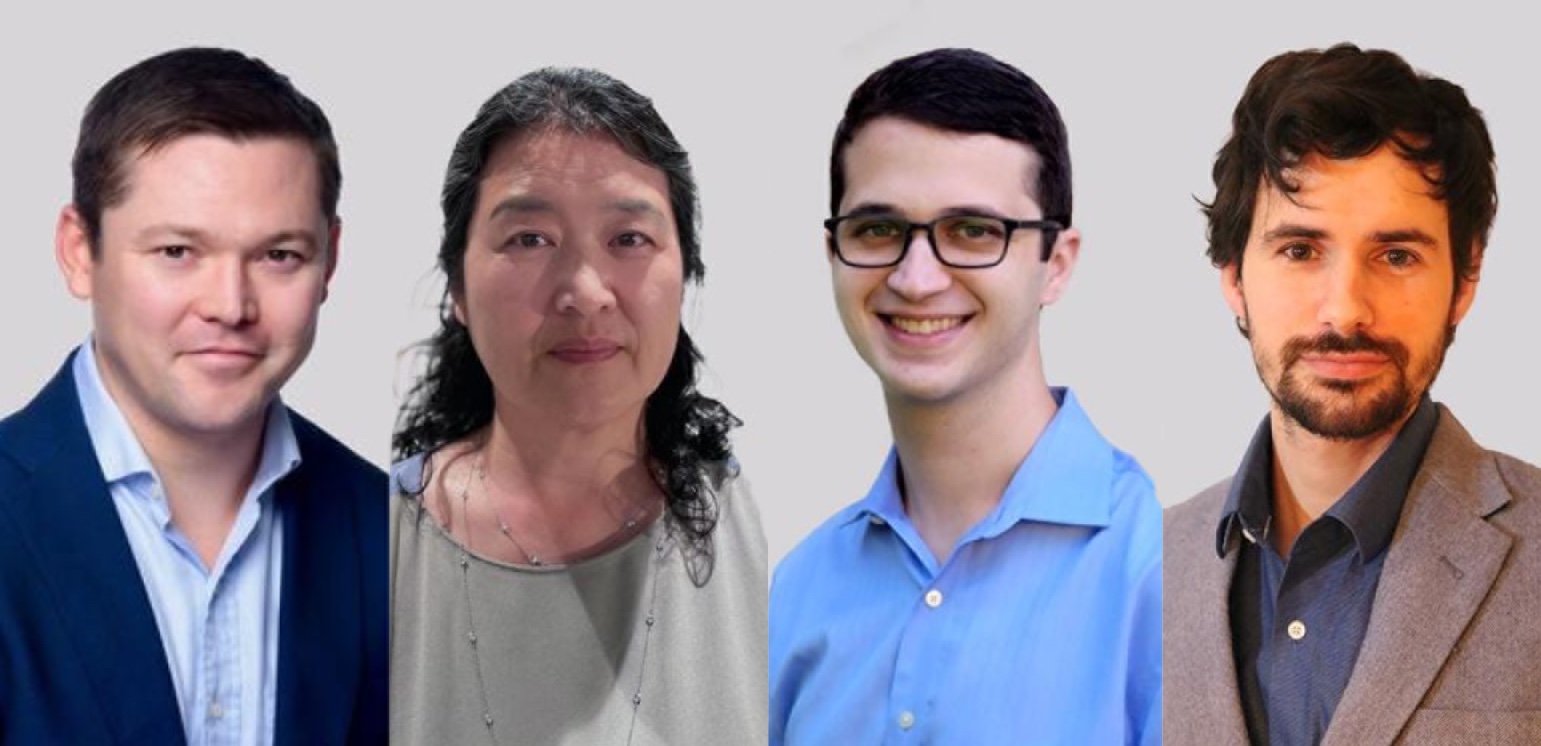 Lincoln Laboratory is welcoming this year its second cohort of Activate Fellows who will work alongside staff to develop and commercialize new technologies. The Activate Fellowship is a two-year program that allows science and engineering entrepreneurs to embed with national organizations to learn the fundamentals of building a startup. The fellows are funded by the Defense Advanced Research Projects Agency and are managed by Activate, a nonprofit organization that works with government, philanthropic, and industry partners to support scientists and engineers as they advance hard technologies. Since its founding in 2015, the Activate program has supported 103 fellows and more than 74 startups.
"MIT Lincoln Laboratory has been an ideal partner laboratory for Activate's expansion into Boston, and our collaborators in the Technology Ventures Office and Advanced Technology Division have made this first year incredibly productive," says Activate managing director Aimee Rose. "We look forward to onboarding Cohort 2021 and creating more high-value collaborations that include additional divisions this year."
Of the 24 fellows selected for the highly competitive fellowship program this year, four will embed at Lincoln Laboratory. Below are the fellows and their startups.
Brendan Hermalyn is the founder and chief executive officer of Pythagorean Applied Research. His company wants to transform how robots perceive the world with cutting-edge sensing technology that is inexpensive and easy to implement. Hermalyn is a scientist and engineer with a background in aerospace, environmental science, and sensing. He has led and grown teams of tens to hundreds with operating annual budgets up to $100 million. He holds a PhD degree from Brown University and master's degrees in engineering, mathematics, and geological sciences. His systems have been deployed on land, air, and space, from Antarctica to the moon. After appointments at the University of Hawaii and NASA's Ames Research Center, he joined Skybox Imaging (acquired by Google) to run its space imaging systems group. Most recently, he led Waymo's camera program and General Motors/Cruise's autonomous vehicle hardware program.
Jungah Lee is a cofounder and chief executive officer of Aura Intelligent Systems, a company that is developing a disruptive four-dimensional-imaging radar for challenging autonomous mobility and Industry 4.0 applications. The company has deep roots in Lee's work on radar imaging research with David Munson, a pioneer of tomographic imaging radar, and years of experience leading advanced technology for 4G/5G networks at Samsung Networks and Altiostar. She was a distinguished member of the technical staff at Lucent Technologies–Bell Labs. She holds BS and MS degrees in electronics engineering from Seoul National University and a PhD degree in electrical and computer engineering from the University of Illinois at Urbana-Champaign. Her expertise includes wireless communications, imaging radar systems, and synthetic aperture radar imaging. She is the inventor of more than 40 patents.
Andrew Stern is a PhD candidate at the Florida Institute for Cybersecurity Research at the University of Florida. His research on the topic of hardware security spans the semiconductor supply chain, including frameworks for counterfeit detection and avoidance, sub-micron Trojan detection techniques, and semiconductor intellectual property protection in a near-zero-trust environment. Stern's company, Coremeleon, is leveraging hardware-centric protection mechanisms to combat intellectual property theft and to ensure the safety of critical electronic systems and infrastructure. He strives to make the world a safer place by protecting the computing hardware that will power the Internet of Things while also meeting industry demands for high-performance processing.
Mael Flament has more than 10 years of experience in the design of precision scientific instrumentation. He is a cofounder and the chief technology officer of Qunnect, a company that builds hardware to transform telecommunications infrastructure into scalable quantum networks. Prior to cofounding Qunnect, Flament conducted research at Stony Brook University, Lawrence Berkeley National Laboratory, Brookhaven National Laboratory, CERN, and NASA. He has a physics and engineering background with expertise in designing and optimizing industrial-level technologies derived from academic innovations. Qunnect's product line is an extension of his graduate work developing a new generation of compact room-temperature quantum memories and quantum networking components in the Quantum Information Sciences and Technology laboratory at Stony Brook University.
Cohort 2021 will join five other Activate Fellows who have been working at the Laboratory since last summer. During the first year of their fellowship, the 2020 fellows have made significant progress building their companies by establishing connections in industry and using Laboratory resources to realize novel technologies, including a scintillator for radioactive material detection and a laser-based navigation technology for autonomous systems. Cohort 2020's efforts are described below.
Irradiant Technologies
During the remainder of his fellowship, Daniel Oran aims to show that it is possible to perform high-throughput nano-3D-printing of materials relevant to optics and photonics. He has been growing the team for his company, Irradiant Technologies, and recently hired a chief science officer. "Activate has been transformational in allowing me to grow into my role as CEO. They have helped me understand what to prioritize and set out a strategic vision for these early years as a startup," Oran says.
His company has been able to raise money through a small pre-seed funding round and four Phase I Small Business Innovative Research (SBIR) grants. Lincoln Laboratory and Irradiant Technologies have begun collaborations to develop a way to 3D-print high-mobility semiconductors at the nanoscale. Additionally, the company was awarded a U.S. Navy SBIR grant to design and build a 3D mid-wave infrared nonmechanical beam-steering device.
Kyber Photonics
Having become an Activate Fellow soon after completing his PhD degree at MIT, Kyber Photonics cofounder and chief technology officer Thomas Mahony spent the first year of his fellowship getting acquainted with all aspects of entrepreneurship and connecting with professionals outside of Lincoln Laboratory. The Kyber Photonics team, which includes cofounder and Activate Fellow Josué López, is working to develop and commercialize light detection and ranging (lidar)-on-a-chip technology that will help cars, drones, and robots navigate autonomously. The goal is to build a system that is high performance, low cost, reliable, and manufacturable at scale.
Mahony says the fellowship has provided the young company with a high-quality network of deep tech startup founders, serial entrepreneurs, advisors, mentors, and investors who understand the challenges of commercializing hardware and can offer advice. "Given MIT Lincoln Laboratory's long pedigree for developing advanced technologies such as radar systems and sensors, I'm not sure there is a better place to be incubating a lidar startup from a technology development perspective," Mahony says. "I feel fortunate to be supported by so many of the staff, and I think they are just as excited as I am to see where we take this technology."
Sync Computing
Sync Computing is a company that seeks to commercialize a new computational paradigm and chip architecture to solve complex optimization problems much faster than traditional methods. After exploring many application areas, the team has been able to decide on the initial target market for its technology and define the product's look and initial customer base. It also attracted initial private seed capital to build the product and received multiple non-dilutive grants to explore government uses for the technology. By the end of next year, the team aims to build the minimum viable product and gauge the initial market response, which are pivotal first steps for an early-stage company.
 "In addition to providing us the opportunity to conceive of the initial concept and build an early prototype while staff members were there, our interactions with other staff at the Lab have helped us identify compelling target markets to explore as we think about how best to commercialize the technology," says Activate Fellow Suraj Bramhavar, and Sync Computing's cofounder and chief technology officer.
RadiantNano
Vehicles and cargo that pass through U.S. ports of entry must be scanned with a radiation detector containing a scintillator. RadiantNano developed a novel scintillator that can differentiate between benign and dangerous radioactive materials and potentially improve the speed and accuracy of safety inspections at U.S. borders and at legacy and advanced energy facilities. During the past year, Activate Fellow and RadiantNano chief technology officer Matthew Alpert brought on a seasoned chief executive officer and advisors with experience in Department of Defense, industrial, and medical applications. His team also began fostering relationships with potential large partners.
RadiantNano's goal for the remainder of Alpert's fellowship is to focus on prototype and technology development and to further grow the team and raise funding, looking particularly toward venture capital funding and SBIR/Small Business Technology Transfer grants.
"The people I have been connected to through both Lincoln Laboratory and Activate have been invaluable in achieving what I have thus far," Alpert says. "My team has grown, my network has grown, the awareness around the company and technology we are developing has grown, and the expertise at the Laboratory has helped refine the technological path forward. Without the support of both of these organizations, I (and the company) would certainly not be in the position I am today."
Applications for Activate's Cohort 2022 open this fall. For more information, go to Activate.org/apply.