Eric Swanson receives National Medal of Technology and Innovation
The former Lincoln Laboratory researcher is honored with colleagues David Huang and James Fujimoto for the invention of optical coherence tomography, now a standard of care for diagnosing sight-threatening diseases.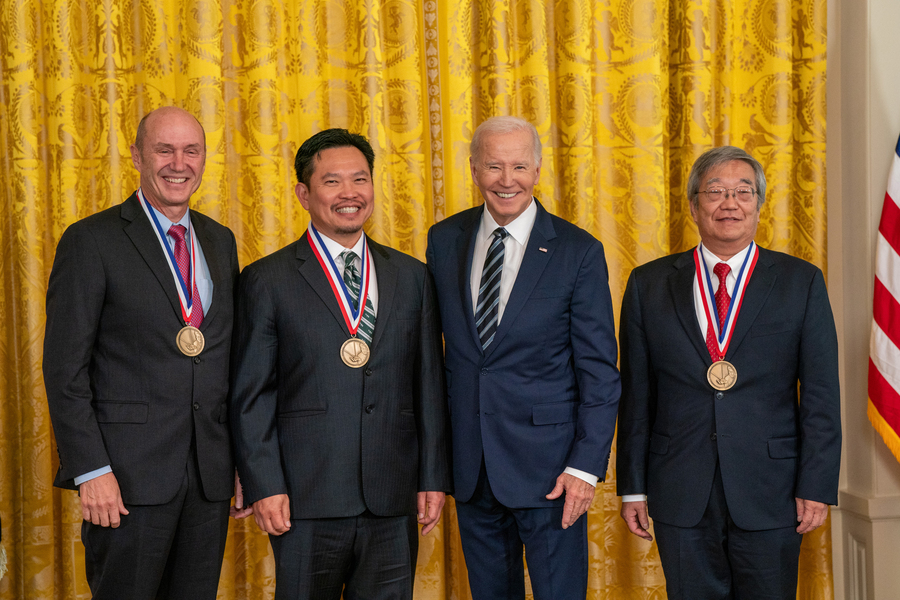 Eric Swanson, an innovator who worked at MIT Lincoln Laboratory for 16 years, is one of three research colleagues who were awarded the National Medal of Technology and Innovation by President Joe Biden at a White House ceremony on Tuesday, October 24, 2023. Swanson received the honor alongside David Huang and James Fujimoto.
As reported in MIT News, "Fujimoto, Swanson, and Huang are being honored for the invention of optical coherence tomography (OCT), a technology that uses reflected light to generate high-resolution images of sensitive tissue, like the eye, in a noninvasive way. OCT, which they introduced in a paper published in the journal Science in 1991, has since become the standard of care in ophthalmology and is used in the diagnosis and treatment of many diseases, including macular degeneration, glaucoma, and diabetic retinopathy."
The National Medal of Technology and Innovation recognizes those who have made lasting contributions to America's competitiveness and quality of life and helped strengthen the nation's technological workforce.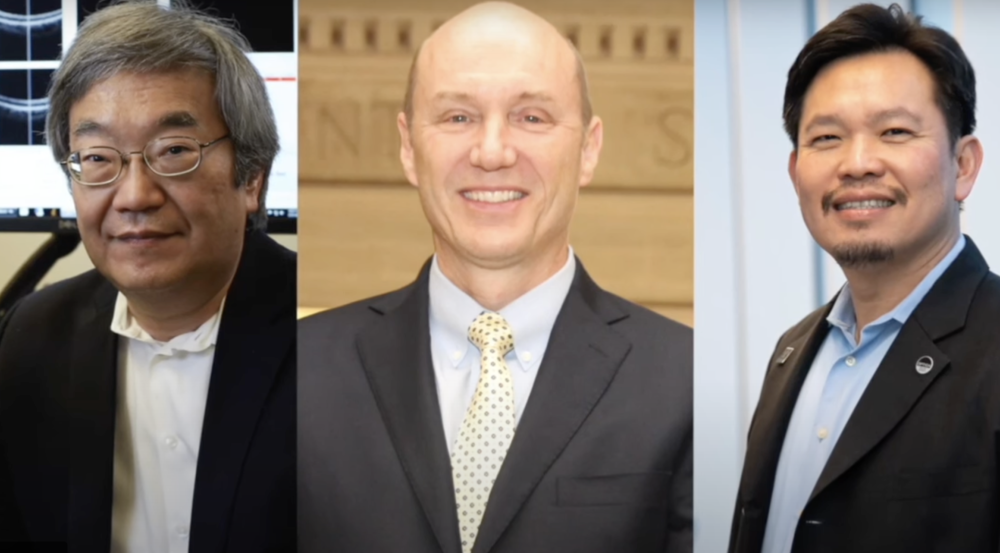 Swanson reflected on the honor in an article for University of Massachusetts Amherst, where he received his BS degree: "I am thankful for the opportunity to have attended good K-12 schools and colleges, have outstanding mentors and colleagues, made good career path decisions, and a lot of luck. I am honored but very humbled as there are so many stellar researchers and innovators in the field of OCT who have propelled it to where it is today and where it's going in the future — and there are so many wonderful things still to come!"
From 1984 to 1998, Swanson served as an associate group leader at Lincoln Laboratory, where he worked on satellite communications and became a known expert on space communication using optics. While at the Laboratory, he teamed up with Fujimoto and Huang, both at MIT at the time, to apply optical techniques used in satellite communications for imaging sensitive tissue structures, such as those in the eye. Together, they designed an instrument for use in a medical setting. This instrument enabled OCT imaging, and was later commercialized. It is estimated that OCT testing is now used at a rate of about one scan every second. A patient simply rests a chin and forehead against the instrument for a brief scan. 
Today, Swanson serves as a research affiliate at MIT's Research Laboratory of Electronics and is a mentor for the MIT Deshpande Center for Technological Innovation.
He was elected a fellow of the Institute of Electrical and Electronics Engineers in 2017 for contributions to OCT and leadership in optical networking. In 2002 he was elected a fellow of the Optical Society of America for pioneering contributions to the fields of intersatellite-laser-communication systems, fiber-optic-communication networks, and biomedical-optical imaging. He has co-authored 80 journal articles, 184 conference presentations and lectures, 63 issued U.S. patents, and 9 book chapters.
In addition to his BS degree, Swanson holds an MS degree in electrical engineering from MIT.
READ MORE
Four from MIT awarded National Medals of Technology, Science MIT News
ECE Alum Eric Swanson Receives National Medal of Technology and Innovation Alongside Two Colleagues UMass Amherst