High school students build assistive technology for community members with disabilities
The program gives students practical engineering and design experience while showing them how to care for their communities.
In late April, 30 teams of high school students from the United States and abroad gathered virtually to present technologies that they developed to help their community members who have a disability. They built their solutions as part of a newly launched assistive technology project-based class called CRE[AT]E, which is hosted by Lincoln Laboratory's Beaver Works Center located on MIT campus. Their solutions ranged from a reading aid for a student with dyslexia to an app that helps an elderly man with memory impairment to safely navigate when out for a walk.
Laboratory staff member Hosea Siu, from the Artificial Intelligence Technology Group, developed and led the challenge. He says it took inspiration from MIT's Design of Assistive Technology class, which he also co-developed and taught, and was adapted to an online and asynchronous schedule. Starting in December, the student teams took a self-paced online course while brainstorming and developing their technologies and working closely with the community members who would be using the technology.
The community members, or co-designers, are integral to the program. They or their caregivers work alongside the student teams contributing ideas, testing the technologies, and providing detailed feedback.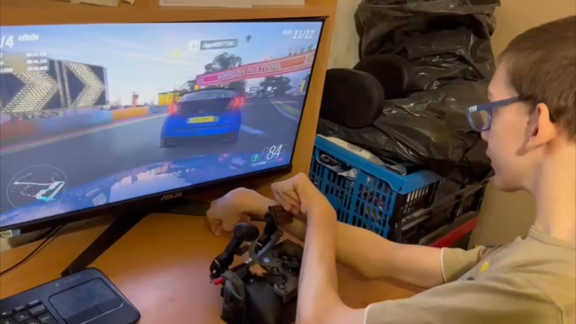 "It's a collaborative process," says Siu. "They are not designing something for someone but with someone. We ask the teams to get to know their co-designers so they can clearly understand the person as a person." While the students gain experience in engineering and product design, the primary goal of the course, Siu says, is for them to practice caring for people in their communities and understand the challenges they face because of their disabilities. "Even if the product doesn't end up working, [the students] can still make someone's day better by working with them and engaging with them."
At the end of the project presentations, four student teams were recognized for their work in different categories, such as documentation and product feasibility. MassBuilders was one of these teams, recognized in the category of co-designer collaboration. Their technology was an autobraking and hi-visibility rollator for their co-designer, Caroline, who has mobility issues and reduced vision.
"We decided to take part in the MIT CRE[AT]E Challenge because many of us know people with mobility challenges and physical disabilities," the team writes. "The assistive technology challenge offered an outlet through which our team could harness our shared experience in software/electrical engineering and robotics to build a viable product that can improve the quality of life for those with physical disabilities. Our time spent with Caroline was really rewarding and we had a great time getting to know her and eventually helping her."
Although the challenge has concluded, the MassBuilders team plans to continue working on similar projects that utilize remote braking systems and safety equipment.
"The Challenge, and the class before it, are so open-ended that I was surprised by what the students were able to come up with," says Siu. "But I think what's particularly rewarding to see is the students making the connections between what they are learning in class and on the internet with things that they can actually make by themselves, often from scratch, and what they can do for other people with that knowledge."
The challenge results and student presentation videos can be viewed on the Beaver Works website.
Inquiries: contact Anne McGovern