Imaging system helps surgeons remove tiny ovarian tumors
More effective surgery could boost survival rates for ovarian cancer.
Ovarian cancer is usually diagnosed only after it has reached an advanced stage, with many tumors spread throughout the abdomen. Most patients undergo surgery to remove as many of these tumors as possible, but because some are so small and widespread, it is difficult to eradicate all of them.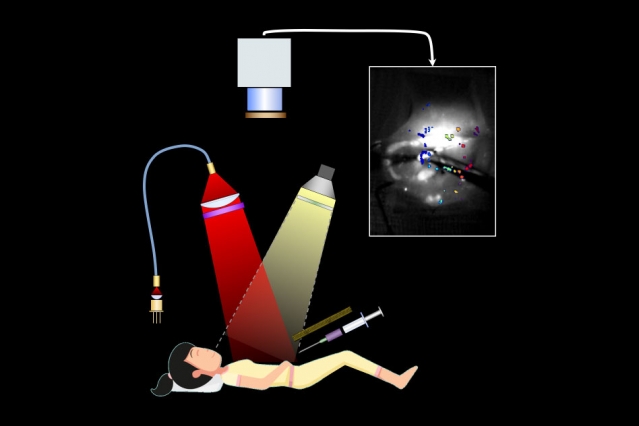 Researchers at MIT, working with surgeons and oncologists at Massachusetts General Hospital (MGH), have now developed a way to improve the accuracy of this surgery, called debulking. Using a novel fluorescence imaging system, they were able to find and remove tumors as small as 0.3 millimeters — smaller than a poppy seed — during surgery in mice. Mice that underwent this type of image-guided surgery survived 40 percent longer than those who had tumors removed without the guided system.
In the new study, the researchers worked with MIT Lincoln Laboratory to adapt NIR imaging to help surgeons locate tumors during ovarian cancer surgery, by providing continuous, real-time imaging of the abdomen, with tumors highlighted by fluorescence. Previous analyses have shown that survival rates are strongly inversely correlated with the amount of residual tumor mass left behind in the patient during debulking surgery, but many ovarian tumors are so small or hidden that surgeons can't find them.