Intern Innovative Idea Challenge returns to the Laboratory after pandemic hiatus
Since 2016, the I3C summer program has challenged interns to transform their ideas into well-developed system concepts that solve relevant and challenging real-world problems.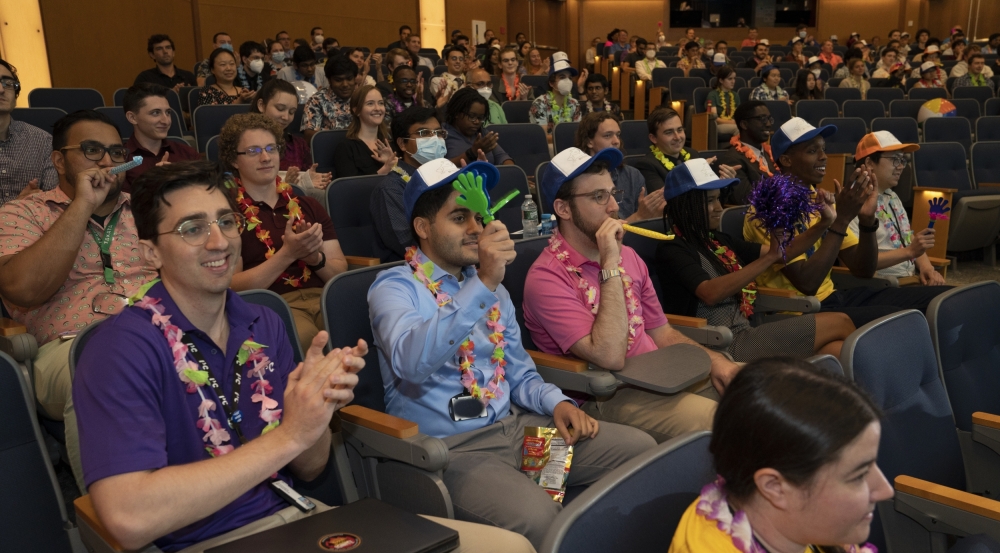 On July 22, the Laboratory hosted the final showdown and awards ceremony of the Intern Innovative Idea Challenge (I3C). I3C is an opportunity for interns to come up with bold and exciting ideas for new technologies by collaborating with each other and utilizing the immense resources available at the Laboratory. The interns are able to transform their ideas into well-developed system concepts that solve relevant and challenging real-world problems. It has been an important element of the Laboratory's internship program since 2016.
"Programs like this are important to the Laboratory because it encourages collaboration and out-of-the-box thinking," said Amanda Ramunto, business manager of the Laboratory's Homeland Sensors and Analytics Group, who helped organize I3C. "These types of programs also provide a break from the normal day-to-day activities while bringing Laboratory staff together, helping to build a stronger, more inclusive community." 
At the poster presentation, held on July 13, the Best Poster award went to Nautilus Swarm, an accessible deep-sea research vessel. DiReNet, a rapidly deployable 5G network for disaster relief, won the award for Most Altruistic, and DINGO, a CubeSat network for observing dust storms on Mars, won the award for Most Futuristic.  
In addition to the poster award winners, three additional teams were also invited to participate in the final Interns vs. Sharks event: MILDFIRE, a midwave integrated laser used to detect fire's infrared emissions; NIMBL Sleeve, a sleeve that circulates blood flow through the arms and fingers in cold conditions to improve strength and dexterity; and DR. CLEANS, an approach to de-orbiting inactive satellites in low-Earth orbit.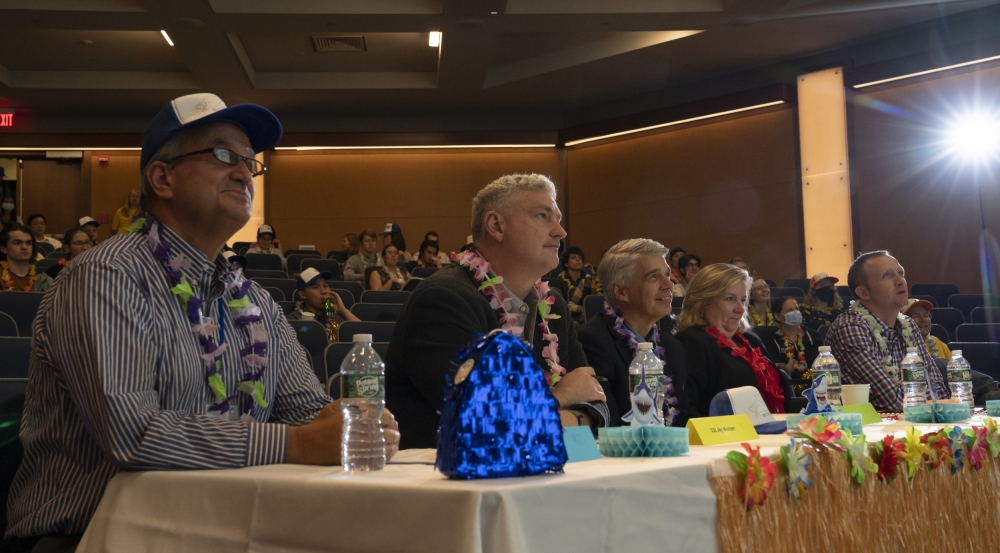 In the final showdown, each team had five minutes to pitch their idea to the "LL Tech Sharks" — a panel of judges including Eric Evans, the director of Lincoln Laboratory; Craig Keast, the associate head of the Advanced Technology Division and the director of the Microelectronics Laboratory; Heidi Perry, the Laboratory's Chief Technology Officer; Colonel Jay Wisham, the director of the Army Applications Laboratory; and Lieutenant Colonel John Turner, an Army War College Fellow at MIT. 
The Microwave Imager and Laser Device for Fire's InfraRed Emissions (MILDFIRE) team came in first place for their proposed constellation of CubeSats that would monitor, image, and report on wildfire placement. By capturing photos from low-Earth orbit, MILDFIRE would help organizations such as the U.S. Forest Service focus their limited resources more effectively, saving lives and property and keeping communities safe. 
"Most of our team hails from the West Coast, where wildfires ravage the landscape every summer, displacing thousands of us locals," said Eve Ferwalt, an intern in the Quantum Information and Integrated Nanosystems Group. "We know how vital it is to detect hotspots as early as possible, and I3C was a natural avenue to innovate an engineering solution addressing this problem."
Current warning systems often have a large latency period, small observation range, or both. MILDFIRE seeks to address this problem using a midwave photonics infrared imaging system — an emerging area of integrated photonics in which lasers are fired through integrated circuits instead of, or in addition to, electricity. 
The project draws on the Laboratory's expertise in developing and launching CubeSat constellations. "The Advanced Imager Technology Group has already equipped the Laboratory with almost all of MILDFIRE's requisite manufacturing hardware," Ferwalt said. "Designing our imager's fabrication process would be an area of growth for the Laboratory, but the tools and technologies afforded to MILDFIRE's payload would supplement dozens of other projects and applications."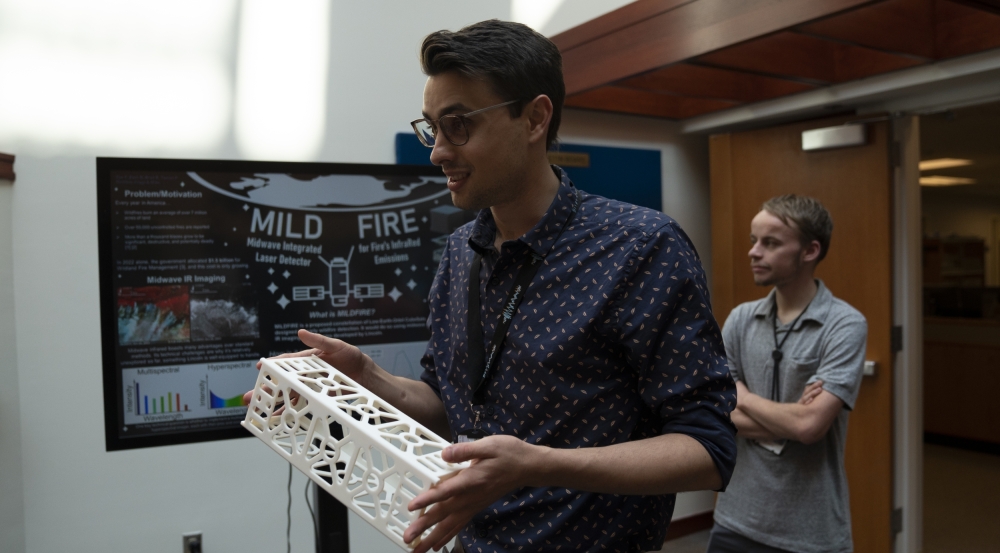 The Rapidly Deployable Private 5G Networks (DiReNet) team came in second place with their idea to provide emergency personnel with voice and data communication using a 5G network that could be brought online within the critical 72 hours after a disaster. This technology would help emergency responders more effectively mitigate damages and administer aid in the wake of disasters. For example, in 2017 Hurricane Maria wiped out most of Puerto Rico's communications infrastructure, which prevented residents from calling 911 for help and traditional backup communications services from being deployed. 
To solve this problem, the team proposed developing an easily deployable, distributed 5G network consisting of 5G-compliant modular components that would act as base stations and a backhaul server to operate the 5G Core functionality. 
"At the crux of the technology is the ability to create a size, weight, and power-optimized base station that could be easily deployed in remote or difficult-to-maneuver locations, and that would last 36 hours on battery," said Adriyel Nieves, an intern in the Tactical Networks Group. "We then calculated that 19 base stations (deployed by drones or other means) could provide a local area network of one square kilometer. Once the battery power for the base stations have been depleted, more base stations could be deployed."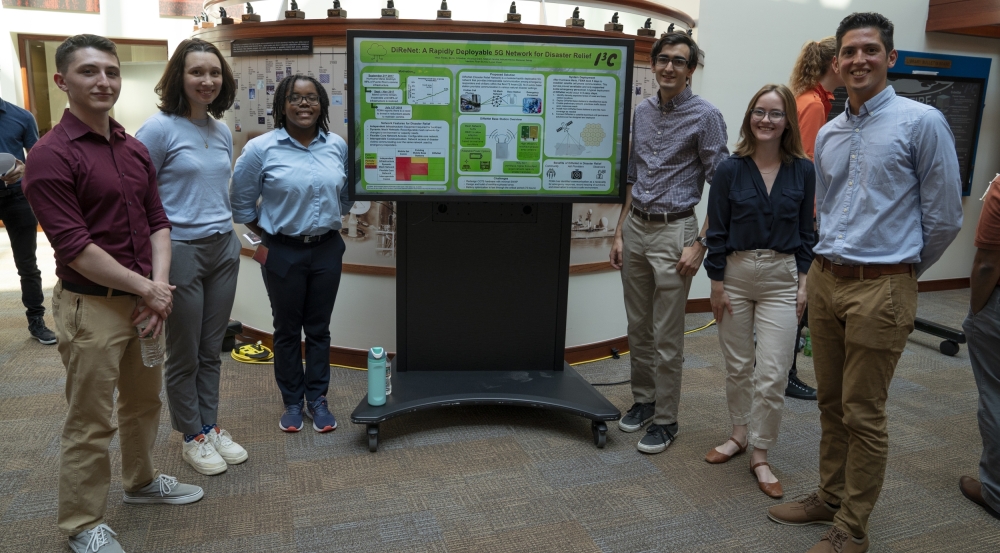 The De-orbiting Inactive Satellites in Low-Earth Orbit (DR. CLEANS) team came in third place with their idea to build a satellite that could de-orbit defunct satellites and other large pieces of space debris before they have a chance to collide with one another and create smaller pieces or damage active satellites. 
"As we enter a new age of space exploration, more and more satellites are being launched into space," said Albert Kodua, an intern in the Advanced Materials and Microsystems Group. "Unfortunately, this can lead to debris polluting the space above the Earth because we do not have a system to dispose of the debris. As of now, space agencies simply wait for the debris to de-orbit, which can take decades."
Debris that is left in space can collide with nearby satellites and cause the destruction of valuable equipment. So rather than waiting for debris to de-orbit, the team is using a systems engineering approach to determine an optimal path between large groups of space debris in high-value orbits, decide between a contact- or contactless-based method of de-orbiting, and build CubeSats that can improve on previous debris de-orbiting methods. 
"It was very rewarding to watch the interns give their final presentations and see their mentors, colleagues, and fellow interns cheering them on," Ramunto said. "The best part for me was the intern testimonials at the end of the summer. Hearing them talk about the positive impact I3C has had on their experience at the Laboratory made me proud of the program and of all the hard work we put into planning it."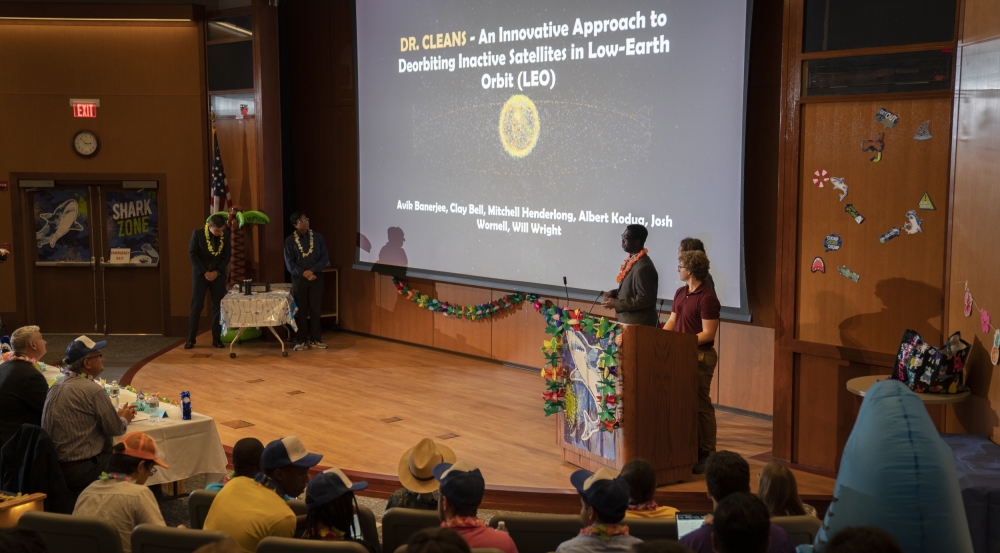 Both Nieves and Kodua cited teamwork and time management as areas in which they grew a lot throughout I3C. 
"We had six people on the team and had to ensure that everyone had a contributing role. Throughout the competition, we learned a lot about teamwork and team management." Nieves said. "Managing our time was a great learning experience from I3C as well, given the rapid timeline of the project and balancing the project with our internships."
"This past year at school, I really doubted my ability to lead a team, but this summer, I3C gave me the chance to build my own team and figure out how to navigate working together while still working on our internship projects," Kodua said. "It gave me the confidence I needed to finally feel like I can be a good leader."
This year's I3C event was special for the Laboratory as well, as it was the first time the program has been held since 2019, due to the COVID-19 pandemic. 
"This year, we wanted to focus on collaborating in person after a two-year hiatus," Ramunto said. "Being able to see the interns enjoy all that the Laboratory has to offer in terms of its people, technical expertise, and extra resources (such as Technology Office Innovation Laboratory, Technology Ventures Office, Knowledge Services, and employee resource groups) was a reminder of how amazing of a place the Laboratory is."