LLRISE celebrates 10 years
Students, instructors, and alumni reunite to reflect on Lincoln Laboratory's radar-focused educational program.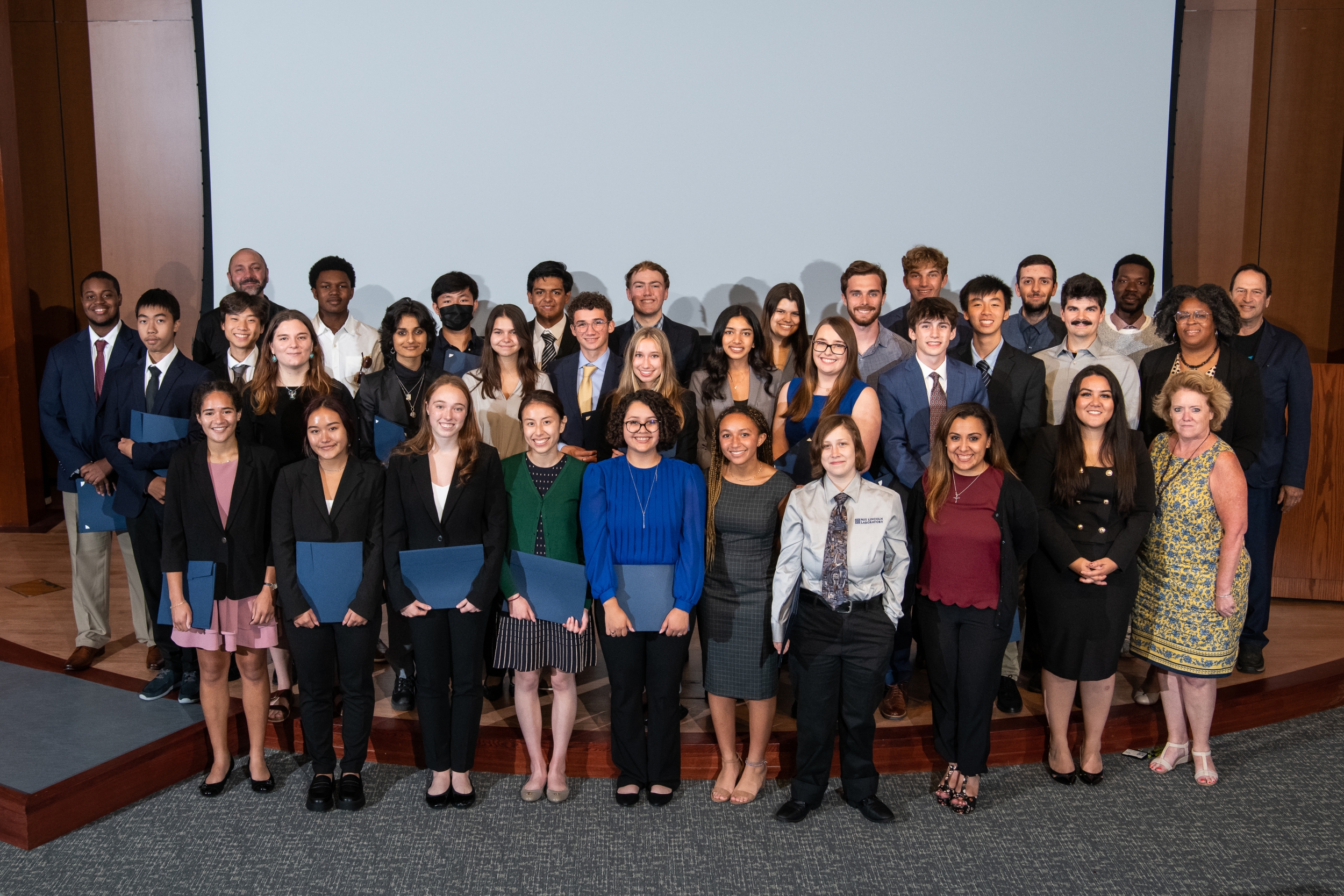 A boisterous group of high school seniors chatted in Lincoln Laboratory's auditorium. The mood was both celebratory and bittersweet: it was the last day of this summer's Lincoln Laboratory Radar Introduction for Student Engineers (LLRISE) program. The students had bonded over the past three weeks, pushing through rigorous coursework to grasp the basics of radar and to build their own systems from scratch. At the end of the day, they would be presenting results of their radar experiments to the auditorium crowd. 
Many in the crowd could relate, because they too had been through LLRISE. Dozens of student alumni, instructors, and teaching assistants had returned to the Laboratory to support this year's graduating class and to celebrate a milestone together: the 10-year anniversary of LLRISE. 
"As we reflect on these past 10 years, we realize that LLRISE represents a legacy founded on a commitment to engineering education, to underrepresented students, and to the community," said David Granchelli, kicking off the 10-year symposium event on July 15. Granchelli manages the Communications and Community Outreach Office, which spearheads the Laboratory's STEM educational outreach programs, reaching 8,000 students annually.
LLRISE was the first of such programs, and the brainchild of outreach coordinator Chiamaka Agbasi-Porter, who still leads LLRISE today. Back in 2012, she worked with Laboratory engineers to adapt an MIT undergraduate course on radar into a two-week curriculum for high schoolers. "It's very rigorous, transformational, and also a lot of fun. I am humbled by and appreciative of all the work that so many people have put into the program," Agbasi-Porter said.
Admission to LLRISE is highly competitive. Hundreds of students from around the country submit what resembles a college application — three essays, two teacher recommendations, and a transcript. Though only a fraction can be accepted, the class size has steadily grown each year.  Now at 23 students, it's nearly double what the program could support in its first year. Students spend their days in class at the Laboratory's campus in Lexington, Massachusetts. In the evenings, they return to MIT, where they stay in dorms and gain a glimpse of college life.
Crucially, the program is offered free of charge. Funding is provided by the Department of Defense (DoD) under the National Defense Education Program. "We are a proud partner of Lincoln Laboratory and LLRISE," said Louis Lopez, the DoD STEM director. "We share the same passion and mission of LLRISE, which is to inspire, cultivate, and develop the next generation of diverse and exceptional STEM talent for the nation."
LLRISE is fulfilling that mission. In 10 years, 234 students have graduated from the program. Of those graduates, 98% are currently majoring or working in a STEM field, including nearly all of the program's first-generation college students. More than 70% of LLRISE alumni are women.
During the symposium, former students, teaching assistants, and instructors shared their stories of success and reflected on the influence LLRISE has had on their lives.

"First, just on a skill level, LLRISE exposed me to so much — using a oscilloscope, playing with an attenuator, learning coding in Matlab, building the radar," said Jamal Grant, who volunteered as a TA in 2013 and was later hired as an engineer at the Laboratory. "It was a dream come true. But the most important impact was building such great bonds. You can all attest to that if you've been through the program. It feels like a family."
Annalesia Law, a 2017 alum, credits LLRISE with making her consider a future in engineering for the first time. "LLRISE was very integral to my life and really set me on a path that I did not expect." In 2022, she graduated from Howard University with a bachelor's degree in mechanical engineering.
Mckenzie Ferrari, an alum and two-time TA, remembers a feeling of acceptance. "It was the first time I was in a room with people who enjoyed the same things as I did. Before then, I didn't have good support that could help me to get to the career that I wanted." Today, Ferrari is a dual major in secondary education and in physics, studying supernovae. She encouraged the current LLRISE class to move forward with confidence. "You might think that you don't belong, but you do. You provide a very important subset of skills that someone is going to need, and you can pass on your skills, too. Education is a privilege, and I would not have gotten here if others did not help me."
That same sentiment inspired Mabel Ramirez, a technical group leader at the Laboratory, to volunteer as an LLRISE instructor. Ramirez's expertise in radar engineering was crucial to building the LLRISE curriculum in its early days, and her passion for education gave the program heart. "Throughout my life, growing up in Puerto Rico, my parents instilled in me the importance of service to others. When I worked hard to open a door, I would bring others with me," she said.
Ramirez also helped recruit Beverly Wong as an instructor, once Wong had returned from an assignment in Kwajalein Atoll working on world-class radars. For five years, Wong led the LLRISE lectures on the Doppler effect, one of the most difficult technical concepts for students to grasp.
"Nobody slept in my class!" Wong laughed. "But what I loved was that every part of the lecture reflected experiences that you would have in the real world. Students were able to take their radar out and collect data and test out Doppler theory. That comparison between theory and experimentation is something that we do almost every day here at the Laboratory."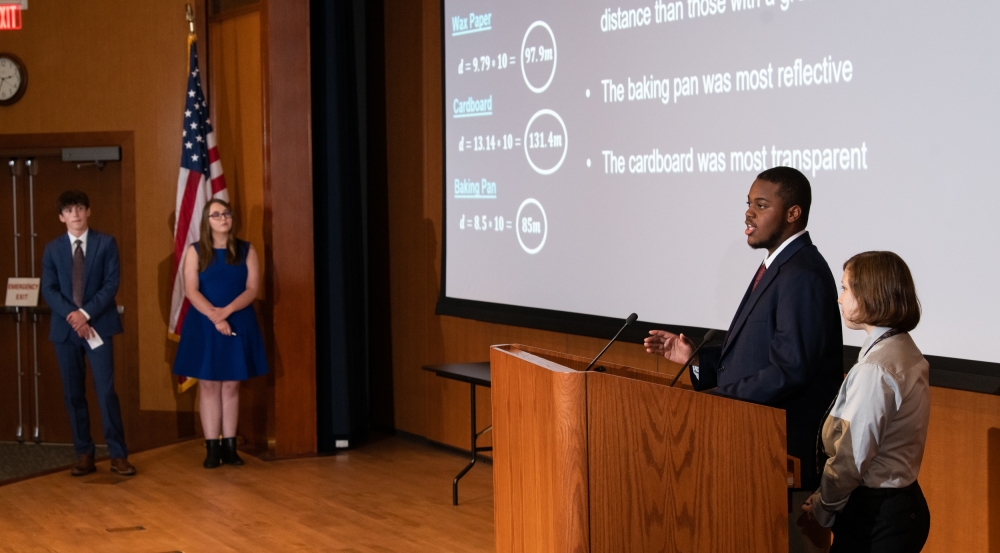 This year's LLRISE class then presented the many experiments they had designed and conducted with their radars. Inspired by childhood memories, one group used their radar to calculate how far wishing pennies had dropped into a fountain and how fast they could push each other in shopping carts. Another had recreated planets and galaxies with tinfoil balls and fishing line, using radar to study the movement of celestial objects.
Eric Evans, the director of Lincoln Laboratory, addressed the students with words of motivation. "You are all very talented, and with great talent comes great responsibility. We challenge you to apply the science and engineering problem solving that you have learned through LLRISE to help solve many of the world's major problems, like reducing the impact of climate change, finding ways to better protect us from pandemics, and developing better systems for renewable energy. You can change the world through what you have learned, and we look forward to your many successes."
By the end of the symposium, the class had just one task left to do: graduate. Each 2022 LLRISE student crossed the stage to receive their certificate, their names announced by a TA along with an amusing memory or lasting impression the student had left on their peers. The crowd cheered for their accomplishments. If the past 10 years are any indication, these graduates have bright futures ahead.
Inquiries: contact Kylie Foy