Lunar Laser Communication Demonstration Team presented with 2015 Nelson P. Jackson Aerospace Award
On 13 March, representatives of the Lunar Laser Communication Demonstration (LLCD) team attended the National Space Club's (NSC) 58th annual Robert H. Goddard Memorial Dinner in Washington, D.C., to accept the 2015 Nelson P. Jackson Aerospace Award. The award, given in honor of Nelson P. Jackson, founding member and past president of the NSC, annually recognizes an outstanding contribution made to the missile, aircraft, and space field during the preceding year.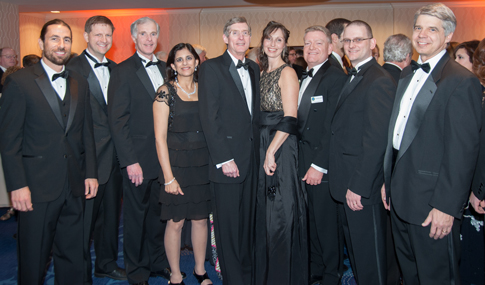 LLCD was a mission led by the National Aeronautics and Space Administration (NASA) Goddard Space Flight Center to prove the fundamental concepts of laser communications at extremely long distances. Lincoln Laboratory built the space terminal and primary ground terminal—the Lunar Laser Communication System—for the demonstration.
The LLCD team was selected for the award by a panel of experts headed by Marc C. Johansen, chair of the Nelson P. Jackson Aerospace Award committee and vice president of satellites and intelligence programs at Boeing's Government Operations office. According to the committee's award citation, "LLCD resulted in a record-breaking achievement using broadband lasers for space communications. Using a pulsed laser beam to communicate and exchange data and high-definition video [sent from a lunar-orbiting terminal] with the main LLCD ground station in White Sands, New Mexico, the team achieved [downlink] rates over six times higher than [those of] previous missions [involving radio systems flown to the moon]. LLCD was also able to assist the host mission (Lunar Atmosphere and Dust Environment Explorer) with a download of a 1-gigabyte data set in only a few minutes."
The National Space Club is a nonprofit organization devoted to fostering excellence in space activity through interaction between industry and government and through a continuing program of educational support. Each year, awards are given to a number of individuals for accomplishments in spaceflight, engineering, science, management, and education. Awards are presented at the Robert H. Goddard Memorial Dinner, which commemorates the anniversary of the first successful flight of a liquid-fueled rocket. The event brings together nearly 2,000 members of the government, industry, and educational space community.