Military students innovate technology solutions for U.S. Special Operations Command
Working with mentors and military operators, cadets are addressing challenges in such areas as autonomy, data analytics, communications, and blood delivery.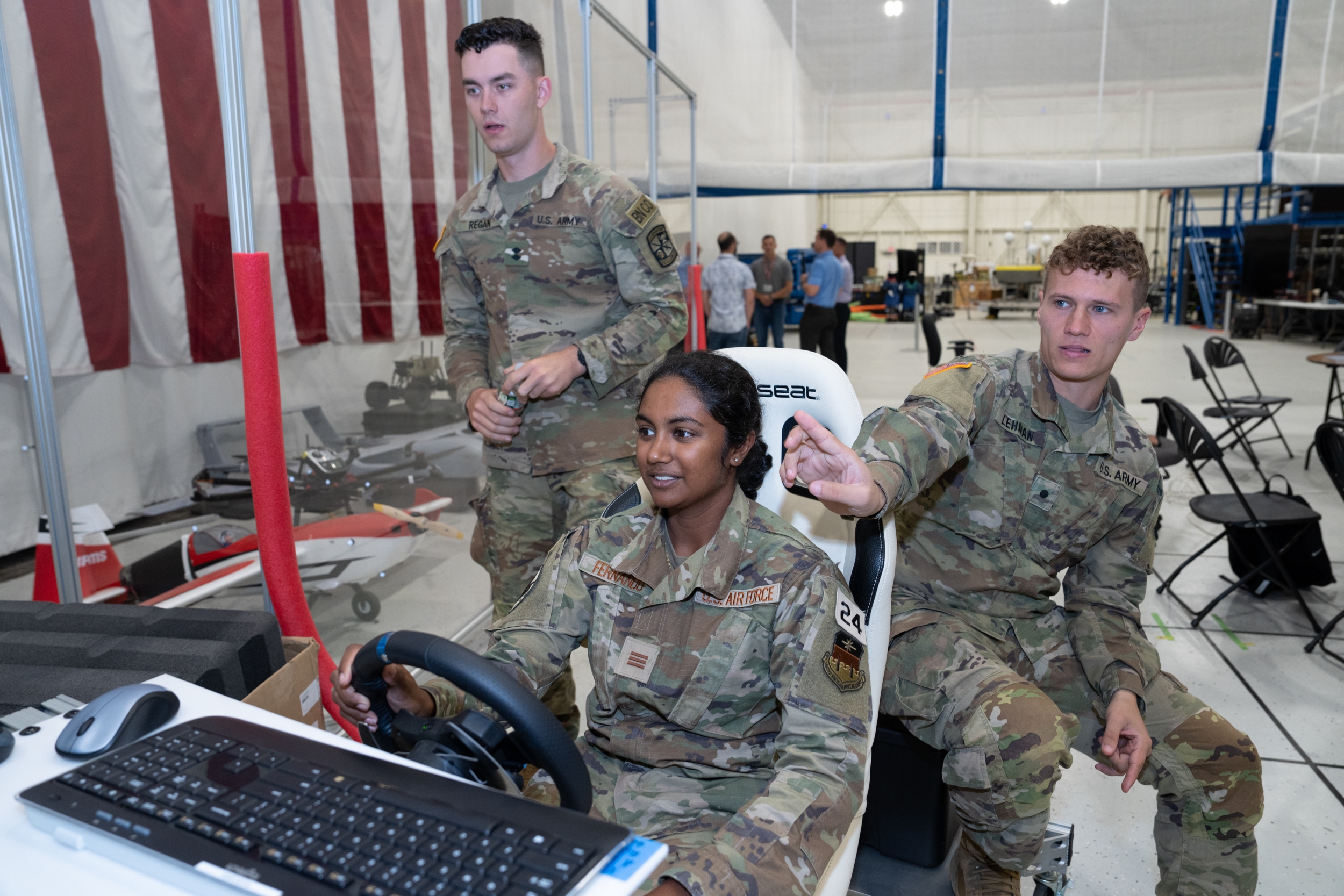 All eyes were on the robot-dog pacing the hangar on Hanscom Air Force Base. The robot was just one technology, among small drones, autonomous-mapping vehicles, and virtual-environment simulators, set up for military cadets to interact with. The goal was to open cadets' minds to possibilities. Over the next year, they will be applying such technologies to challenges facing the U.S. Special Operations Command (USSOCOM) for a program called SOCOM Ignite.
SOCOM Ignite connects military students with research scientists and special operations forces to address SOCOM's pressing technology challenges, while ushering in new generations of technology-savvy officers and operators. Now in its fourth year, the program invites cadets from across the nation's military academies and Reserve Officers' Training Corps (ROTC) programs to participate. 
"We started as just a two-day hackathon having less than 10 cadets, and now we are a year-long program with more than 80 cadets from more than 19 different universities, representing the Army, Navy, and Air Force. We hope to extend to the Marines and any other group out there," says Raoul Ouedraogo, who helped establish the program and is a leader within Lincoln Laboratory's Homeland Sensors and Analytics Group.
Lincoln Laboratory researchers serve as the technical mentors in the program. To start the program this year, they offered new "innovation incubators," or crash-courses on the basics of machine learning and autonomy, two topics of high interest to SOCOM. Following those sessions, a formal kick-off ceremony brought in SOCOM leaders to explain the impact of the program for the command's mission. SOCOM is the nation's only unified combatant command that oversees special operations forces across all branches of the armed services. 
"What makes SOCOM so important to the Department of Defense is that we are pathfinders. We look at advanced concepts, take those visions and dreams, and make them real," said SOCOM Senior Enlisted Leader (Retired) Greg Smith.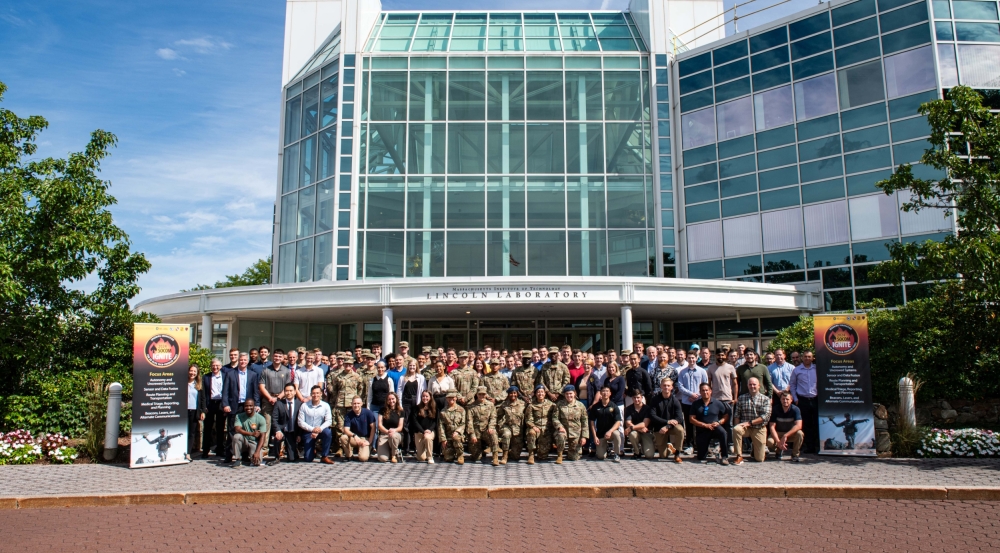 "We have a mix of academy cadets and ROTC students, providing diverse perspectives. We have access to users in the SOCOM community, whose time is precious, and to technology mentors, who do this for a living. Those three things make this a unique program," Lisa Sanders, the Director of Science and Technology for Special Operations Forces, Acquisition, Technology, and Logistics, USSOCOM, said at the ceremony. "SOCOM also has acquisition authority — people who get ideas on the market. The ideas that you come up with will make a meaningful difference."
After the opening ceremonies, the cadets traveled to MIT campus for a weekend-long hackathon, which took place from September 16 to 17. At the hackathon, SOCOM operators presented more than a dozen Ignite challenges to the cadets. Cadets then formed teams to begin brainstorming concepts, working firsthand with special operations forces and Laboratory technical experts to refine their ideas.
The challenges are diverse in their needs. One challenge is to develop a non-RF means of communicating within a squad. Another is seeking algorithms and hardware to enhance autonomous UAV flight and mapping indoors. New this year, a biotechnology challenge calls for methods to improve the storage and delivery of blood in a tactical environment.
"The hackathon experience was inspiring. It was great to see such a large number of cadets coming from different institutions attend and have a desire to conduct meaningful research," says Jack Perreault, a recent West Point graduate whose team is applying computer vision and speech recognition to the process of reporting and triaging casualties. "Getting insight on how our technical skills can help enable operators achieve their missions has left the greatest impact on me overall."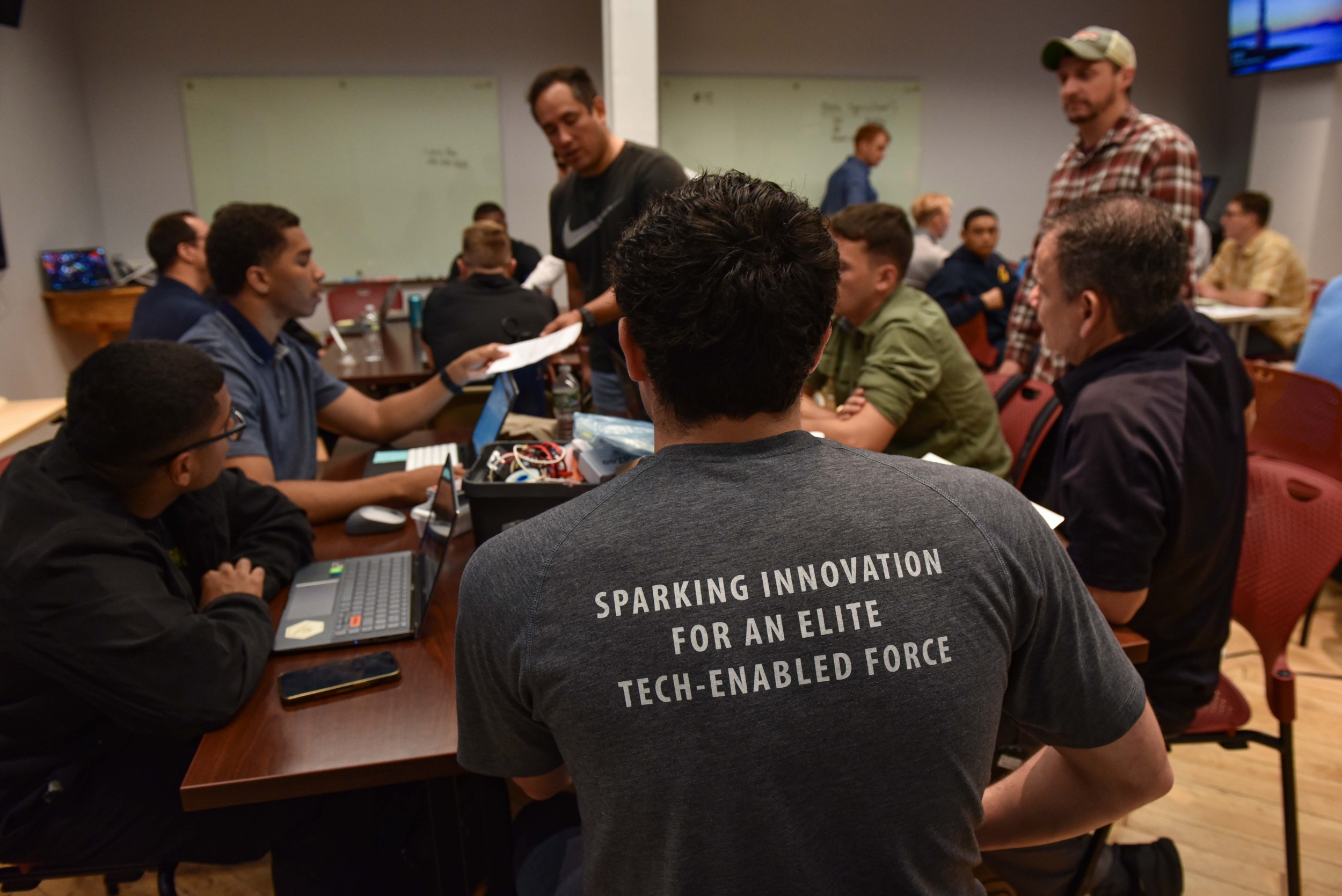 The cadets will continue working on their concepts and receive funding to build prototypes throughout the school year. Over the winter, some might visit Fort Liberty, which houses the headquarters of the U.S. Army Special Operations Command (USASOC), to showcase their solutions to users and update SOCOM leaders on their progress. In the spring, they'll return to Lincoln Laboratory for final presentations. After that, Lincoln Laboratory and various SOCOM components will take on some cadets as interns or military fellows to continue their research. Perreault is one such military fellow, developing his SOCOM solution at the Laboratory while pursuing a master's degree at Boston University.
U.S. Air Force cadet Christopher Christmas is also continuing his work as a research assistant at the Laboratory. A third-time SOCOM Ignite participant, he is pursuing a system that can ingest data from distributed sensors and generate useful information, sending it to the right people and in a scalable way.
Christmas recommends SOCOM Ignite to any cadet looking for an opportunity to make an impact. "It's an excellent leadership experience, exposing cadets to unique career fields and officers of various ranks. It has completely altered the trajectory of my life in the best way possible."
Inquiries: contact Kylie Foy.