New England startups explore how to connect their technologies to Defense Department needs
Speakers from Lincoln Laboratory discuss ways the Laboratory can partner with local businesses.
On 19 October, Israel Soibelman, Assistant to the Director for Strategic Initiatives at MIT Lincoln Laboratory, spoke on a panel at the National Defense Industrial Association (NDIA) New England "Defense Innovation for the Warfighter" event. The public event, held at the Venture Café at the Cambridge Innovation Center, brought together defense technology organizations, local startups, and venture capitalists to discuss near- and long-term military technology needs and opportunities for new partnerships.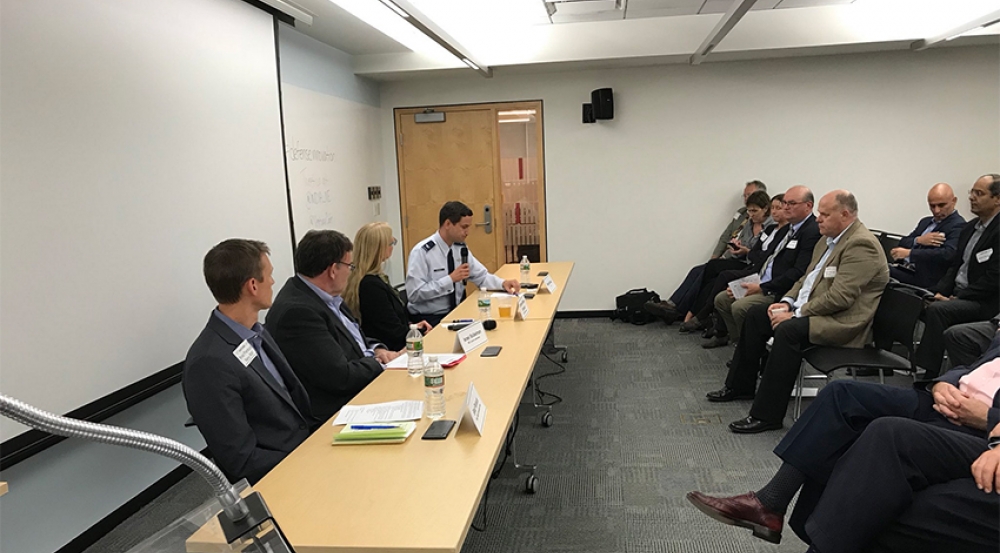 During the panel discussion, Soibelman talked about the vast number of R&D investments being made by the private sector today, a figure he says is three to four times the amount the government is investing in R&D. Consequently, the Department of Defense (DoD) has become a big customer to private companies who are funding and developing new technology. Working more closely with the startup community, Soibelman says, is key to staying in tune with the latest technological advancements.
"We can do more to connect with the startup community," Soibelman said. "There is a lot of innovation happening there that is of interest to the Department of Defense, autonomous systems for one example. We need to think hard about how we can open a portal to innovation with startups and small businesses, who are generating ideas and technologies that also have dual-use roles for the DoD."
While startups may not be focused on the defense applications of their technologies, an important commonality they share with Lincoln Laboratory is the need to prototype. "Startups and small businesses do a lot of prototyping, which is what the Laboratory is also very interested in. We have state-of-the-art facilities that allow us to rapidly prototype," Soibelman said. The Laboratory has been exploring ideas for collaboration that could open its facilities to partner businesses. One idea Soibelman discussed during the panel is the Lincoln Laboratory Engine, which is envisioned to be a facility close to the main Lincoln Laboratory campus that allows small businesses to come in to prototype and interface with Laboratory staff.
Mechanisms are in place to contractually enable this kind of collaboration, such as Cooperative Research and Development Agreements (CRADAs). CRADAs provide industry partners with access to the Laboratory's unique technologies, capabilities, expertise, and facilities. Lincoln Laboratory is also beginning to implement new Small Business Innovation Research Programs and Small Business Technology Transfer Programs, which allow the Laboratory to partner with small businesses on initial phases of technology development. David Pronchick, head of the Laboratory's Technology and Contracts Office, attended the NDIA event to discuss these opportunities with attendees.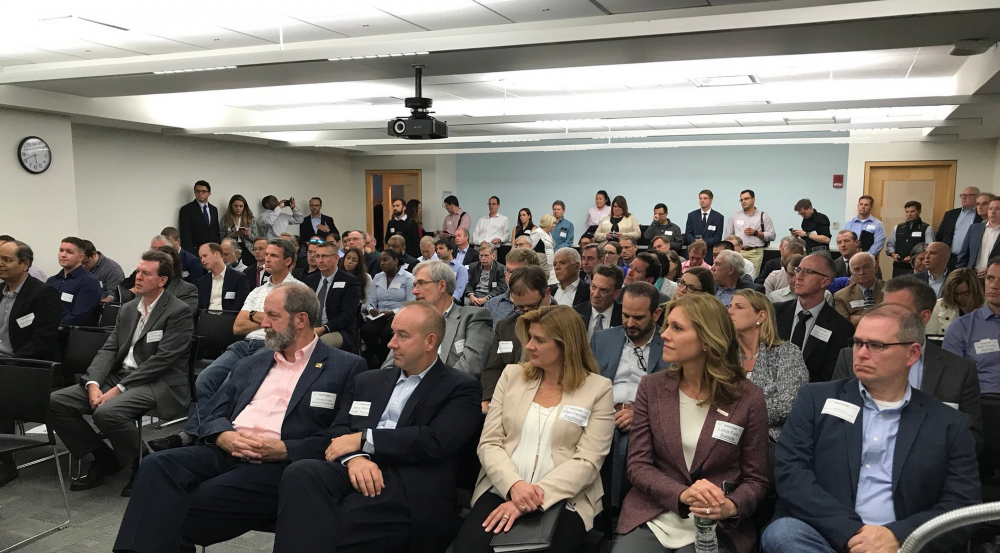 Collaboration early on with businesses could also help the Laboratory efficiently transition technology to industry, an important part of the Lab's role as a federally funded research and development center. "The end goal is technology transfer, and that can be a slow process," said John Hybl, leader of the Laboratory's Laser Technology and Applications Group, who hosted an information table at the breakout session following the panel discussions. "Working with companies earlier provides a more effective pipeline. There are also cultural benefits. The commercial world works at a certain pace that is different from government. I think infusing a bit of that commercial urgency is beneficial, and there's no better way to adapt our culture than to actually work with these companies."
These partnerships are also healthy for the economy. "With all of the money that the government puts into national laboratories, they want to leverage this investment beyond defense and feed it back into the economy. Engaging with startups and small business is one good way to do that," Soibelman said.
Since the NDIA event, several follow-up meetings have been scheduled for startups to come to the Laboratory to discuss their technology. Soibelman also shared a similar talk on 9 November at a Southeastern New England Defense Industry Alliance luncheon aimed at small businesses.
"It was a very good thing for the Laboratory to be involved in these events," Soibelman summarized. "We are going to be a lot more proactive about reaching out to these communities."