Equipment and Capabilities
The STRIVE Center uses immersive virtual environments in combination with state-of-the-art sensing capabilities to improve our understanding of human physical and cognitive performance.
CAREN System
High-End Computer Assisted Rehabilitation Environment (CAREN) System
The high-end CAREN system (Motek Medical, B.V., Houten, Netherlands) includes a 24-foot-diameter dome and incorporates an 18-camera motion capture system and a split-belt instrumented treadmill mounted on a six-degrees-of-freedom platform. Virtual environments are projected on the 360-degree dome screen and an array of speakers surround the operator inside, providing a visual and auditory immersive experience. The environments and sensing systems are controlled by real-time software, DFlow, and interface with several game engines such as Unity. Researchers at the STRIVE Center have integrated additional advanced sensors, devices, and capabilities into the CAREN system to provide comprehensive measurements and analyses of human performance in operationally relevant contexts. These capabilities include electromyography (EMG), inertial measurement units (IMUs), eye tracking, speech recording, and exoskeletons as well as the ability to incorporate consumer off-the-shelf systems such as smartphones and watches. 
---
Treadmill and Platform
Part of the CAREN system, a split-belt instrumented treadmill is mounted on a six-degrees-of-freedom platform. Force plates under each treadmill belt measure three-dimensional ground reaction forces and moments, along with the centers of pressure. The treadmill has a maximum speed of 6 m/s (13.4 mph or a 4:28 mile pace) and can accelerate up to 15 m/s2. Treadmill speed can be set to a constant pace or be used in self-paced mode where the speed will continuously and automatically adjust to the user's desired movement pace (standing, walking, or running). The left and right treadmill belts can also be controlled independently. Additionally, the platform can rotate (roll ±17°, pitch ±17°, yaw ±26°) and translate (surge ±14 cm, sway ±14 cm, and heave ±9 cm) to quickly match slopes within any scene projected on the screen, introduce perturbations, or provide balance assistance.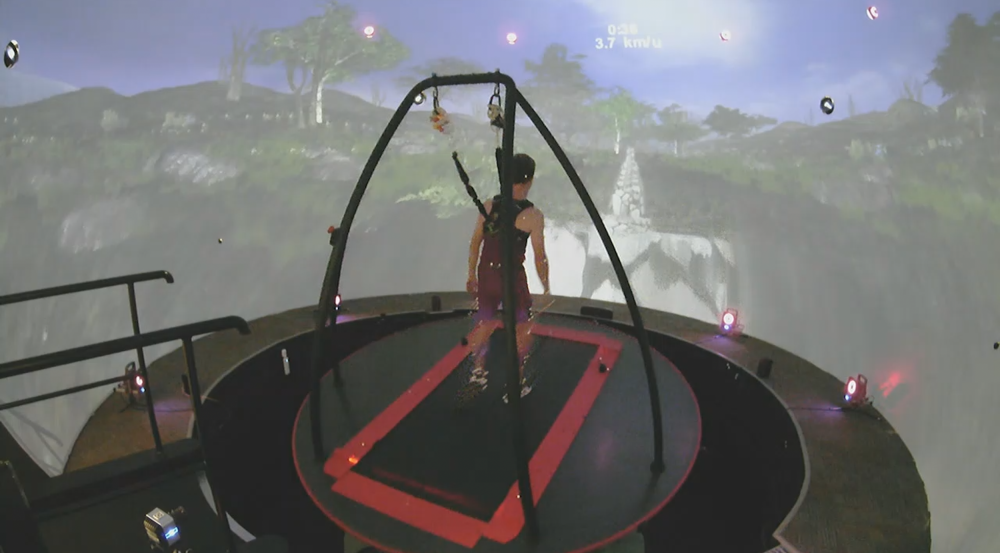 ---
Motion Capture System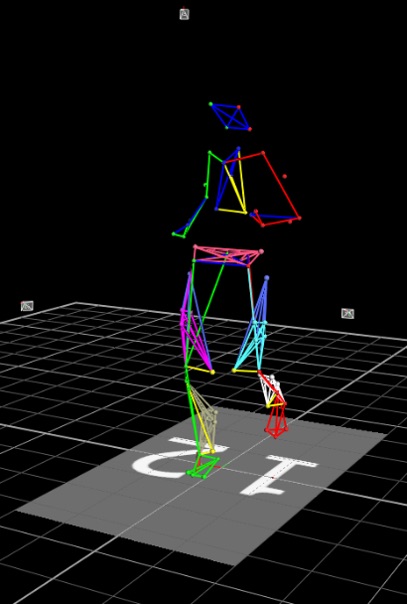 An 18-camera optical 3D motion capture system (Vicon Motion Systems Ltd, Oxford, UK) is used for precisely quantifying and analyzing how the body moves, and three video cameras capture synchronized video at up to 120 frames per second. Reflective markers are placed on the body or an object, and the cameras track the marker positions in three dimensions at up to 2,000 frames per second. Researchers and clinicians can place the markers on strategic body landmarks to define body segments and create biomechanical models that calculate kinematic information such as limb and joint positions, velocities, and accelerations. These data are also used along with ground reaction forces from the instrumented treadmill to calculate kinetic information such as joint forces, moments (torques), and powers.  
Data from the force plates, motion capture system, and other devices such as electromyography (EMG) and inertial measurement unit (IMU) sensors are internally synchronized through the motion capture software (Vicon Nexus) to ensure time-aligned signals. This software is also used for data capture, processing, and analysis, and it can generate calculations for use with real-time biofeedback. Researchers in the STRIVE Center further develop and analyze musculoskeletal models using several software suites including Vicon Nexus and Visual3D (C-Motion, Inc., Germantown, MD), while data can also be exported to other musculoskeletal modeling software such as OpenSim. 
---
Projector System
Eight solid-state LED projectors (model FL33, Barco, Kortrijk, Belgium) provide high-definition images that are projected onto the inside of the dome. The separate projections are automatically warped and blended into one seamless 360° display using specialized software (Scalable Display Technologies, Cambridge, MA). A ninth projector is mounted in the apex of the dome so that images or virtual targets can be projected onto the treadmill and platform. 
---
EMG and IMU Systems
Electromyography (EMG) and Inertial Measurement Unit (IMU)
A 16-sensor system (Trigno Research+, Delsys, Natick, MA) combining electromyography (EMG) electrodes and inertial measurement unit (IMU) measurements is integrated and synchronized with the CAREN system. With built-in WiFi and Bluetooth capabilities, this dual-purpose system enables wireless recording of these data, making the system ideal for laboratory or field testing. Researchers and clinicians at the STRIVE Center use EMG data to understand how muscle activities change under different conditions, which provides insights into strength, performance, coordination, and clinical function. IMU data are used when accelerations or rotational information are useful or when motion data collections outside of the CAREN system are desired.

The STRIVE Center also uses a 17-sensor IMU system and software suite (Xsens MVN, Enschede, Netherlands). The software analyzes data from the motion trackers using a custom biomechanical model and sensor fusion algorithms to generate real-time, reliable, and accurate full-body 3D motion analysis.  
---
3D Audio
Two types of enhanced spatial audio are integrated into the CAREN system. The SLAB Spatial Audio Renderer (NASA, open source) is a software-based, real-time virtual acoustic rendering system that was developed to study spatial hearing. Secondly, the Unity 3D Gaming Engine has 3D spatial audio options. Both of these systems provide accurate spatial audio rendering using the motion capture system to track subject position and head movements.
---
Eye Tracking
Electrooculography (EOG) (Shimmer, Dublin, Ireland) and video eye tracking (Argus Science, Tyngsborough, MA) systems are both integrated into the CAREN system and offer real-time gaze tracking. The eye trackers provide gaze direction with respect to the head, and motion capture provides head position and orientation with respect to the environment. Specialized software (ET3Space, Argus Science) uses this information to determine line-of-gaze with respect to the three-dimensional environment and the gaze intersection point on stationary surfaces in the environment.
---
Speech Recording
Speech and vocal monitoring can be used to identify vocal biomarkers during tasks within the CAREN system. Wireless microphone recording capabilities have been integrated along with electroglottograph (EGG) and piezoelectric accelerometer (ACC) microphones for recording vocal vibration signals. 
---
Exoskeleton Integration
Powered exoskeletons can be integrated into the STRIVE Center's CAREN system for synchronized communications and data collections. Current studies are examining a powered exoskeleton (Dephy, Maynard, MA) designed to provide torque assistance to the ankle joint. The exoskeleton attaches to specially designed boots that contain an integrated carbon composite foot-plate, and onboard AI adapts to each user to provide individualized power augmentation via an electromechanical drive system. Virtually any powered exoskeleton system can be integrated into the CAREN system for comprehensive performance analyses or to program exoskeleton function or assistance for different conditions according to the needs of the research protocol. 
---
Physical Testing
The STRIVE Center includes space for physical testing. A portable examination table provides a comfortable spot for research participants or patients to sit or lay for clinical assessments or testing setup. A clinical-grade scale and stadiometer provide accurate weight and height measurements. Semmes-Weinstein monofilaments are available for sensory testing, and an ergonomic testing kit allows for strength testing and ergonomic analyses.  
Contact Us
We encourage to you to contact us to learn more about the STRIVE Center.