Title:
Assistant Group Leader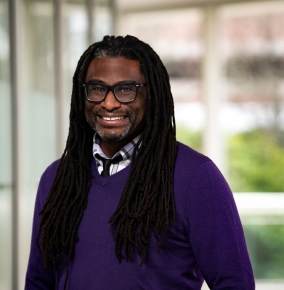 My favorite thing about the Laboratory is that it is a place where I am constantly learning new things, and everyone is always excited to tell you about a new thing they just learned about or discovered.
What experience(s) influenced your career path?
Growing up I loved watching TV and movies. My love of sci-fi is what drove me on my career path. I always wanted to work at a place where folks were making what I saw in sci-fi movies a reality. Seeing characters on TV, like Dwayne Wayne from "A Different World" and Geordi La Forge from "Star Trek: The Next Generation," that were African-Americans and engineers, and had cool glasses, also influenced me.
What do you work on at Lincoln Laboratory?
I am an Assistant Leader of a group that focuses on modernizing airborne, ground, and enterprise software architectures to address challenging ISR and national security problems. The part that I find the most interesting about the work I do is talking with senior leaders, analysts, and operators to understand their challenges and needs, and then seeing something that we work on improving the way they work and operate.
Why is Lincoln Laboratory a good fit for you?
Lincoln Laboratory is a dream job. I am the type of person that likes to ask questions, work in a multidisciplinary environment, and constantly learn about new things, and the Lab allows me to do all of those things. I also like the fact that we aren't driven by profit, but rather driven by the need to address national security challenges, which allows me to serve the country in some way.
Are you involved with any Lincoln Laboratory employee resource groups or professional activities, and what do you enjoy about that involvement?
I was the co-chair for the Lincoln Laboratory Employees' African-American Network (LEAN) from September 2016 to August 2020, and I served as the outreach chair for LEAN from September 2014 to August 2016. Part of my role as LEAN outreach chair involved speaking engagements for various K−12 outreach events. I enjoyed these events because they gave me opportunities to help get more underrepresented minorities interested in science and engineering. I think it's important to let students in underrepresented communities know that folks who look like them are in the science and engineering fields. I also enjoyed the opportunities LEAN gave me to collaborate with other employee resource groups, for example in planning the Laboratory's Martin Luther King Jr. celebrations. Through the MLK celebrations, I also was able to meet and break bread with two astronauts and a four-star general. Between 2018 and 2021, I also worked with employee groups on the Laboratory's Cultivating Leadership, Achievement, and Success Awards program. These awards are a great way to highlight employees with are helping to improve the culture of the Lab.