David Culbertson inducted as a Fellow of the Royal Aeronautical Society
He joins a prestigious, 153-year-old international organization dedicated to advancing aerospace and aviation.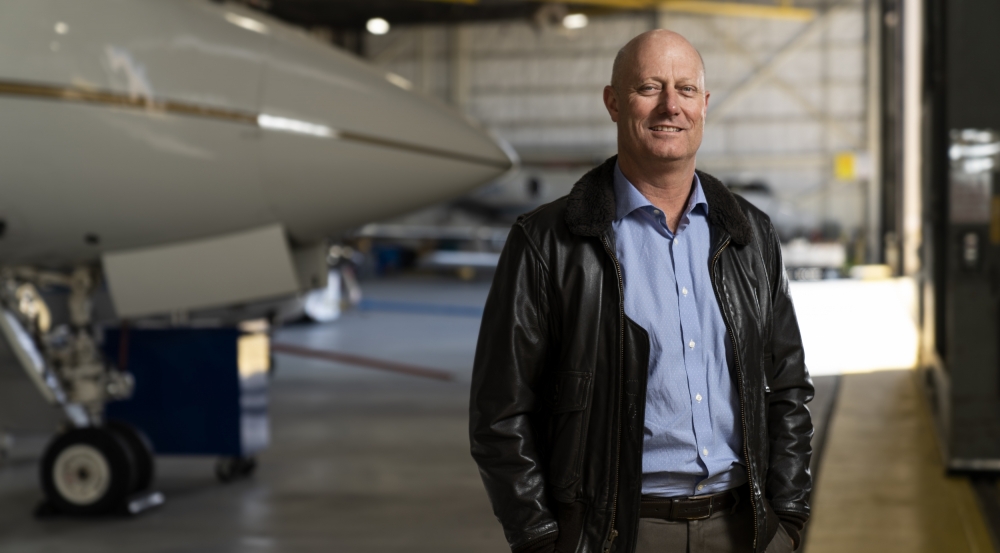 David Culbertson, currently the manager of Lincoln Laboratory's Flight Test Facility, believes his recent induction as a Fellow of the Royal Aeronautical Society (RAeS) is the result of his "collective experience contributing to aviation as part of the military, academia, and industry." The RAeS was founded in 1866 as a British organization for "the advancement of Aerial Navigation and for Observations in Aerology connected therewith." The society has since grown to be a global community of 22,500 members working in diverse disciplines within aerospace.
Culbertson's career in aviation has been decidedly varied. In his 20 years of military service, he was a U.S. Navy fighter pilot, experimental test pilot, flight instructor, and program manager. During those years, he completed a master's degree in aviation systems from the University of Tennessee. In 2003, he transitioned to academia, serving as an assistant professor at Embry-Riddle Aeronautical University, first as full-time faculty member and from 2005 until now as a part-time adjunct professor, teaching a master's level course in aerodynamics.
His career moved to the commercial sector in 2005 when he began working as a senior test pilot, lead engineer, and Patuxent River, Maryland, site manager for Calspan Corporation, a New York–based firm that provides engineering and testing for the aerospace and automotive industries. In 2010, he was promoted to chief test pilot, responsible for the training, standardization, and safety of 10 engineering test pilots conducting flight-test training and high risk flight research in eight experimental aircraft around the globe.
Culbertson is the only pilot in the world to have conducted probe-and-drogue aerial refueling in a modified commercial aircraft. The U.S Navy and many NATO air force aircraft use this aerial refueling method in which the receiving aircraft must precisely maneuver behind the tanker aircraft so that the extended fuel probe connects into the tanker aircraft's trailing fuel line that is attached to its funnel-shaped drogue basket.
During a career spanning more than 35 years, Culbertson has racked up nearly 8,000 flight hours in more than 60 different aircraft — fighters, trainers, transport, helicopters, warbirds, seaplanes, general aviation aircraft, gliders, and highly modified experimental aircraft. More than half of his flight time has been dedicated to training a generation of test pilots and flight test engineers in U.S. Navy aircraft and Calspan's experimental aircraft.
In 2018, Culbertson joined Lincoln Laboratory to direct operations at its Flight Test Facility, which supports R&D into airborne communications and imaging systems. His experience with customized aircraft is valuable background for managing the modifications to and maintenance of Lincoln Laboratory's fleet of airplanes, most of which are adapted on demand to accommodate the flight tests for unique prototype systems.
"I am very honored to be an integral MIT Lincoln Laboratory team member and leading the Flight Test Facility. I feel excited to come to work every day with vibrant, highly intelligent, and mission-motivated professionals," Culbertson said of his move to the Laboratory.
Culbertson, who had attended lectures presented by the RAeS, said he was looking simply for membership in the RAeS as a way to connect with colleagues and to stay current in aerospace. He contacted an acquaintance and RAeS member for information on joining; this member offered to sponsor Culbertson for membership. The membership committee not only accepted Culbertson's application, but they determined that such a diverse professional involvement in aviation met all their requirements for elite membership as a Fellow. One might say that Culbertson took a direct flight to the RAeS heights.