Four employees honored at 2022 Lincoln Laboratory Administrative and Support Excellence Awards
Exceptional administrative and support staff were recognized for their contributions to the Laboratory at this annual awards ceremony.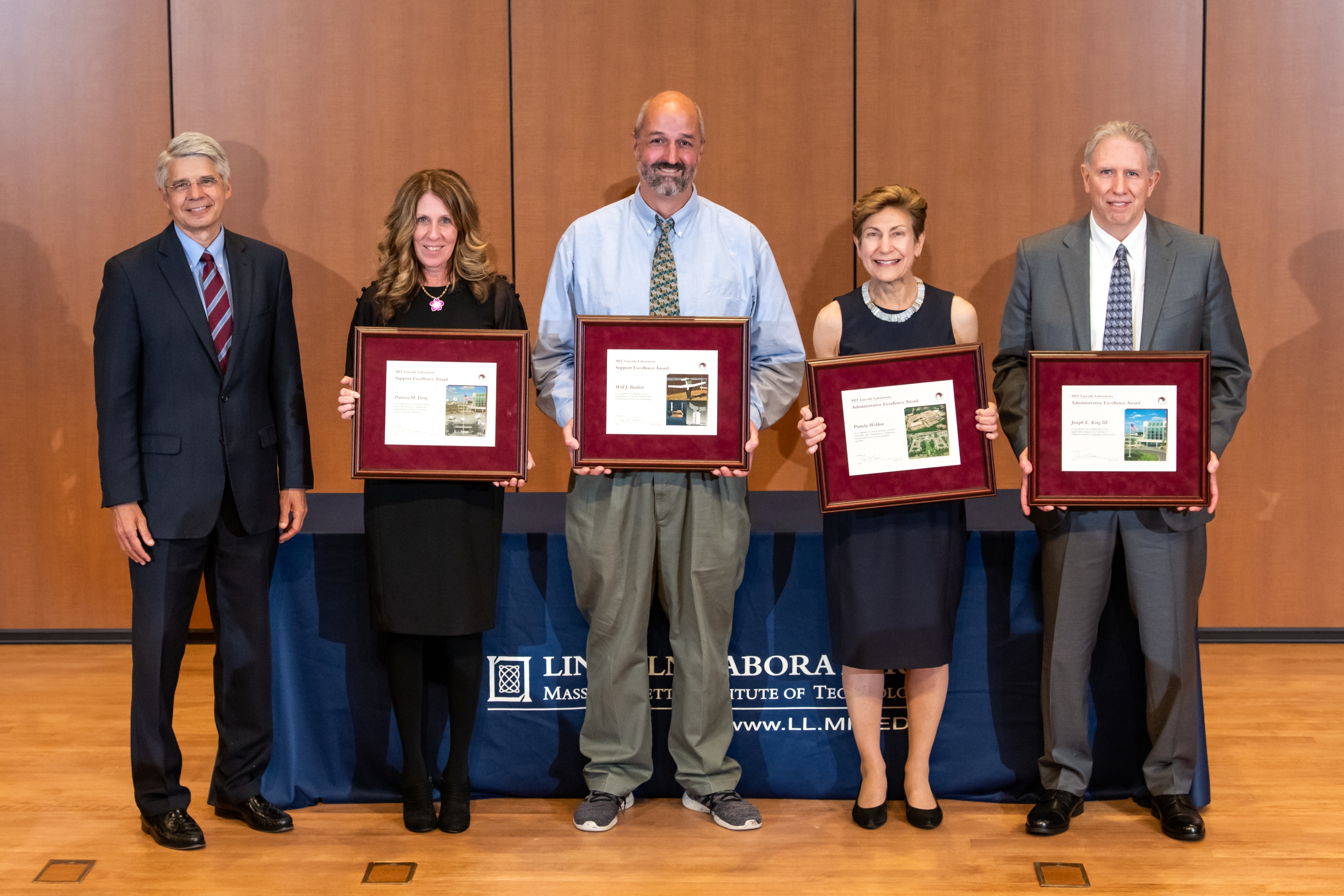 On May 20, friends, family members, and colleagues of the four 2022 Administrative and Support Excellence Awards winners gathered at the Laboratory in person and via Zoom for a celebration ceremony. This awards program was established in 2014 to recognize the exceptional contributions and sustained efforts of Lincoln Laboratory employees in the administrative, information technology services, specialist, support, and service staff categories.
"In many of my experiences, it was the administrative and support team on a project who were the glue that kept everything running when we ran into some technical problems along the way," said Lincoln Laboratory Director Eric Evans in his introductory speech at the ceremony.
This year's winners of the Administrative Excellence Awards were Joseph King, a senior network engineer in the Laboratory's Information Services Department (ISD), and Pamela Weldon, the Financial Services Department (F$D)'s senior accounting officer. The winners of the Support Excellence Award were Will Bartlett, a project technician in the Advanced Capabilities and Systems Group, and Patricia Perry, a group administrative assistant in the Advanced Sensor Systems and Test Beds Group. Each award recipient received a plaque and $2,500 in recognition of their work.
Administrative Excellence Awards
Joseph King received his award for his contributions as the lead network service engineer for the Laboratory's Secure Internet Protocol Router Network (SIPRNet) and as the lead network architect for the Enterprise Lincoln Collateral Network (ELCN) project. King has helped improve and maintain the collateral classified networks that allow Laboratory researchers to safely and efficiently exchange classified information.
King joined the Laboratory in 2009 and was involved in projects to upgrade the Laboratory's SIPRNet, a system of computer networks that the Department of Defense and Department of State use to transmit classified information over a secure environment. More recently, he has been leading work on the ELCN project, an ongoing effort to develop a single shared classified network for the Laboratory.
Robert Solis, the Laboratory's Chief Information Officer who gave an introduction of King at the ceremony, said that what sets King apart is his humility and his people-oriented workstyle. Solis quoted a testimonial from King's manager: "Regarding the significance of [King]'s contributions to the Lab, I reference the term 'moment of truth.' This is when an interaction between a customer and the service provider leads to a lasting impression, either positive or negative. [King] creates a positive moment of truth in every interaction."
Addressing his colleagues present at the ceremony, King said, "Our purpose here at Lincoln Laboratory may be far removed from deployments to the war zone; however, what we do really does matter. Those who serve in our armed forces appreciate your hard work. As for me, I'm proud to be a member of the Lincoln Laboratory family. Though I may not play a direct role in the research we do here, I am deeply satisfied knowing that my work is helping in some small way."
The Laboratory's operations involve complex financial processes, and at the heart of these processes one can find Pamela Weldon. She was awarded an Administrative Excellence Award for her leadership of her team in F$D and cross-functional projects, and also for her support of MIT Finance.
Weldon joined the Laboratory in 2009 as a senior accounting officer after having worked at MIT as an auditor and audit manager since 1985. Throughout her career, she has overseen a wide range of financial areas, including cost allowability, corporate financial reporting, and audits. William Kean, an accounting officer in F$D who introduced Weldon at the ceremony, described her as a subject-matter expert on financial processes at the Laboratory, and credited her with helping the Laboratory keep up with sponsor demands, which continue to increase each year.
"A common theme I've noticed with [Weldon] is that she puts in the extra effort to get her goals or the goals of her organization accomplished," Kean said.
In addition to managing her team and Laboratory finances, she has supported projects such as a 2018 effort to upgrade the Laboratory's SAP business management software to its latest version, SAP S/4HANA.
"For those of us who work behind the scenes, it's good to know that our support of the research happening on the frontlines is valued," Weldon said. "Although we operate in the background, accounting is an important part of the foundational structure that enables the work at the Laboratory to continue."
Support Excellence Awards
During the beginning of the pandemic, at the same time that he was adjusting to remote work and Zoom meetings like many other people, Will Bartlett stood at his kitchen table designing 3D-printed face shields to distribute to local hospitals.
"I think that speaks to [Bartlett]'s interest in always pitching in with his talents to be able to solve a problem and help people out," said Marc Viera, Head of the Intelligence, Surveillance, and Reconnaissance and Tactical Systems Division, who introduced Bartlett at the ceremony.
Bartlett received his Support Excellence Award for his contributions to programs and projects within the Advanced Capabilities and Systems Group and the Tactical Systems Division. He started at the Laboratory in 2001 and was involved in many of the Laboratory's blue team, counter-terrorism, rapid prototyping, and autonomous vehicle programs. Early in his career, Bartlett worked on sensors for detecting improvised explosive devices; these sensors were eventually deployed to the field. He later joined Perdix, a program to develop a very large swarm of small unmanned aerial vehicles, which was featured on "60 Minutes." Viera noted in his introduction that Bartlett is an expert at using creative and resourceful ways to resolve problems and ensure a project's success, likening him to the fictional character "MacGyver."
"[Bartlett has] had an amazing impact on our teams and on our work, and the nation now has things it needed because of [him]," Viera said.
Bartlett thanked his colleagues and leadership in his acceptance speech, saying, "I believe in [the Laboratory.] I have never been happier to have a job in my life."
For Patricia Perry, the Laboratory was her first professional employment and the place she has worked for the past 32 years. She received her award for her support to Group 33 (the Advanced Sensor Systems and Test Beds Group), Division 3 (the Air, Missile, and Maritime Defense Technology Division), and the Laboratory. She started at the Laboratory in 1990 as a secretary and worked in many different groups before finally settling in Group 33 as a group administrative assistant, a position she remains in to this day.
Perry currently provides administrative support to four group leaders and nearly 100 team members located at the Laboratory's Katahdin Hill facility in Lexington, Massachusetts, and at field sites in Huntsville, Alabama, and Kwajalein Atoll, Marshall Islands. "[Perry] is there at all hours to provide [group members] with whatever they need. She is always volunteering beyond her group boundaries to help with the deployment of new capabilities for Laboratory operations," said Katherine Rink, Head of Division 3, who introduced Perry at the ceremony.
One such capability was the Laboratory's new travel system, Concur. Perry often schedules complex trips for group members traveling to field tests, which provided the perfect opportunity to test the new travel system. She helped improve and streamline Concur, all while ensuring seamless travel arrangements for her group members.
Perry concluded the ceremony by acknowledging her group members in her acceptance speech. "Throughout my many years at Lincoln Laboratory—especially the last 15 working at Katahdin Hill for Group 33, which I call my second home—I have formed lifelong friendships, and many of my coworkers have become like family to me. I consider myself extremely fortunate to be able to enjoy coming to work every day," she said.
Inquiries: contact Erin Lee