Laboratory staff advise Massachusetts Sea Cadets for an underwater robotics competition
The competition, called SeaPerch, challenges teams to build vehicles that can complete a series of specified tasks.
From November to May 2023, a group of high school cadets from the U.S. Naval Sea Cadet Corps Massachusetts Bay Division routinely visited the Laboratory's testing pool located on Hanscom Air Force Base in Lexington, Massachusetts. The cadets were preparing for an international underwater robotics competition called SeaPerch, which challenges participating teams to build an underwater vehicle with abilities that adhere to a specific theme. This year's theme was ocean exploration, and the teams built vehicles that could maneuver through an obstacle course and perform tasks such as moving objects and opening a door.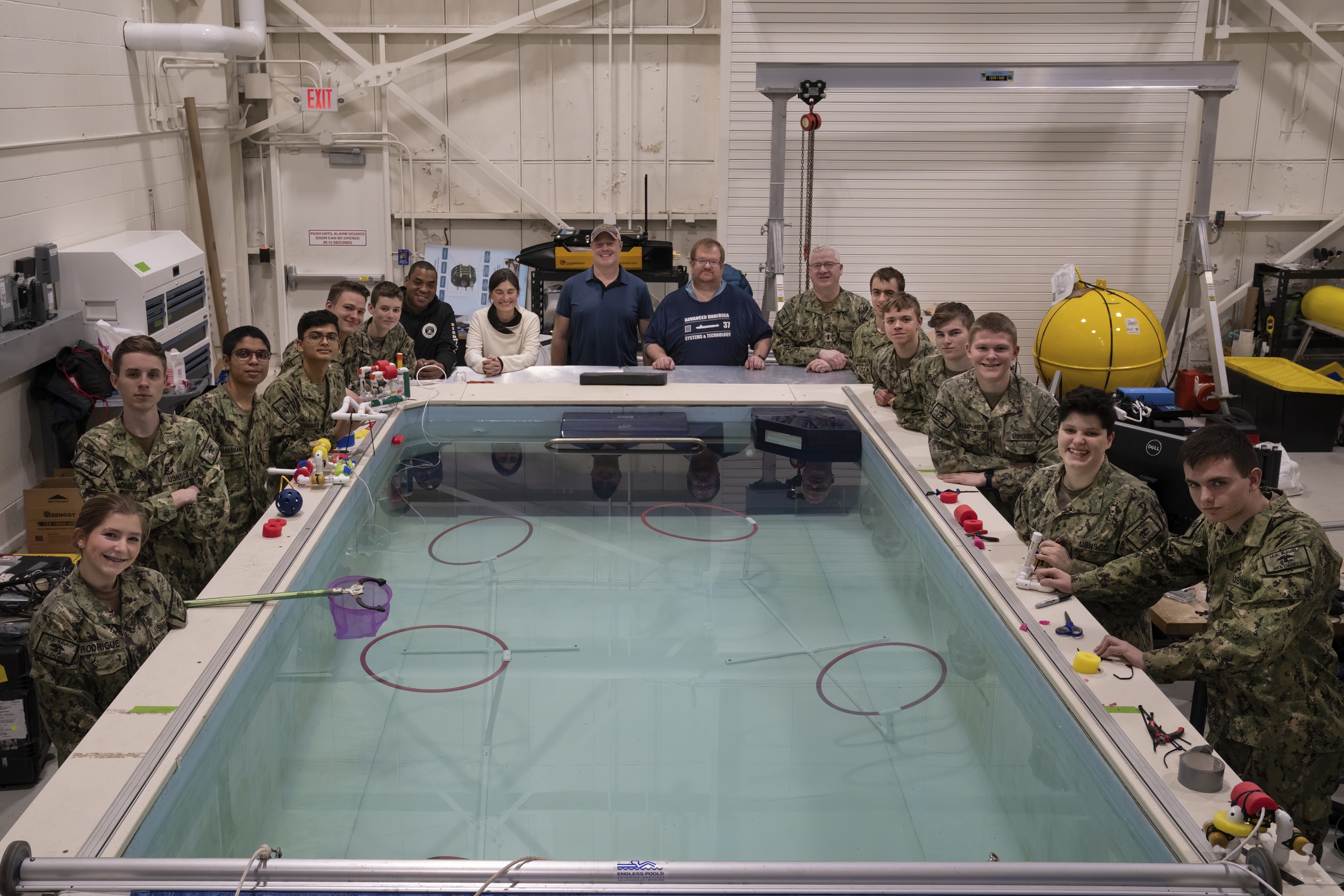 Laboratory staff member Ronald Ross from the Advanced Undersea Systems and Technology Group connected the cadets with the Laboratory. He had been volunteering with the Bay Division for three years and jumped in to help when he heard the cadets were looking for a place to test and troubleshoot their builds. He and group colleagues Benjamin Evans and David Whelihan secured time at the pool for the students to visit once a month.
For the most part, Ross says, the cadets were in charge of studying the supplied SeaPerch material and assembling and testing their vehicles. The Laboratory staff served as domain expert advisors, assisting them in underwater physics and robotics engineering, as well as providing oversight to prevent safety issues.
According to Lieutenant Glenn Jones, the executive science officer for the Bay Division, SeaPerch is one of many ways to bring STEM opportunities to his cadets. They had competed in previous years but struggled to find a suitable place to practice with their vehicles. "It was an extraordinary opportunity to come to the Lincoln Laboratory facility and get support and garner intellect from individuals like Ron," Jones says.
For cadet Pilette, who is on track to join the U.S. Marine Corps, participating in the event allowed him to make connections with others and gain a better understanding of all that goes into an engineering project: "This understanding will help me in my career to work better with my future colleagues, as the Marine Corps works closely with the U.S. Navy."
Cadet Simon Jones joined in order to learn how to build something from the ground up: "I thought it would be fun and a good use of my time. I could learn how to follow a process to make something of my own using science and engineering."
Eleven teams of cadets prepared for the regional competition at the University of New Hampshire, and five teams placed to partake in the international competition at the University of Maryland, College Park, in May. These five teams were the ones that visited the Laboratory to prepare.
"I spent 28 years as a career submariner operating in some challenging undersea environments, and a submariner's ability to operate in those harsh environments is enabled by sophisticated technology developed by engineers," Ross says. "This experience allowed me to witness young future engineers, and it was incredibly satisfying."
The Massachusetts Bay Division cadets will return to the Laboratory this fall to prepare for next year's competition.