Lincoln Laboratory leaders visit Kwajalein Field Site
The visit follows U.S. Army recognition of the Laboratory's 60 years of service to the Reagan Test Site on Kwajalein Atoll in the Marshall Islands.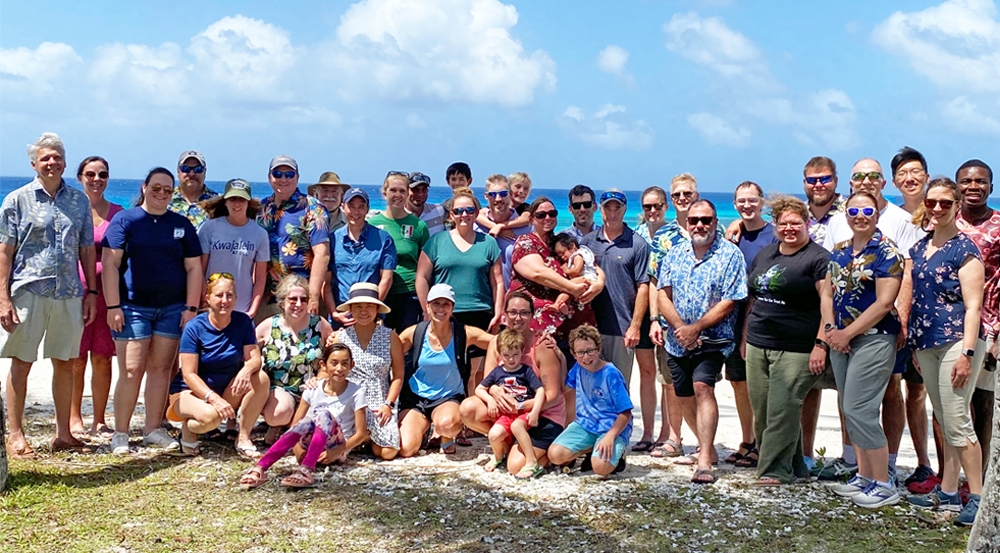 In February, Lincoln Laboratory Director Eric Evans and Assistant Director Melissa Choi and leaders from the Laboratory's Air, Missile, and Maritime Defense Technology (AMMDT) Division and Space Systems and Technology Division visited the Kwajalein Field Site on Kwajalein Atoll in the Republic of the Marshall Islands (RMI). Their weeklong visit followed the U.S. Army Space and Missile Defense Command recognition of the Laboratory in 2022 for 60 years of support of the Reagan Test Site (RTS) on Kwajalein Atoll, located 2,500 miles west-southwest of Hawaii. The 60-year anniversary was celebrated stateside at the end of last year at the MIT Endicott House, attended by Laboratory employees previously stationed on Kwajalein and current and former government leaders associated with the site.
Housing world-class radar, optics, and telemetry systems, the RTS supports missile testing and defense, space surveillance, and scientific measurements. The Laboratory serves as the scientific advisor to the RTS through efforts at the Kwajalein Field Site and at the Laboratory's Huntsville, Alabama, field site and main campus in Lexington, Massachusetts. At any given time, about 15 Laboratory staff members are stationed on Kwajalein, serving two- to five-year assignments.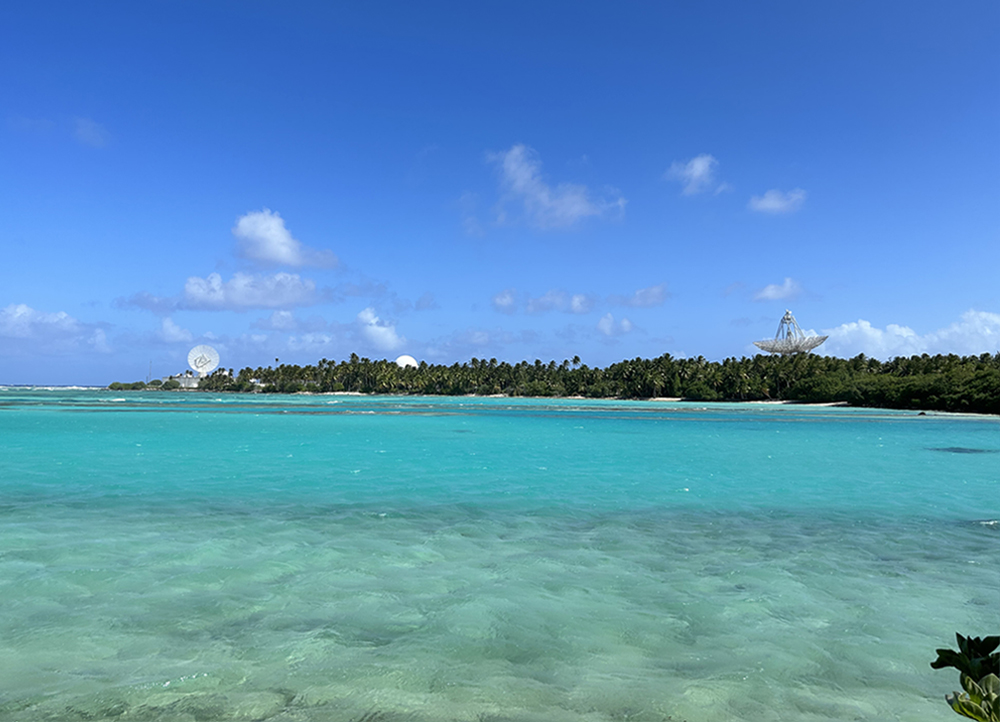 "The RTS is an incredible national asset, and we are proud of the many important contributions MIT Lincoln Laboratory has made over the past 60 years," said Katherine Rink, head of the AMMDT Division. "We are honored to serve as the scientific advisor to the range, and our continued success reflects the talented and dedicated staff on the team. I am so impressed not only with their technical skills but also their collaborative approach that allows them to effectively team with our many partners, and the tremendous respect with which they treat their partners and the host nation."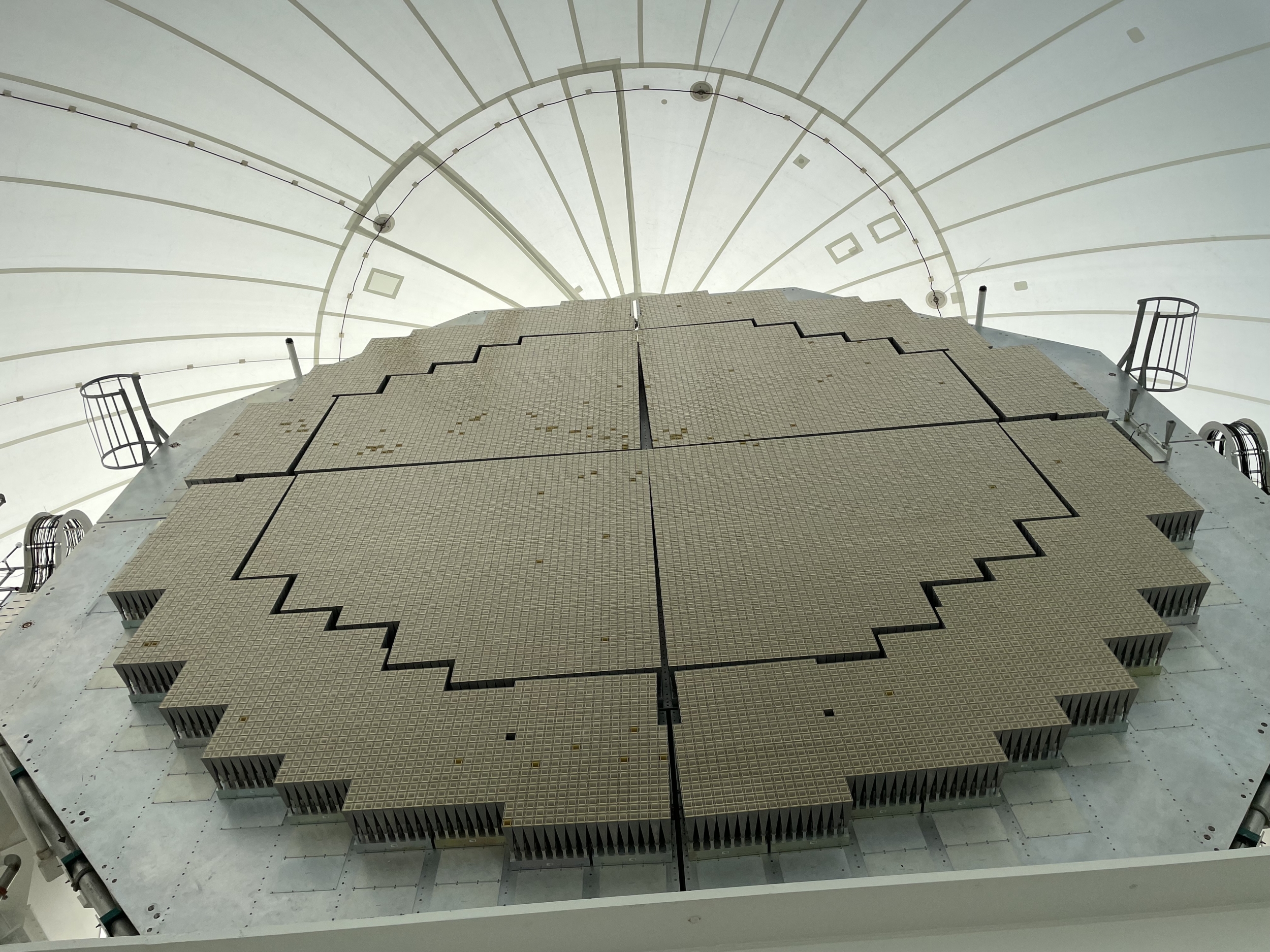 The last time leadership had visited Kwajalein was three years ago, before the pandemic shut travel down. On their recent visit, Director's Office and division leaders delivered a State of the Laboratory address and division briefings, respectively, for all visitors and Kwajalein staff. They also met with leaders from the U.S. Army Garrison – Kwajalein Atoll; RTS Deputy Range; and Range Generation Next (RGNext), which executes the U.S. Army's RTS Engineering and Technical Services contract. The group toured several facilities, including the Kiernan Reentry Measurements Suite (KREMS) of radars on Roi-Namur Island, the missile launch site on Meck Island, and the Ground-Based Radar – Prototype and Space Fence radar on Kwajalein Island.
"It was impressive to see staff from diverse technical backgrounds bringing their unique expertise together to develop and modernize world-class systems for missile defense and space surveillance," said Melissa Choi. "By being immersed in technology development, systems analysis, and test and experimentation, and engaging with sponsors and contractors, they are well prepared for the next steps in their Laboratory careers."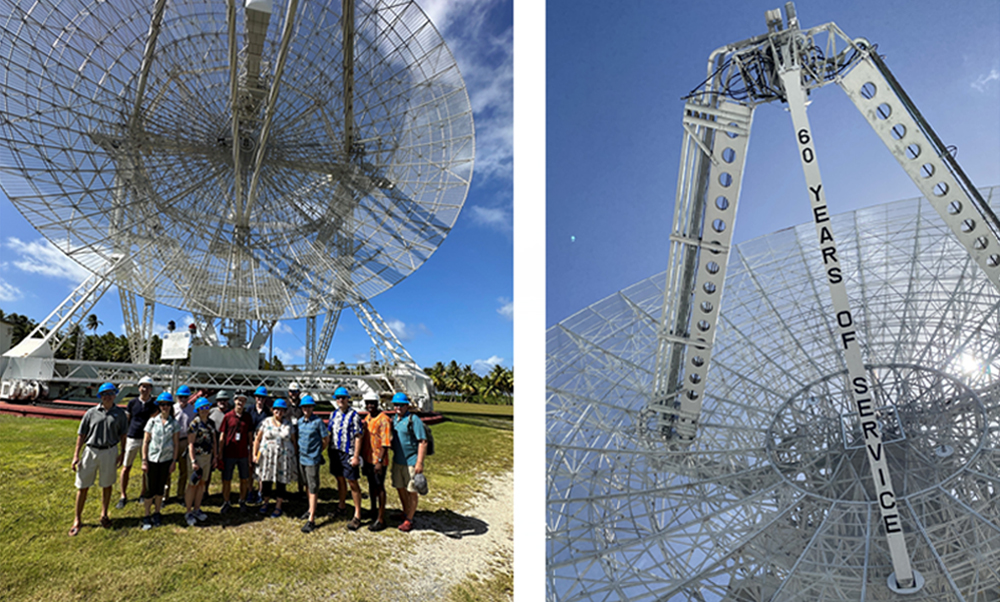 Karyn Lundberg, John O'Rourke, and Sarah Willis of the Kwajalein Field Site team briefed leadership on the educational outreach programs they have been leading over the last few years on Kwajalein and the nearby remote island of Ebeye. Over lunch one day, Laboratory leaders met with alumni of the Beaver Works Summer Institute (BWSI) Kwajalein and RMI Information Technology (IT) Internship programs. Preparing for its fourth summer, BWSI Kwajalein enrolls about 20 students per year in four-week-long advanced STEM classes adapted from the BWSI curriculum offered stateside. The RMI IT Internship, which has been running since 2008, is a 10-week training "boot camp" for Marshallese adults to jumpstart IT careers. For their final project, they apply what they learned to install IT into their community.
Within the last 20 years, the RMI education system has significantly improved, expanding from one high school to seven on Kwajalein Atoll. The public school system overall has increased capacity, including by leveraging U.S. financial aid to build a large brand-new school campus in the heart of Ebeye. The Laboratory's offerings — which also include a newer LEGO robotics program for middle schoolers — provides the Marshallese with a significant boost toward careers across STEM disciplines from medicine to computer science and prepares them to be engaged leaders in their communities.
"The skills RMI students acquire through the Laboratory-led outreach activities are critical to their future, whether they remain at home or go overseas," said Willis, who coordinates BWSI Kwajalein and helped expand the LEGO robotics program to Ebeye.
Following the lunch, the group ferried over to Ebeye to visit the host nation community. Home to approximately 10,000 Marshallese citizens, Ebeye is the most populous island of Kwajalein Atoll. Ebeye faces several community challenges, including a high poverty rate, overcrowding, and often limited access to daily fundamentals such as reliable power and clean drinking water. Exacerbating these problems is the immediate impacts of climate change — rising sea levels and changing weather patterns — that RMI experiences as a low-lying atoll nation.
Over the past few years, participants in the IT Internship program have helped to modernize the server room of Ebeye Hospital and set up computer stations in a classroom with deaf students. Last year, they installed a small computer lab in a classroom for students with special needs.
"I have been very proud to be part of the Marshallese IT program for all these years," said O'Rourke, who co-founded and co-leads this program. "It's been a very memorable part of my tour on Kwajalein."
"Lincoln Laboratory staff and Marshallese people have had long-term engagement," said Grant Stokes, head of the Space Systems and Technology Division. "The Laboratory has a substantial presence in the community, and our contingent on Kwajalein is uniquely capable of and interested in making contributions to education for the future of the island."
With the pandemic winding down, leadership hopes to resume their yearly visits. Staff will continue modernizing and upgrading RTS systems with state-of-the-art capabilities in support of the missile defense and space surveillance missions.
"It was great to see our outstanding staff and their very important work underway at the Reagan Test Site," said Eric Evans. "The Laboratory continues to have a major impact in many defense areas through its research and development work there. We really appreciate everyone involved in the many program successes we saw during our visit."
Inquiries: contact Ariana Tantillo.