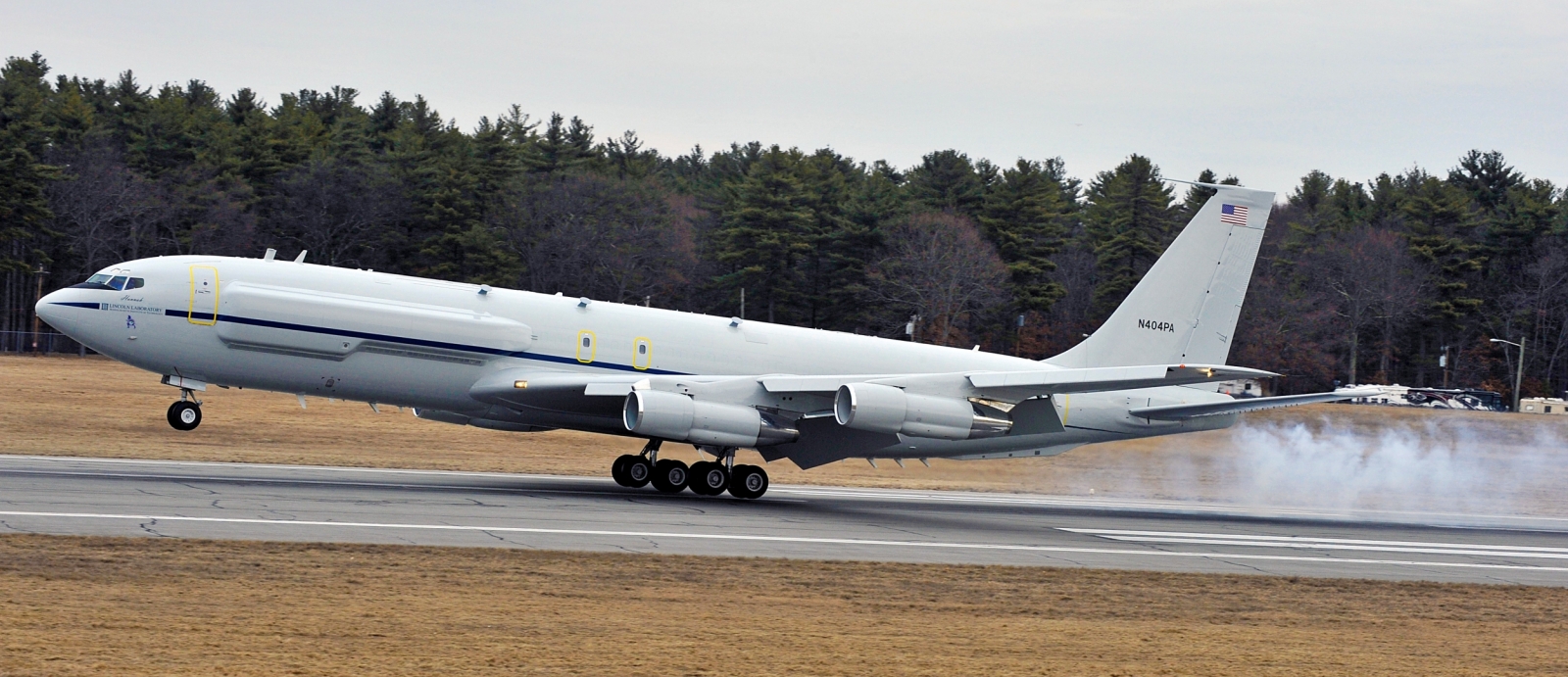 Lincoln Laboratory says good-bye to its airborne test bed
A nostalgic event celebrates the end of a Boeing 707's 32-year career supporting R&D in systems for communications and surveillance.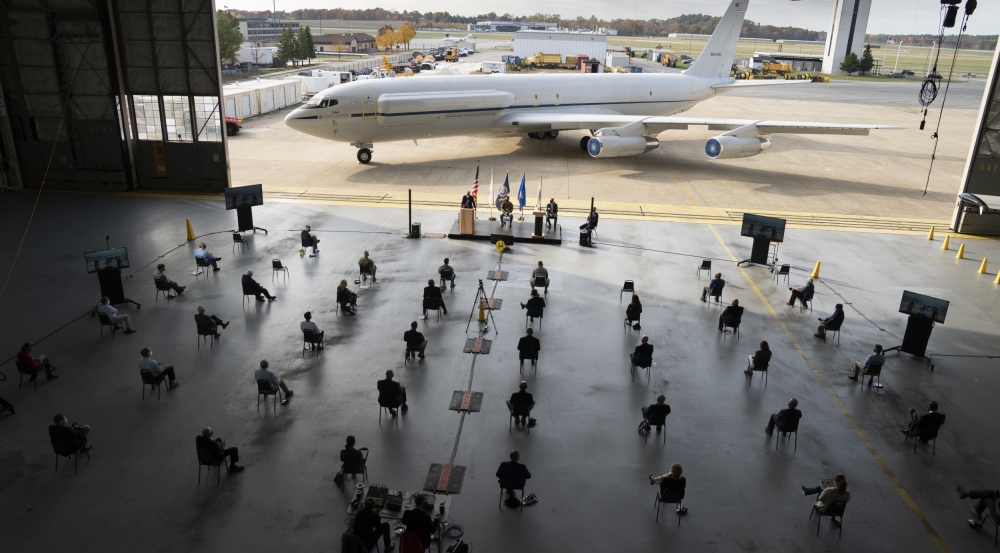 On September 15, 2020, Robert Maynard piloted the last data collection flight of Lincoln Laboratory's flying test bed, a modified Boeing 707 aircraft. For 32 years, this aircraft, tail number N404PA, had supported the Laboratory's development and testing of airborne systems.
The 707 was being retired, and after flying 1,075 missions, the aircraft had one flight remaining — to Davis-Monthan Air Force Base, the boneyard for excess military and government aircraft. "The last flight of 4PA from Hanscom Field to Davis-Monthan in Arizona will be bittersweet," says Maynard, the Laboratory's chief pilot who has been one of the 707 pilots for 19 years. "But we all know its long legacy and the many contrails left behind will forever be imprinted on our memories."
On October 23, N404PA, was officially consigned to retirement at a ceremony held at the Laboratory's Flight Test Facility on Hanscom Air Force Base in Bedford, Massachusetts. At the event, the Laboratory's Director Eric Evans, its Assistant Director for Operations Scott Anderson, representatives from the U.S. Air Force, Federal Aviation Administration (FAA), and sponsor agencies came together to commemorate the retirement with staff who crewed N404PA or who worked on programs that relied on the aircraft's unique airborne capabilities.
In welcoming the guests, Evans acknowledged the contributions of the people who had employed N404PA to support the Laboratory's R&D: "The Laboratory teams who did prototyping and testing projects on this 707 aircraft have truly put some of the best new technology in the hands of the warfighter. We really appreciate what they all have done."
Guest speaker Niles Cocanour, now a retired Air Force colonel, had been tasked in 2002 to build an Air Force team at the Flight Test Facility to develop and demonstrate a next-generation multi-sensor command and control airborne test platform. He gave a fitting testimony to N404PA's value to R&D: "We achieved things with that aircraft that… definitely advanced both our understanding and our appreciation, and helped raise the spirit of why we do what we do each and every day."
Also acknowledging N404PA's importance to development programs was Colonel Jonathan Sorbet from the Air Force Nuclear Weapons Center. Col Sorbet has responsibility for the Family of Advanced Beyond-Line-of-Sight Terminals program, which has been the tenant sponsor for N404PA since 2011. He expressed gratitude for the deep technical expertise and support he has received from the Lincoln Laboratory team. For the future, he anticipates the follow-on Force Element Terminal (FET) program to have similar flight test needs that could be assumed by an efficient aircraft such as a Gulfstream IV. The Flight Test Facility is positioned to supporting the testing needs of the strategically important FET program.
Sharing remembrances of N404PA's uniqueness via a Zoom connection were Major General David Eichhorn (ret), who was the chief pilot on N404PA for 73 flights in the early 1990s, and Lieutenant General Chris Bogdan (ret), the chief pilot for the aircraft from 1996 to 1999.
During the event, David Culbertson, the manager of the Flight Test Facility, presented plaques honoring three current flight facility employees who have been involved with N404PA since, or nearly since, its arrival at Hanscom: Maynard; Dennis Hamel, chief mechanic; and Michael Kilkenny, engineering assistant. Hamel later accepted the Charles Taylor Master Mechanic Award from David Cardullo, the regional representative for the FAA; this FAA award recognizes an individual's 50 or more years of exceptional service to the aircraft maintenance industry.
For many at Lincoln Laboratory, N404PA is almost an institution. John Sultana, a staff member in the Engineering Division, says, "I started working at the Laboratory in August of 1987. N404PA arrived shortly afterwards. The airplane has been a constant fixture in my career here, beginning with my involvement as a junior integration engineer through the '90s, then as the equipment integration manager during the 2000 to 2010 timeframe, and finally now at its retirement."
History of the Lincoln Laboratory 707
The Laboratory acquired the 707 in 1988 when staff were looking for a large transport aircraft to support a new program that explored electromagnetic influences. In its search for an appropriate aircraft, the Laboratory focused on a 707 because of its size, availability, and low purchase cost. In addition, the experience of past aircraft mechanics in modifying the 707 airframe could be tapped by Laboratory personnel.
The Boeing 707 model was not new. Designed for use as either a midair refueler for the Air Force or a passenger-carrying jet for commercial airlines, the 707 was introduced into service in 1958. It was long out of production and airline service, so where could a suitable candidate be found? The answer was an aircraft boneyard in Florida, where a former Pan American airliner, built in 1965, was sitting unused. Before being relegated to this storage area, the aircraft had been leased by several regional carriers, shuttling college students to Daytona Beach for spring break, among other duties.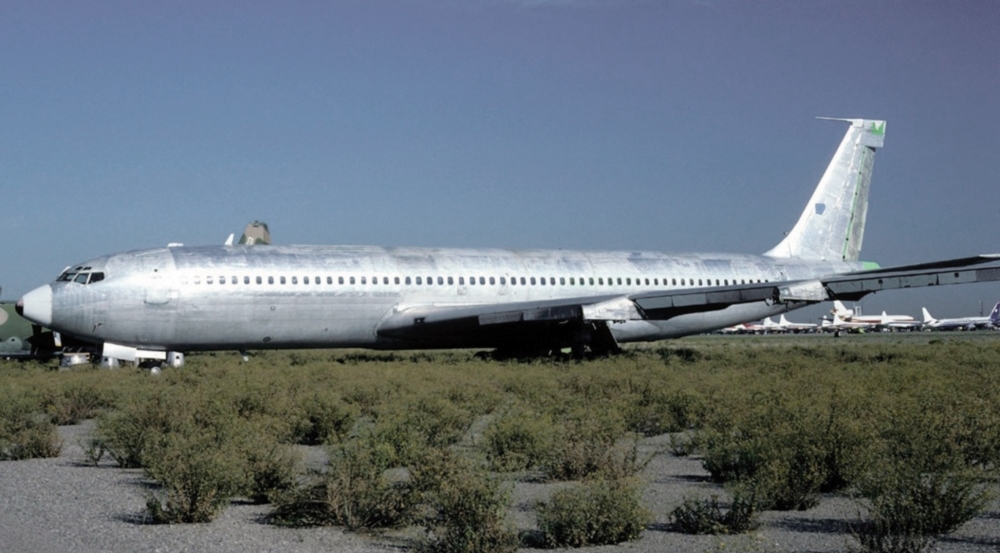 With wires dangling at various locations and no engines, the aircraft was purchased by the Laboratory for only a little more than two million dollars. Replacement engines were located, a special flight permit was obtained, and a crew was persuaded to fly the 707 to E-Systems (now L3 Communications) in Greenville, Texas. There it was refurbished and modified with new power systems and fairings on either side of the forward fuselage.
David Kettner, the manager of the program for which the 707 was purchased, says, "There are lots of stories about the overhaul process: we discovered cracks in the wing spars that needed repair; the engines were from an airline in China, so all the service data and manuals were in Chinese, forcing us to strip the engines down and essentially 'zero time' them [start from scratch]. I sometimes wondered if we were ever going to get all the work done."
In 1991, the refurbished 707 was flown to Hanscom Air Force Base and parked in a hangar that the Laboratory had renovated from its use by the Air Force as a storage facility for maintenance vehicles and surplus equipment. Until 1999, N404PA was employed as a flying electronics lab enabling the success of the program Kettner led. 
Lincoln Laboratory then decided to retain the 707 as a test bed. Since its original mission, N404PA has undergone additional modifications that have allowed it to be used by various programs. For example, in 2001, the aircraft was assigned to an Air Force–sponsored program that was developing and demonstrating an intelligence, surveillance, and reconnaissance (ISR) platform that would be interoperable with other aircraft. This program was the first time that N404PA would be maintained and operated by Laboratory personnel working in conjunction with the Air Force Flight Test Team. The success of this program contributed to the modernization of military airborne command and control flight platforms that are still in use today.
Legacy of innovation
Over the years, the Engineering Division heavily collaborated with the Flight Test Facility staff to implement modifications. An extensive fiber-optic network backbone was installed along with two workstation tables, each capable of hosting six operators with computer access to the network. The power system was upgraded, several additional radomes were installed to handle communications antennas, and a liquid-cooling system was installed to cool power-hungry electronics. The aircraft hosted a wide range of radars and communication systems and supported numerous military exercises around the country.
"N404PA has capabilities not available in other test aircraft, which allow the Laboratory to rapidly prototype and demonstrate solutions to the hard communication and ISR challenges facing the nation," says Stephen McGarry, a member of the senior staff and former assistant leader of the Tactical Networks Group.
Special efforts were made to facilitate rapid equipment reconfigurations between missions, including "roll-on, roll-off" electronics racks. Also, techniques were developed to host laboratory-type electronics while minimizing the efforts required to qualify them for the flight environment.
Sultana adds, "We developed a thorough and detailed system of configuration management for the myriad test systems evaluated during these 30 years, with the safety of the flight crew and experimenters first and foremost."
The Boeing 707, N404PA, came a long way since it lay forgotten in the Florida boneyard. Kettner summarizes: "N404PA served her country as a flying electronics lab and served her well. For those of us that were involved as crew chiefs, flight crew members, and program staff, the association with the N404PA community gave us a shared and unique bond and great sense of pride and accomplishment — she will surely not be forgotten by those that touched her."