Military interns learn value of technology research and development
Service academy students discover how Lincoln Laboratory helps meet warfighter needs.
From the second week of May to early September, 68 interns representing all of the United States service academies worked at Lincoln Laboratory under the Active-Duty Military Fellows Program. Interns spend three to six weeks of their summer contributing to sponsored projects under the guidance of their assigned mentors. The program, which started 20 years ago with just four interns, was established to promote involvement of the warfighter in the technology development process.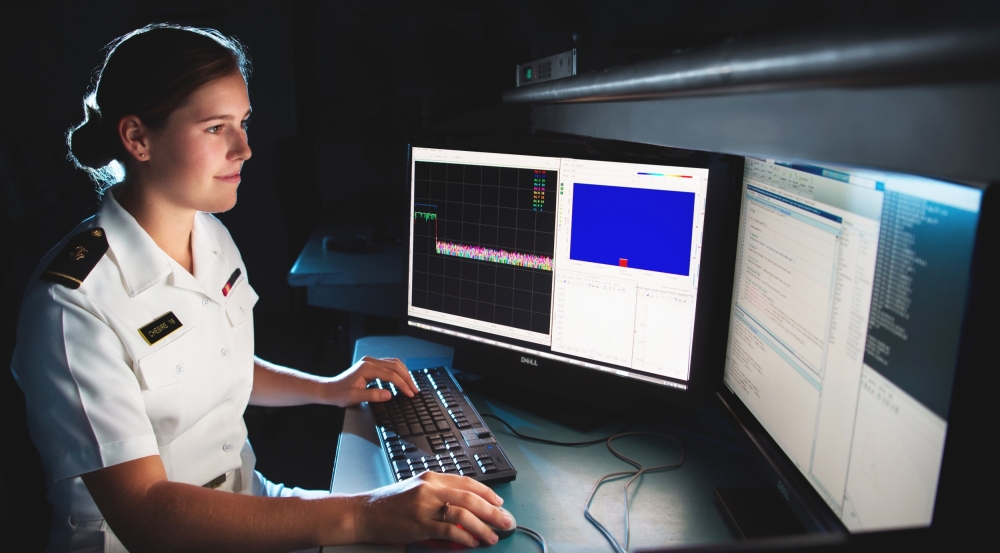 "The Active-Duty Military Fellows Program has two purposes: the first is to educate young officers about Lincoln Laboratory and its capabilities. It's important that officers understand all that the Laboratory can do for them. The second is to expose Laboratory staff members to officers-to-be," said John Kuconis, Executive Officer of Lincoln Laboratory. 
U.S. Military Academy cadet John Beck had never worked in a lab before, but thanks to his internship, he said he is learning how to conduct research and is acquiring many new skills. "On my first day at Lincoln Laboratory, my mentor had me hit the ground running as soon as I arrived at the group," Beck said. "Working in the field of laser communications has been challenging, but I believe the skills my mentors have helped me develop will assist me greatly in my future academic classes and research projects." Beck, who is a mechanical engineering major with a minor in aeronautical engineering, interned in the Advanced Lasercom Systems and Operations Group under the mentorship of Jeffrey Minch and Jeffrey Roth. He worked on optimizing a fiber Bragg grating: a compact, grated channel that filters out unwanted noise from fiber-optic information transfer. The device will be used in free-space optical communication systems. Beck said his internship made him excited to seek out further research opportunities. After graduating from West Point, he hopes to serve in the Army Aviation Branch and pursue a graduate degree. 
For U.S. Naval Academy midshipman Emma Chesire, one of the best parts about interning at the Laboratory was getting to hear about the stories and experiences of the employees. "It has been fascinating hearing about the work that gets accomplished here and meeting the people who have made it happen," Chesire said. "This experience has given me a great deal of respect and appreciation for those who serve our country outside of the uniform by working every day to provide our military with the best systems possible, constantly preparing for the future." With her mentors, Christopher Strus and Sam Stambler of the Tactical Defense Systems Group, Chesire worked on the Integrated Ka-band Radar Instrumentation System (IKARIS) project. Chesire said her mentors allowed her the right amount of freedom to exercise her skills as an engineer. "Chris has given me full rein to accomplish as much as I can of my own doing. He checks up on my progress and is there when I am in need of assistance, but he has given me the opportunity to run with the task however I see fit, which has been a welcome challenge," Chesire said. 
Chesire is not the only intern who enjoyed the opportunity to tackle her project in her own way. "I really appreciate the independence with my research. I love how the team here gave me an objective and let me research and develop the means to achieve the task at hand," said Luke Ledva, a U.S. Naval Academy midshipman with a systems engineering major. Ledva worked on a MATLAB project with advisors Jonathan Gans, associate leader, and Daniel Magee, a member of the technical staff, in the Systems and Architectures Group. While Ledva was allowed significant freedom with his project, he said his mentors were always willing to provide guidance and answer questions whenever he asked. It was the helpfulness of his colleagues that made his internship enjoyable. "I had high expectations coming into such a prestigious R&D center, yet those expectations were far surpassed. The facilities and technology here are incredible. Most importantly, the people I worked with and that I have met are extremely intelligent and have been very compassionate with welcoming me into the new environment." Ledva said his time at the Laboratory reinvigorated his passion for learning. With the skills he acquired at his internship, he plans to do his own research in his remaining undergraduate years and later in graduate school.