Lincoln Laboratory brings conversations on the complexity of race and systemic racism to the workplace
The program aims to educate staff while motivating them to drive change and transformation.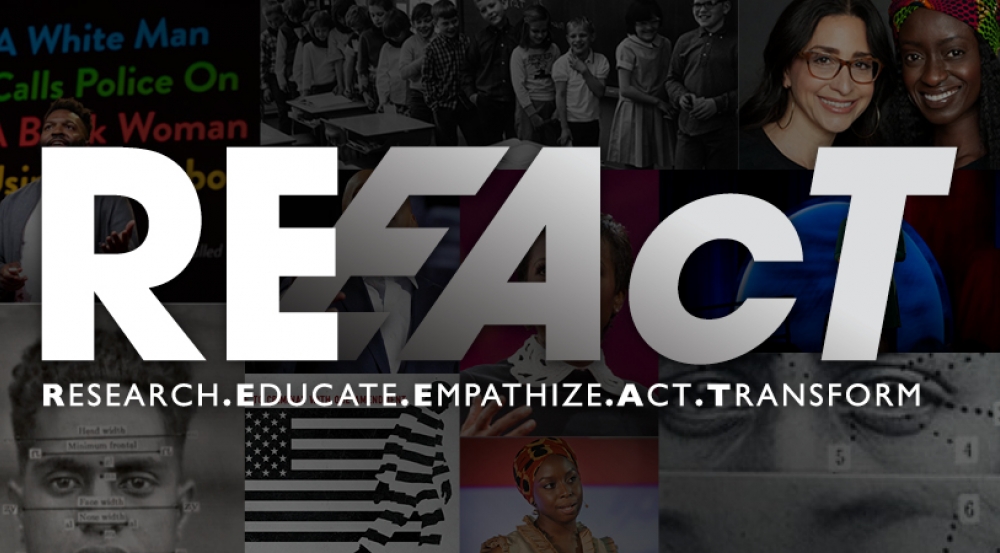 In May 2020, the murder of George Floyd in Minneapolis, Minnesota, sparked protests and unrest about systemic racism against African American people in the United States. In response to the incident and the national outcry, Lincoln Laboratory's Diversity and Inclusion (D&I) Office launched an initiative called RE2AcT (Research Educate Empathize Act Transform) to start a conversation in a safe and open environment.
"When it became clear that many of our colleagues did not understand that George Floyd was not an isolated killing, we knew that our approach needed to simultaneously offer comprehensive discussion areas and opportunities to better understand how they were connected," says Chevy Cleaves, Chief D&I Officer.
The RE2AcT campaign—organized by Laboratory D&I leaders Cleaves, Alexander Lupafya, and Samantha Jones—includes documentary and TED Talk viewings, article discussions, live panels, and study groups where staff can learn and talk about issues related to race, racism, and cultural competence. The topics range from the link between slavery and the modern prison-industrial complex to how homogenous datasets can directly limit the efficacy of artificial intelligence systems. The campaign began in summer 2020 and will continue this winter and through summer 2021. 
"This series has been very well received and continues to inspire empathetic discussions across a range of topics that have been acknowledged as being largely unfamiliar to our nonminority populations," Cleaves says. "RE2AcT has played a critical role in helping us advance toward our goal of building a more diverse Laboratory that is led inclusively and free of systemic racism."
Overall, the campaign serves not only as an opportunity for staff to gain an understanding of how racism impacts individuals, the workplace, and the nation, but also as a forum for exploring how each person, on an individual or organizational level, can work toward addressing the cause.
"One of the most beneficial parts of consistently participating in the RE2AcT events has been the takeaways of things I can do in my day-to-day life to start creating change," says Ryan Burrow, a staff member in the Laboratory's Secure Resilient Systems and Technology Group. "While many of the problems do require greater efforts to solve, there are still things we can do as individuals to start driving positive change."
Julie Arloro-Mehta, a member of the Laboratory's Interceptor and Sensor Technology Group, actively participated in many of the campaign's events and facilitated one of the study groups that discussed the book "Everyday Bias" by Howard Ross. The study groups met twice a month in the fall and gave staff an opportunity to engage in a broader and deeper understanding of many of the topics raised throughout the campaign while discussing additional areas for research, learning, and development.
"Even though I considered myself to not be biased, [I learned that] I did have some biases that I needed to address. And the bias doesn't have to control my interactions with others if I recognize it," Arloro-Mehta says. "I thoroughly enjoyed working with my co-facilitators on planning and executing the sessions, and the conversations were enlightening and thought-provoking. I hope the members of my study group know that I learned a lot from them and the discussions that we had."
Sharon Clarke from the Laboratory's Human Resources Department facilitated another study group discussion centered on "The Price of Admission" by Daniel Golden. "This opportunity allowed for staff members to come together and discuss race in a safe space," Clarke says. "The conversations were respectful yet enlightening. I heard firsthand the different challenges we all face regardless of our race. I'm happy that I participated and I have recommended for my colleagues to participate in at least one of the book series."
In another group, Nadra Bell from the Information Services Department discussed "The New Jim Crow," a book by Michelle Alexander about race and racism's connections to mass incarceration. "The number of incarcerated people, especially people of color, was shocking," she says.
Bell's passion for the initiative inspired her to volunteer as a facilitator for another study group this winter. "I love how freely people were able to speak," she says. "Listening to others' real situations is an amazing learning technique for me. It really sends the message home and heightens my empathy."
Stephen Uftring, Leader of the Homeland Protection Systems Group, also participated in the "The New Jim Crow" reading group and attended nearly all of the 19 RE2AcT events that took place throughout the summer and fall. He says that the campaign helped open his eyes to the true presence of systemic racism in the country, and he plans to continue participating this winter. "[It's] incredibly important that we educate ourselves on these issues and understand how they have affected and continue to affect Laboratory employees," he says. Uftring also holds the title of D&I Champion, a new position in which senior leaders help to support D&I efforts within each division.
"It was truly a humbling experience," says Amanda Thompson from the Advanced Satcom Systems and Operations Group. "I have personally realized that what I learned in school may not have been the most accurate account of some historical events. Acknowledging that and taking the initiative to research or learn from others is something I encourage others to do."   
Samantha Jones, who was heavily involved in planning and running the campaign, says that she is already seeing a change at the Laboratory in the form of transformative awareness. "Participants are unlearning, learning, and becoming more aware of much of what they didn't know," she says. "Once the foundation is laid by educating and understanding, transformation can then begin, and that's when major impact and change can start to take place."
"The RE2AcT campaign communicates to the staff that the Laboratory is not insulated from the events that take place outside of its walls," says Joe Belarge from the Homeland Protection Systems Group. "This is important for building a safe space where everyone can bring their authentic selves to work and feel heard and valued. I think it also provides an incredible opportunity and resource for people to learn and engage in conversation."
"Our intensive work through RE2AcT has connected to, and complemented, our ongoing work of intensive D&I leadership offsite with division, department, and office leadership teams," Cleaves says. "We believe that, collectively, these efforts will make Lincoln Laboratory even more compelling as an employer and partner of choice."
Starting in January, the RE2AcT campaign will return to the Laboratory with winter, spring, and summer study groups, along with discussions and panels in the spring that focus on health disparities, bias in artificial intelligence, and more.