Lincoln Laboratory researcher encourages young women in physics to reach for the stars
Yari Golden-Castano gave a conference talk on the Mars One mission and the importance of diversity in STEM.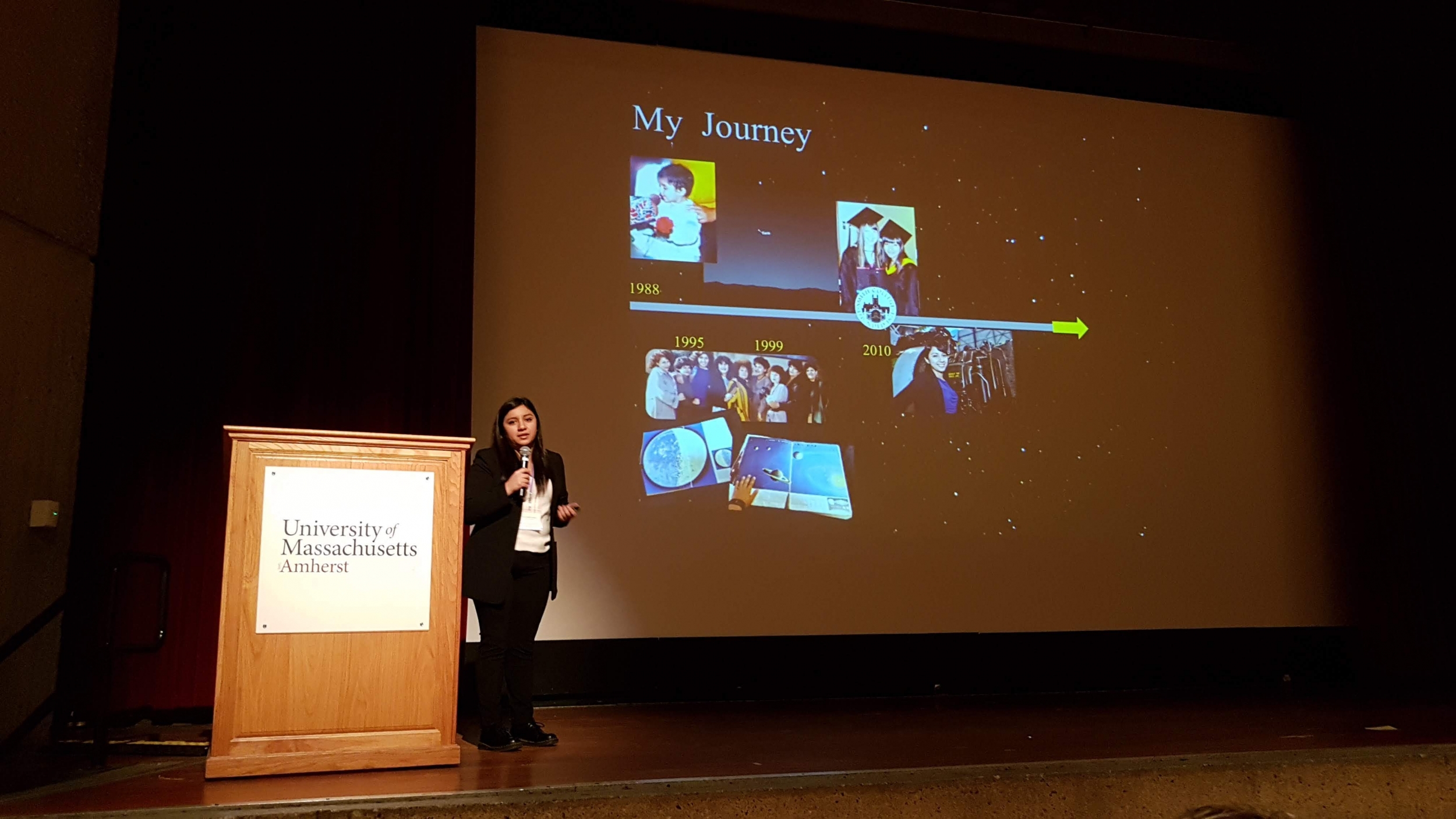 Only one in five undergraduate degrees in physics is earned by a woman. Lincoln Laboratory's Yari Golden-Castano is hoping to help change that by sharing her story of success in STEM to the 240 undergraduate women from across New England who attended the American Physical Society (APS) Conference for Undergraduate Women in Physics, hosted jointly by the University of Massachusetts Amherst, and the Mount Holyoke, Smith, and Amherst Colleges from January 18 to 20. Golden-Castano's aim isn't just the glass ceiling though; she's shooting for Mars.
Golden-Castano's talk focused on the Mars One mission program, which plans to ultimately send 24 settlers to form the first human colony on Mars. She is one of 100 finalists in the program, and her dream is to see earth from another planet. She gave the attendees an overview of the goals, timeline, and technology of the mission. She also shared with them some of the challenges she faced in pursuing a career in engineering and physics. A graduate of Smith College with a bachelor's degree of science in engineering and a minor in physics, Golden-Castano has since worked in the Air Traffic Control Systems Group at Lincoln Laboratory and currently works in the Systems Engineering Group. Smith College physics professor Nalini Easwar, one of the conference's organizers and Golden-Castano's old professor, said her talk was inspirational.
Since the first conference in 2006, the goal of the APS Conference for Undergraduate Women in Physics has been to help women continue in physics. The American Physical Society supplies this help by providing a professional conference, information about graduate school and professions in physics, and access to other women in physics with whom they can share experiences, advice, and ideas. The conferences are held regularly at universities all over the country.
While at the conference, Golden-Castano also spoke as part of a panel on diversity and inclusion in science, technology, engineering, and mathematics (STEM). Although not every STEM field is as underrepresentative of women as physics, only about 35 percent of the people pursuing undergraduate degrees in STEM fields are women. "It's important for me to relay the message that diversity in the field is necessary," Golden-Castano said. "Our diverse backgrounds based on our individual experiences contribute to a pool of solutions to solve a problem."
Golden-Castano's message, and the message of the conference as a whole, resonated with the students in attendance. In an interview with Grécourt Gate, the Smith College news publication, Cait Battle-McDonald, Smith class of 2020 and one of the conference organizers, said, "It was nice to see that you don't have to have your life figured out when you're 22. You can take a little bit [of time] before you end up where you're supposed to go."
Ultimately, Golden-Castano hopes that other students can draw inspiration from her story and see that it is possible to, quite literally, reach for the stars as a woman in physics. "I wasn't always the brightest, loudest, proudest," Golden-Castano said. "But I didn't give up, and they should not give up either."