Title:
Electrical Engineer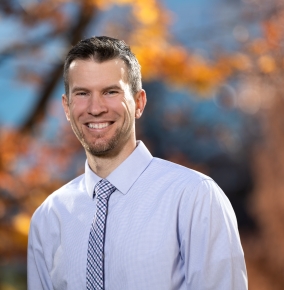 I want to improve how people communicate with each other around the globe, and I'm fortunate to work on this problem at the Laboratory.
What's the most exciting and/or challenging part of your work?
The most exciting part of my work as an electrical engineer who works on wireless communication systems is taking a concept my team and I have developed and tested in simulation and transitioning this concept to hardware so it can be demonstrated in the real world. This aspect is also the most challenging, as many problems must be solved for the system to operate as intended. Some of these problems are foreseeable and easy to fix, while others require detailed analysis and creative problem solving. Resolving them is incredibly rewarding. To this day, I am amazed every time a new system I've worked on can successfully receive messages sent from miles away.
How has your career at the Laboratory evolved?
My career has evolved drastically since I started at the Laboratory in 2009. The Laboratory was my first job out of college, so though I had extensive knowledge, I lacked experience applying that knowledge to real-world problems. At first, I needed a lot of guidance and was often testing developed systems—setting different parameters in simulation, helping run experiments, and verifying algorithms and results. Over time, I started contributing more to the design and development stages, creating new algorithms and working on critical-path components. As a major contributor to several successful programs, I was promoted and now help lead development teams. Recently, I've also been developing new program ideas and pitching them to potential sponsors.
How did you become interested in STEM and your particular field?
I became interested in STEM without really knowing it. Throughout my childhood up until I graduated high school, I never would have said I wanted a STEM career. However, I always liked understanding how technologies worked and being creative. I'd take objects apart to see what was inside, build things from scratch, or combine various pieces to make something new. I also enjoyed playing and creating games that made me think strategically. In school, STEM subjects tended to let me do the same types of hands-on activities: play with gadgets, piece components together, form new ideas, run experiments, and test hypotheses. In college, I realized engineering would allow me to continue doing these activities at an even higher level. I chose electrical engineering because I was particularly fond of video games, audio equipment, and other electronics. Studying electrical engineering, I realized that I was most interested in communications. I want to improve how people communicate with each other around the globe, and I'm fortunate to work on this problem at the Laboratory.
Where have you traveled and would like to travel in the future?
A few of my favorite places I've traveled to are Hawaii, Iceland, and Italy. Both Hawaii and Iceland blew me away with their beauty and terrain diversity. In Hawaii, I hiked, biked, boated, and flew over the coastline and into a volcano. In Iceland, I saw waterfalls and geothermal zones, hiked on glaciers, and snorkeled between tectonic plates. Italy is also very beautiful, with its big cities full of art and culture, cute mountainside villages with endless cafes and shops, wine country full of natural beauty, and large lakes with small towns dotting the coastlines. There are so many places I still want to visit, but toward the top of my list are Spain, Portugal, and Japan.
What are some of your hobbies?
I started playing ultimate frisbee in high school, continued playing in college, and joined a club team when I moved to the Boston area. The teams I played on have allowed me to travel all over the country for tournaments and play in two international events in Italy and the Czech Republic. I have since transitioned to disc golf because it allows me to continue throwing discs in a competitive but more relaxing environment. At home, I feed my creative side with woodworking and graphic design. Over the past few years, I've been able to combine these hobbies by helping design a disc golf course, which opened to the public in 2021.